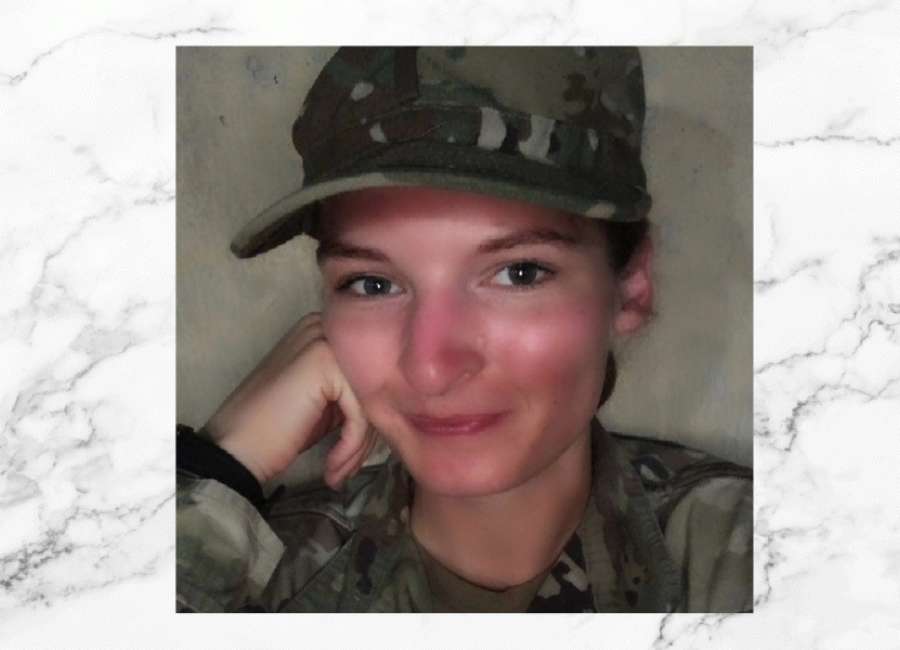 1st Lieutenant Lauren Taylor Hovey, 26, of Newnan, stationed in Fort Bragg, NC, passed away Sunday, July 17, 2022, in the city of St. Paul's, outside of Fayetteville, NC.
She was born November 17, 1995, in Atlanta, GA to Anne and David Hovey.
Lauren grew up in Newnan, GA and was a 2014 High Honors graduate of Newnan High School where she enjoyed serving as president of the Art Club, Lady's Varsity Soccer Team Co-Captain, and enthusiastic member of numerous clubs. Her passion for art was recognized with multiple awards by various organizations and Newnan High School. She was a two-time nominee for the Governor's Honors Program in Art.
She was a proud member of the Honors Program and an Honors graduate at Georgia College and State University where she received her Bachelor of Science in Psychology and minored in Painting. While attending GCSU, Lauren was granted both the Outstanding Junior Award and Outstanding Senior Award by the Department of Psychological Science. The annual Psy Con event also gave her the Outstanding Senior Award. She served as President of the Psychology Club and was honored with the Golden Key Leadership Award by the Executive Board of Eta Sigma Alpha. She earned the President's List each year in college. In addition, she was a member of the International Honors Society in Psychology, Eta Sigma Alpha, Alpha Lambda Delta, Honor Society of Phi Kappa Phi, Psychology Club and Psi Chi, an honors psychology organization.
While in undergraduate school, she served at the Georgia War Veterans Home in Milledgeville as an intern.
Lauren was dual enrolled at the Georgia Military College in Milledgeville where she was the distinguished ROTC Battalion Commander. She received the Order of the Centurion Medal for the highest honor given for outstanding excellence in academics, military discipline, and completion of the twelve-mile Ruck March. Other honors and awards were also given. As the number one student in academics at GMC, Lauren was selected to represent Georgia Military College and Georgia College and State University at the George C. Marshall leadership and awards conference. Those attending are the top ROTC cadets in the country. She graduated as a Distinguished Military Graduate where cadets are ranked in the top 20% of the nation among 5000 ROTC cadets assessed by the U.S. Army Cadet Command.
While still in college, she earned her wings and became a paratrooper for the U.S. Army in Fort Benning, GA. She then interned and participated in the cadet troop leader training C.T.L.T with the combat engineering team at Fort Bragg, N.C.
Following her internship, an Education Delay was granted by the Army to earn her master's at Augusta University in Clinical Psychology. She worked at Transitions in Augusta, a psychology practice. She was a summer scholar for I.P.P.H, the Institute of Public & Preventative Health, served at the VA Center, interned in forensic psychology with the East Central Regional Hospital by working with mental health patients and writing assessments. She was the lead and co-lead researcher on multiple group projects and research papers. She attended many conferences in her psychology field. While at Augusta University, she was a Graduate Assistant and also the Vice President of Psi Chi.
After obtaining her Masters, she was assigned her first duty station at Fort Bragg, N.C. in 2021. In her one year, she had three deployments! She was deployed to Kuwait, Poland, and Germany. Lauren served as the executive officer for Delta Troop, 3rd Squadron, 73rd United States Cavalry Regiment, 1st Brigade Combat Team, 82nd Airborne Division. Her awards and decorations include the Army Commendation Medal, National Defense Service Medal, Global War on Terrorism Service Medal, Army Service Ribbon, and the Overseas Service Ribbon.
Lauren died in a tragic car accident outside Fort Bragg, NC. In her short life, she accomplished more in one year than what others do in a lifetime! It was her service to her country, family and friends that was the most important to her. She had a passion for art and was an advocate for equality, justice, and mental health awareness. She was adventurous, passionate, goofy, quirky, generous, hardworking, dedicated, organized, respectful, caring, grateful and so much more! She will be remembered by her selfless acts of kindness and her warm-hearted spirit. She was Army Strong and a gracious lady! She has left her mark in the hearts of so many.
Lauren is survived by her parents, David, and Anne Hovey; sister, Elizabeth Hovey; grandparents, Frank and Linda Geiger; grandparents Bob and Ann McMahan, aunt and uncle, Matt and Donna Horton; cousins, Ryan Horton; Rachel and Tony Cafarella and Teddie Rae, aunt and uncle Chuck & Kimberly Bankston, cousins Katie and Chad Bankston, Abby and Bennett Gibbs.
Visitation will be held Friday, July 29, 2022, from 6 pm - 8 pm at McKoon Funeral Home, 38 Jackson Street Newnan GA 30263. The Funeral will be held Saturday at 3 pm at McKoon Funeral Home. Graveside Services immediately following the funeral at Forest Park Memorial Park 656 Roscoe Road Newnan, Ga 30263.
In Lieu of Flowers, the family asks that in memory of Lauren to make donations to the following organizations: Comfort Farms, 347 Horace Veal Road Northwest, Milledgeville, GA 31061; any chapter of the Wounded Warrior Project; and any mental health organization of your choice.
Online condolences may be expressed online at www.mckoon.com.
McKoon Funeral Home & Crematory (770) 253-4580