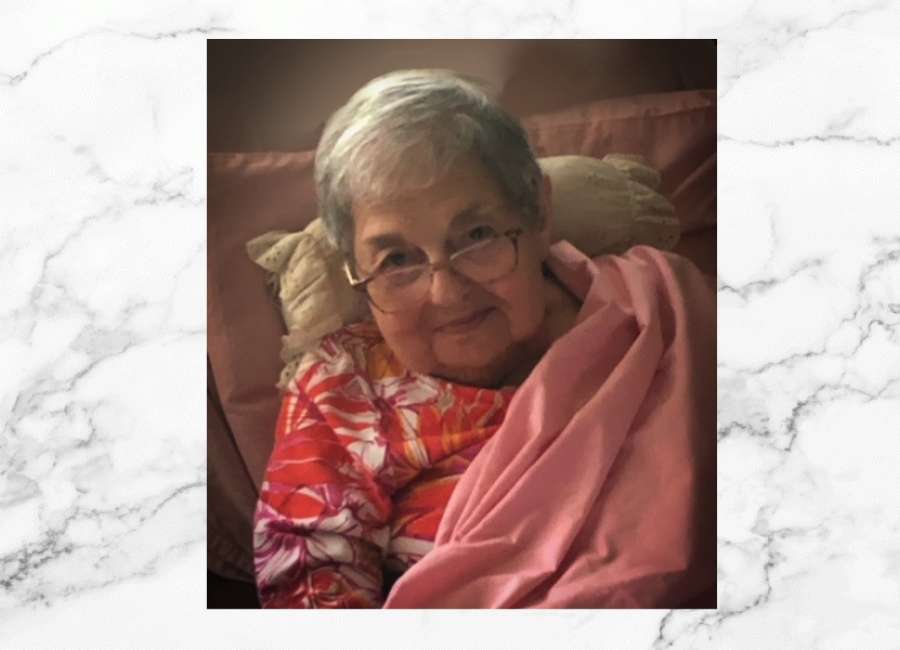 June Mansour Thomas passed away on July 29, 2022, at her home in Newnan, Georgia.
She was born in Newnan on June 18, 1934, to the late Michael Vincent and Mayme Bohorfoush Mansour. From the time she was a young girl, June worked in her family's business, Ellis Mansour Department Store in downtown Newnan. She was a member of the first graduating class the "new" Newnan High School in 1952. After attending two years of college at Agnes Scott, June's father passed away unexpectedly, and she left school to work in the store.

June met the love of her life, Fayes F. Thomas, Jr. in Atlanta and married in 1957. They moved to Miami, Florida where they raised their children, made lifelong friends, and worked in every capacity at their children's schools - St. Brendan's Elementary School, Christopher Columbus High School, and Our Lady of Lourdes Academy.
June and Fayes were founding members of Our Lady of Lebanon Maronite Catholic Church in Miami, Florida. June was a member of the Ladies Sodality, chaired the committee that oversaw the dedication of the new church building, and was awarded the Masabki Medal, named for three brothers martyred for their faith. The annual Lebanese Festival was where June and Fayes devoted much of their time and talents. They were well known for their "kibbe nayee" which is known as the national food of Lebanon. June and Fayes were awarded the Holy Sepulcher by the Patriarch of the Melkite Catholic Church for their service to St. Jude Melkite Church in Miami.
June was president of the Salam Club of Miami for more than 15 years. This charitable foundation, comprised of members of Syrian, Lebanese, and American descent, donates thousands of dollars each year to local charities. She was also an active member of the Southern Federation of Syrian Lebanese American Clubs, Inc. where she served on the Scholarship Committee. June was honored as Woman of the Year and was presented with the Chairman's Choice Award by the Chairman of the Board.
In addition to her beloved husband, Fayes F. Thomas, Jr., June was predeceased by her parents, sister and brother-in-law Rochelle and Hershall Norred, and brother John Charles Mansour. She is survived by her children Michael (Maria) Thomas, Gina Thomas, Alan (Tanya Leonard) Thomas, grandson Brandon, brother, and sister-in-law Ellis and Melinda Mansour, sister-in-law Michelle Mansour (John Charles), and brother-in-law Joseph (Betty) Thomas. Also, surviving June are numerous nieces, nephews, cousins, and friends who became family, especially those in Miami with whom Fayes and June spent more than 50 wonderful years.
The family is grateful for the loving care provided by Maggie Strickland, Deborah Coleman, Angela Geter, Tricia Searcy, Katie Glover, and Joanne Williams - the dream team! Thank you for being part of the Thomas family and loving June as one of your own.
The visitation is Monday, August 1, 2022, at McKoon Funeral Home, 38 Jackson Street, from 6:00 PM - 8:00 PM, with a rosary to follow. The funeral mass is Tuesday at 11:00 AM at St. George Catholic Church with Fr. Elie Mikhael and Fr. Tony Akoury officiating. Burial will follow at Forest Lawn Memorial Park after which the family will host a luncheon at the church.
In lieu of flowers, the family requests donations to St. George Catholic Church, 771 Roscoe Road, Newnan, Georgia 30263, Our Lady of Lebanon Maronite Catholic Church, 2055 Coral Way, Miami, Florida 33145, or the charity of your choice. Condolences may be expressed to the family online at www.mckoon.com.
McKoon Funeral Home & Crematory 770-253-4580