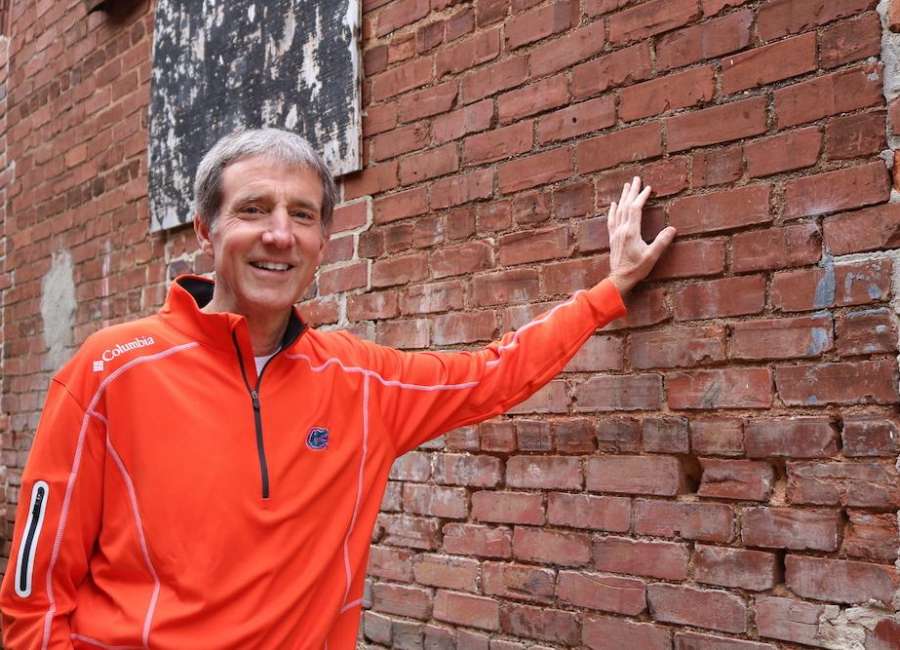 The first time my wife and I went to a TNT auction, we bought almost a dozen items and spent a lot more money than we had intended. Auctions, we discovered, can be intoxicating. Addictive, even. Going once…
The next time we went, we came home the new owners of a 1954 Chevy truck. And spent more money than we could have even imagined. Going twice…
We don't think we can afford to go a third time – although I doubt that will hold us back. After all, as I said, auctions can be addictive.
***
Tommy Knight and his late wife Tina opened TNT Antiques and Auction in 2010, in the former Bridges and Cole general store (circa 1860) at 132 Terrentine Road in Sharpsburg. Remnants of the former 'gathering place' for the men in town include the potbelly stove the men once gathered around to chew the fat and a couple of rolling ladders used for reaching the shelves on the wall. The ladders had another purpose as well: for the men to reach the liquor bottles they had hidden up on the shelves - where their wives wouldn't find them.
The business' letters, TNT, represent 'Tina and Tommy' – 'not Tommy and Tina, as most of the customers think,' according to Tommy. Putting Tina's name first wasn't simply a matter of 'ladies first.' Rather, Tommy says that his late wife was 'the driving force and the heart and soul of TNT. It wouldn't have been possible had it not been for her dedication and determination.'
Before becoming an auctioneer, Tommy, who was born in Atlanta and now resides in Newnan, was a man of many vocations. Initially, he worked for the family's ice business that began in 1907. After that, he worked in the construction supply industry as well as a restaurant. Then, he worked at Gold's Antiques and Auction, where he learned the trade that he practices to this day.
When Tina passed away in 2018, Tommy says TNT lost the 'woman's touch,' meaning the store wasn't as neat and tidy as before – although he's selling himself short: vintage things aren't supposed to be neat and tidy. Today, TNT Antiques and Auction continues to provide an ever-changing smorgasbord of inventory: a place any collector of antiques or anyone shopping for a bargain would appreciate.
Tommy says that besides the on-the-job training he received at Gold's, he graduated from auctioneer school, received his certification to be an auctioneer, and attends annual training per a continuing education program required by the state. Tommy addressed the question everyone wants answered: why do auctioneers talk so fast? It's quite simple, actually: 'So we can move on to selling the next item.' Tommy says the auctioneers who talk the fastest can be found at livestock and tobacco auctions – talking so fast that he even has a hard time understanding them.
***
According to Tommy, primitive furniture (old, hand-made, late 1800's) and 1930's arts and crafts are some of his best-selling items. As for some of the extravagant, unusual, and 'diamond in the rough' items he has sold:
An antique, serpentine-front chest that belonged to the owner of one of the largest banks in Atlanta. In one of the drawers was the original bill of sale and a letter (proclaiming the chest as 'the finest chest in America' and built in 1760) written by the original owner, a Lithuanian immigrant named Israel Sack, who started a successful furniture repair business in New York City in 1903. The grandson of Israel Sacks (who Tommy contacted because he thought the grandson might be interested in having it) bought it for $35,000 – who then stored it in his attic before selling it eight years later for a quarter of a million dollars. '$1,000,' Tommy sighs, 'is what I could have paid for it when I first came across it.'
A biography of golfer Bobby Jones – autographed by Bobby Jones himself - as a birthday gift for the father of congressman Larry McDonald. A man bought it at auction for $350 – and sold it three days later for ten times that amount. Tommy never regrets the turn of events when something like this happens. Instead, he views them as opportunities for repeat business, as customers who 'turn a profit' are likely to return - in search of more diamonds in the rough.
An auctioned estate sale in Douglasville containing the possessions of Red Palmer, a renowned wildlife expert who developed the Cap-Chur tranquilizer gun, that renders fearless animals harmless without killing them. Items auctioned off included several hundred pelts of exotic animals, various gifts Palmer received from African chieftains from his numerous safaris in Africa, and Palmer's pet chimpanzee and lion – all of which sold for a pretty penny. (The animals, incidentally, had been taxidermized.) Another item sold at the auction was Palmer's Rolls-Royce Silver Cloud. Tommy says the auction lasted almost eight hours, and was the toughest – as well as the most fun – one of his career.
***
Regrettably, Tommy has only held one live auction since Covid reached the United States. Currently he conducts regular online auctions, while still keeping the shop open for customers on Tuesdays, Thursdays, Fridays, and Saturdays – although he recommends giving him a call (678-469-3324) just to make sure he's there. To get on TNT's mailing list and receive notification of future online auctions, register on their website: tntantiquesandauction.com.
I encourage you to discover TNT. You just might find your own diamond in the rough.
But remember, there's a caveat: it can be addictive.
Tommy Knight with the next item up for auction
***
Scott Ludwig lives, runs, and writes in Senoia. His latest book, SOUTHERN COMFORT is his second collection of 101 columns. His first, SOUTHERN CHARM, and all of his other books can be found on his author page on Amazon. He can be reached at magicludwig1@gmail.com