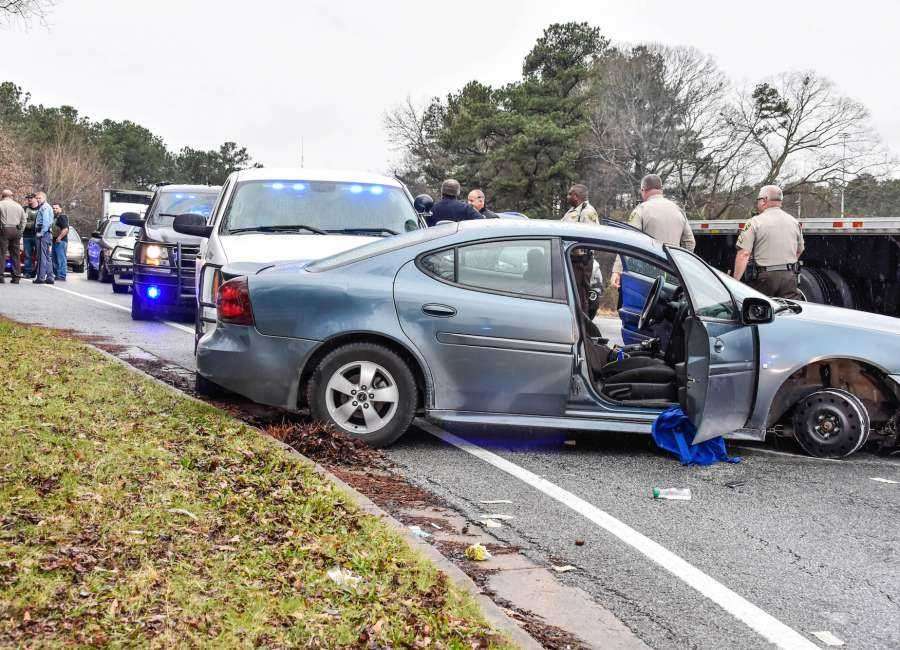 By Laura Camper / laura@newnan.com
Early last week, local deputies chased all the way to LaGrange a speeder who refused to stop.
As he was speeding away, he tossed guns and drugs out his window.
Later in the week, a woman sleeping in her bed was killed when a 14-year-old running from police drove his car into her home.
Sheriff Lenn Wood said hardly a week goes by that his office isn't involved in a chase or two with someone who refuses to stop for law enforcement.
So far in 2022, local law enforcement has arrested 131 people with the charge of fleeing, according to statistics Wood's office provided.
Fleeing is a misdemeanor, but can be elevated to a felony if it includes a collision with a vehicle or pedestrian, an intoxicated driver, a chase across state lines, if the vehicle reaches speeds of 20 mph over the speed limit or places the general public in risk of serious injury.
Statistics provided by the district attorney's office show that 67 of the 2022 arrests were for felony fleeing —so far 11 have been indicted. That compares to the 105 people charged with felony fleeing in all of 2021, 75 have been indicted so far. And 2021 was up from 68 indictments in 2020, 58 in 2019 and 42 in 2018.
Wood blames a "no-chase" policy in place in some metro areas for the increase. Atlanta initiated a no-pursuit policy in 2020 and tweaked it in 2021.
"If it's not one of the seven deadly sins, no chasing," Wood said of that city's policy.
The seven deadly sins are violent crimes including murder, aggravated assault, rape and robbery, he said.
Columbus Police Department's policy is that the officers don't chase an offender unless the potential charge is one that will result in "full-custodial arrest," said Columbus police Sgt. Aaron Evrard.
They do initiate chases, when necessary, but the officers always have to weigh the circumstances of the chase and how that might affect the innocent people along the roadways.
"There's a million factors that come into play," Evrard said, listing things like the time of day, proximity to schools, traffic and weather.
Wood, though, said he believes that some agencies' no-chase policies have increased the number of chases in other areas because word gets out, and drivers think if they run, they won't get caught.
The drivers could be running to hide a more serious crime than the initial stop, Wood said, as was made clear by the speeder in Coweta County throwing guns and drugs out his window as he fled.
"They're usually running for a reason," said Haralson County Sheriff Stacy Williams. "They're looking at their freedom being taken away."
But Maryellen Simmons, of the Coweta County Public Defender's Office, said that's not necessarily true.
"Fleeing cases can happen just for someone running from police in general, or because they have a probation warrant or drugs in the car," Simmons said by email. "There are numerous reasons we see for people fleeing that do not involve serious crimes."
Williams said Haralson County has also been experiencing an increase in police chases. About two weeks ago, Haralson County deputies were involved in five or six chases in a 10-day period, he said, adding, "But that's rare."
There are a number of reasons for the increase: summertime, more people on the road, but most of all drugs and alcohol, Williams said. The majority of the chases are initiated by someone who is under the influence of drugs or alcohol, he added.
Wood and Williams believe that it's safer to forgo "no-chase" policies.
Wood understands the dangers that a high-speed chase can pose on the county roads.
"Because of the danger they're causing other drivers on the road, we try to stop 'em as quickly as possible," he said.
Williams also noted the danger and said that each law enforcement officer has to weigh the public safety with the crime.
"We have called off chases if it got too dangerous," Williams said.
For instance, a 14-year-old fled police recently and after officers identified him, they headed to his home to notify his parents and wait for him there rather than risk injuring any innocent bystanders.
Herb Cranford Jr., Coweta Circuit district attorney, said that any danger posed by the chase lies squarely with the runner.
"I am aware that some Georgia citizens and leaders believe the best way to protect the public from these offenders who dangerously flee in a motor vehicle from law enforcement is for law enforcement not to pursue the offender. I fundamentally disagree, and believe it is unconscionable essentially to allow criminals to hold the law-abiding public hostage with a motor vehicle," Cranford said in a written statement. "As a practical matter, I believe such policies are more harmful and dangerous to the innocent public because they cause more lawbreakers to flee dangerously and because the offender gets away with it and continues to perpetrate his other crimes against other victims and the community."