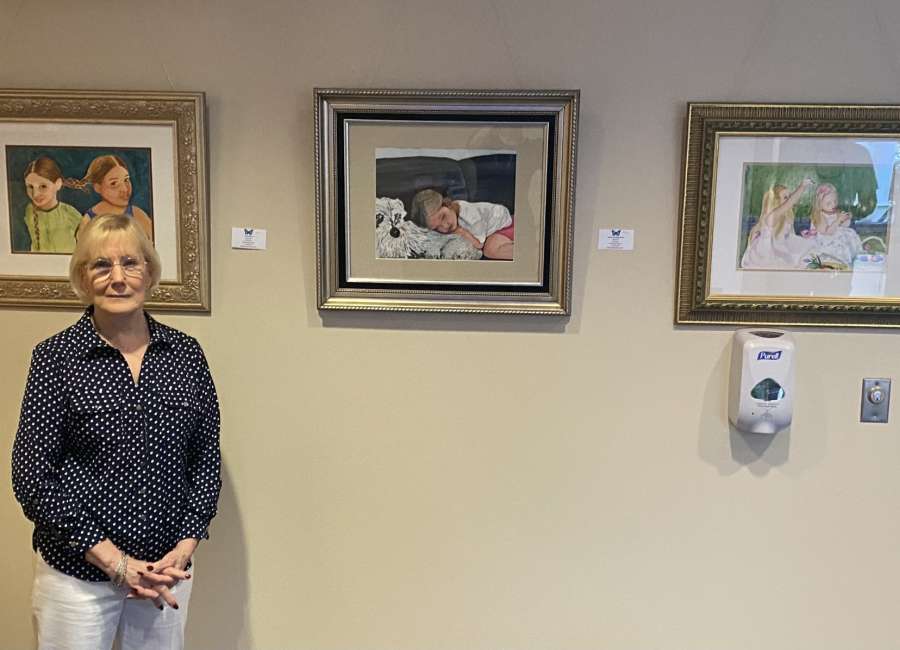 Local artist Karen Stetson DeFelix was recently named "Artist of the Month" for July.

Selected by the Newnan-Coweta Art Association, DeFelix's art will be featured in the entryway to Newnan City Hall until July 31.
DeFelix started out creating stained glass over 30 years ago. After seeing a Tiffany exhibit in Florida, she developed an interest in manipulating glass so that she was not solely dependent on what she could purchase from manufacturers.
She took many fused glass classes and says she still gets excited to see glass "melt." It was during one of these classes that the demonstrator told her about Betty Edwards' book, "Drawing on the Right Side of the Brain."
DeFelix said the book changed her life and soon went from drawing "bad stick figures" to drawing her own self-portrait. From there it was only a small leap to watercolor pencils and then watercolor painting.
Although glass and watercolor are her favorite mediums she also works in acrylic and mixed mediums. One of her new joys is playing with acrylic pours and beyond the pours.
DeFelix moved from Florida to Georgia 11 years ago and says she's enjoying having all four seasons again. She especially loves the blooming trees in the spring and aptly named the painting of her cherry tree in bloom — "Spring: Why I Love Georgia."
She's also a former member of the Florida Watercolor Association and the Clayton County Art Association — Arts Clayton, and is a current member of the Newnan-Coweta Art Association.
She has had many paintings and four of her glass sculptures juried into the NCAA juried show at the Center for Performing and Visual Arts. One glass sculpture was in the "Top Ten."
Her paintings have also been in shows in Clearwater and Sarasota Florida and are in private collections up and down the east coast. She gives group classes in multiple crafts and fine arts at the Gathering in Peachtree City and at an active retirement community.
DeFelix said she enjoys painting a wide variety of subjects.
"I like to paint flowers because they bring joy," she said. "I had a gentleman once who bought my painting of a double Bird of Paradise ("Hawaiian Eye") because it had been his mother's favorite flower. I like to paint old buildings, especially barns because they have a history and there is a beauty in them. I also like painting animals, especially turtles because they are fun and cardinals because they are beautiful and have a lot of meanings like hope. And sometimes I just paint something that catches my eye like a spider in a web or a beautiful bowl of vegetables."
DeFelix said her favorites are paintings that have an emotional appeal like the five paintings for the City Hall exhibit.
"Like the eyes of the protective dog watching over the peacefully sleeping small child in 'Someone to Watch Over Me,' the smile on the young girl's face who is showing off her Easter prize in 'Treasure After the Hunt,' the mischievous joy in the sister's eyes with their braids tied together in 'Twisted Sisters,' and in 'Art of my Art' the love of the little girl hugging the pig I painted for the display around Newnan Square," she said. "And finally, on a more serious note, the woman with the determined and strong look in the Rosie the Riveter pose in 'Woman, Still Keeping America Strong.'"
NCAA's general meetings are held on the third Monday of each month — from August through May — at the Harriet Alexander Art Center on Hospital Road at 7 p.m. Along with the meeting, there is an art demonstration. Visitors and new members are always welcome.