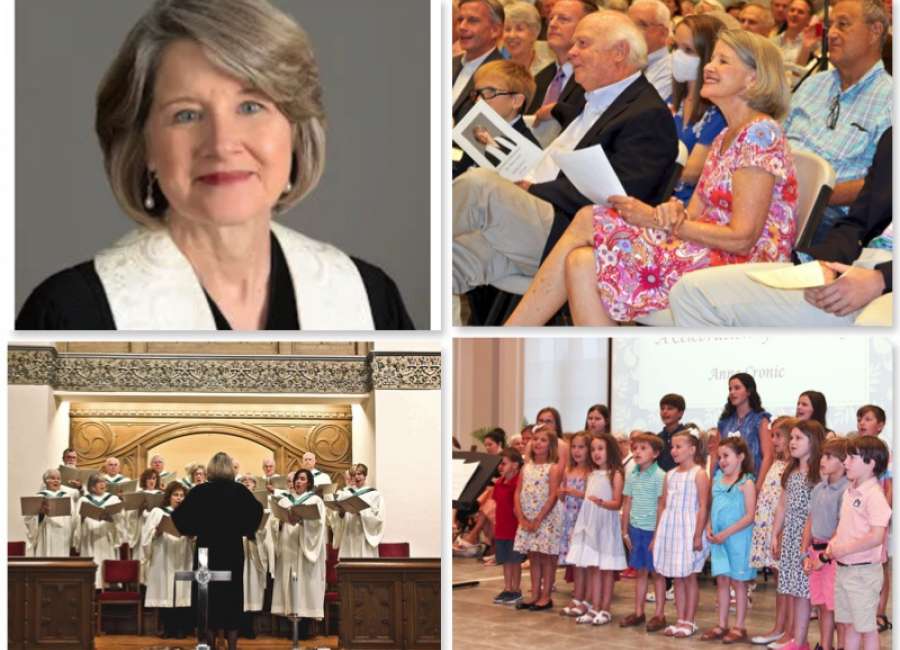 The Rev. Anne Cronic has officially retired after serving as the associate pastor of music and worship at Central Baptist Church in downtown Newnan for 37 years.

The journey at Central
Cronic's educational background was in music education and music history. She taught music for 13 years in public schools, directing and teaching choirs.
Her journey began as pianist at Central Baptist in September of 1985. "Initially, I was a volunteer pianist, but began officially as paid part-time staff in 1991," Cronic said. "Over the next 10 years, I directed children's choirs, played in the handbell choir, and played piano for the chancel choir and for services."
Cronic was approached by the church music search committee during an interim period, asking if she would consider transitioning from the school music setting to church music. In August 2001, she was called to be minister of music.
"I went through the application and interview process with the committee and was offered the greatest job I could imagine," Cronic said. "To combine my love for music with my love for the Lord, and to serve this congregation was a 'calling' from God that had been in the back of my mind for some time."
Cronic said her music and worship responsibilities were eventually paired with ministry to children and women.
"Most recently, however, I was associate minister of music and worship," Cronic said. "I have worked with three wonderful senior pastors: Dr. Joel Richardson, Dr. Winford Hendrix and the Rev. Matt Sapp, and a wonderful group of associate pastors."
Cronic said she has too many favorite parts of the job to list.
"I have loved working with all the children's choirs over the years," Cronic said. "To help children grow in their faith is very special. I have loved working with women. Our Purses in the Pew missions organization provided great fellowship and huge missions support. I have loved working with the chancel choir, the handbell choir, and extremely gifted instrumentalists and soloists as we experienced great music together."
Cronic said she has also enjoyed being part of Feeding Our Friends, a ministry of the church which provides weekly meals and fellowship for the community.
" I have also loved coordinating the aspects of weekly worship," Cronic said.
A new journey — retirement
Cronic said retirement has been a thought-filled process, but she said she still has a lot to do. Cronic said as the pandemic has become more manageable, Central Baptist has returned to normal activities.
"Having reached retirement age, there were still goals I wanted to reach, one being the installation of the new sanctuary organ which was delayed due to the pandemic," Cronic said. " Worship took on a very different face during the pandemic, so I wanted to help get worship and the church music program back to a normal place."
The music minister said she already misses being at the piano on Sunday mornings for worship.
"The piano has been the place that I devoted my playing to God and for the encouragement of our congregation," Cronic said. "I will also miss the shared ministry and fellowship with the staff, choir and congregation. All of these relationships have been very meaningful to me."
Cronic said she is thankful for the relationships she formed at Central and the opportunity to serve.
"My calling and my ministry at Central has truly been a gift from God and an opportunity from this congregation," she said. "We have worshiped and fellowshipped together, we have served in mission together, we have learned from one another, and we have accomplished much to the glory of God at Central Baptist Church. For these many blessings, I am grateful."
The Rev. Matt Sapp, pastor of Central Baptist Church, said "as a minister, as a person and as a friend, Anne is exceptional."
"It would be impossible to find a better worship ministry partner," Sapp said. "It's been a privilege to sit down at the worship planning table each week with her because of her consistent commitment to excellence in all things. It really is inspiring."
Sapp said he is most grateful not only for Cronic's gift of music but also her abilities beyond music and worship.
"There are lots of music ministers who embrace the music part of her role without embracing the ministry part," Sapp said. "And that's what Anne will be so fondly remembered for at Central — not just for her extraordinary giftedness for music, but for her extraordinary giftedness in caring for the needs of our members through her ministry."
A reception was held last month in celebration of Cronic's retirement.