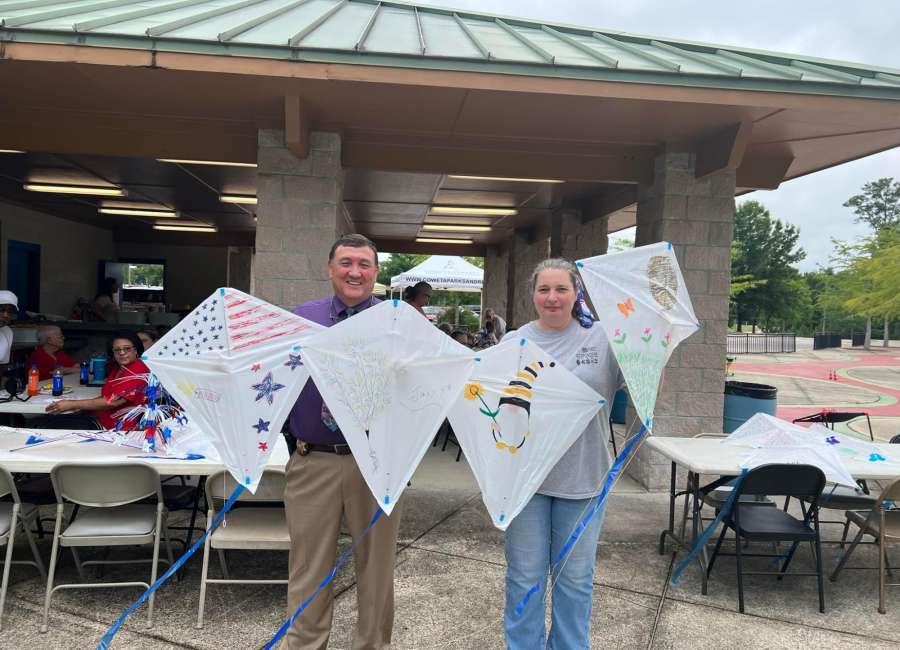 The Coweta County Senior Centers are slowly, but surely, getting somewhat back to normal with more activities and more attendance, according to Patricia Hood with Coweta County Senior Services.
Senior centers serve as a gateway to the nation's aging network – connecting 1 million older adults to vital community services, according to the National Council on Aging. About 75 percent of participants visit their center one to three times per week and spend an average of 3.3 hours per visit, according to NCOA.
The Coweta County Senior Centers offer a wide range of activities including arts and crafts, fitness classes, educational programs, health and wellness presentations, health screenings, guest speakers and social specials, according to its website.
Participation on the rise
Hood said the senior centers have slowly started to increase in numbers, as far as participation.
"We are doing more exciting crafts and I am currently trying to schedule a trip for each center per month," Hood said. " Sometimes it's to just meet locally and eat lunch, and others are all day long in different areas of the state. We have so much fun on the trips, and the seniors really enjoy going."
So far this year, Hood said the group has traveled to south Georgia, The Varsity and Ikea in Atlanta, Buckners and The Sock Shop and Whistle Stop Café.
"I have several trips planned coming up for each group," she said. "I encourage the members to join other groups on their trips so that they can meet new people and attend more trips."
Hood said Coweta County Senior Services has also sponsored other themed events.
"I have hosted a Valentine's Day lunch at the Madras Center and a July 4 cookout at Hunter Complex," she said.
The centers also usually sponsor an annual Christmas for seniors, but Hood said she is not sure if that will happen or not this year. However, she said she is hopeful CCSS will be able to carry on with the luncheon.
"I miss seeing everyone and the fun we have during that event," Hood said.
Coping with COVID-19
Hood said COVID-19 has caused the number of members that attend events to be lower than normal.
"I am hoping that they feel more comfortable coming back to the groups soon," Hood said. "I still sanitize the buildings before the seniors get there. If they feel like they need to wear a mask, I carry some with me to each group. I also make sure there is hand sanitizer available at all times. I don't let anyone come if they are sick. Even if it's just a little cold, I ask that they not attend."
Coweta County Seniors 55 and older who are interested in joining the centers should visit a group they are interested in. The yearly membership is $25 and is collected each October.
Hood said she has even more activities planned for the rest of the year.
"I am so excited about the group's meeting again," Hood said. "I have spent a lot of time looking for new things for us to do and new places for us to visit. Now with five centers open, we have something every day of the week and all over the county."
Coweta County Senior Centers
Coweta County Senior Services currently has six senior centers offering various activities for Coweta seniors.
The centers and meeting times are as follows:
Tommy Thompson Center and Grantville Center run Monday through Friday from 8 a.m. to 1 p.m.
Central Senior Center meets every Monday from 10 a.m. to noon at Literary Lane, Newnan.
Welcome Senior Center meets every Tuesday from 10 a.m. to noon at 1792 Welcome Road, Newnan.
East Coweta Senior Center meets every Wednesday from 1-3 p.m. at 300 Howard Road, Senoia.
Panther Creek Senior Center meets every Thursday from 10 a.m. to noon at 2285 GA-16, Sargent.
Madras Senior Center meets every Friday from 10 a.m. to noon at 2355 US-29, Newnan.
The Tommy Thompson Senior Center, 29 Hospital Road, Newnan, offers a daily lunch Monday through Friday from 8 a.m. until 3:30 p.m. Lunch is $2. Daily activities are also offered. For more information, contact Leila Heptinstall at 770-683-8600.
For other information, call Patricia Hood at 770-683-8600 or send an email to phood@coweta.ga.us .
A calendar of weekly events can also be found in the Senior Living section of the Saturday edition of The Newnan Times-Herald.