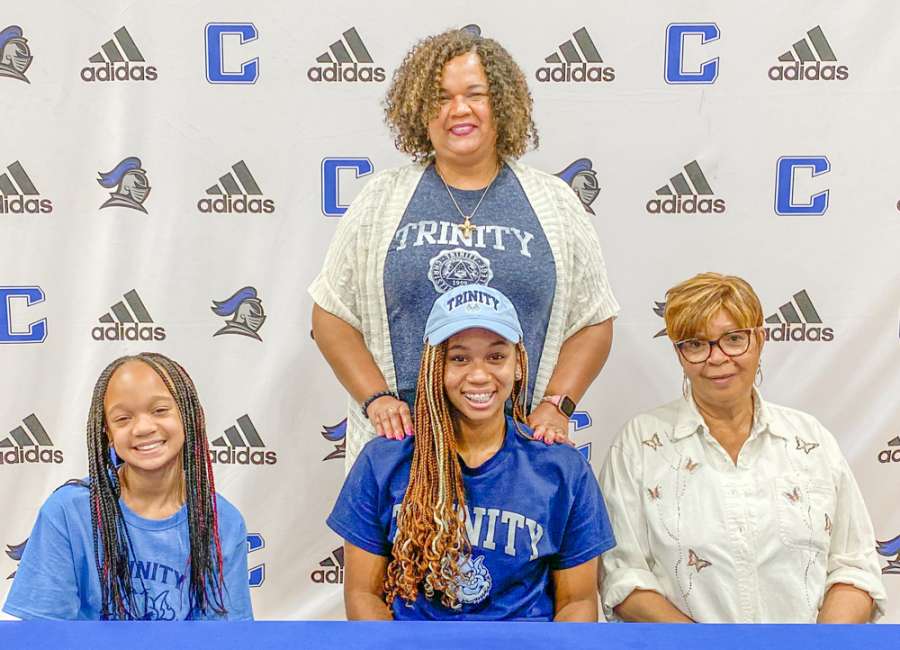 By Ashley Wyatt / sports@newnan.com
Central Christian School's Doria Foxworth recently signed with Trinity College in Palos Heights, Illinois.

The Trinity Lady Trolls compete in the Chicagoland Collegiate Athletic Conference under the leadership of Head Coach Theo Owens and the two assistant coaches, Jennifer Reidl and Kristen Shimko.
Coach Owens began his coaching career at Trinity College in the 2020-21 season. Previously, Owens was Assistant Coach for Robert Morris University.
Central Christian School's girls' basketball team is led by coaches John White, Kyree Woods, and Jackie Britt. Each coach was proud of Doria during the ceremony on Thursday afternoon at the Central Christian gym, where she starred.
Lady Crusaders Head Coach Kyree Woods stated, "I wish the team could keep Doria one more year."
On the 2021-22 Lady Crusader team, Foxworth was the lone senior and was counted on for both leadership and scoring. A perfect example of that was in the region tournament against Harvester Christian in February, she had seven points in the 54-20 victory.
"My biggest takeaway from Central Basketball was never giving up in the face of adversity. We dealt with adversity every game, and we have to deal with it in life too," Foxworth said. "Being the only senior on the team this year, I had to step up and persevere through the pressure that was put on me. It was hard, but God helped me get through it."
Foxworth said she'll take everything she learned from Central basketball with her throughout her life.
"My goals at Trinity are to get closer to God and work hard on the court and in the classroom to make a name for myself," Foxworth said.
Foxworth's mom, Jannet, shared touching moments in her speech about her daughter's basketball career choice.
"Because she stuck to her guns, she made the choice she made, and I am very proud of her," Jannet said.