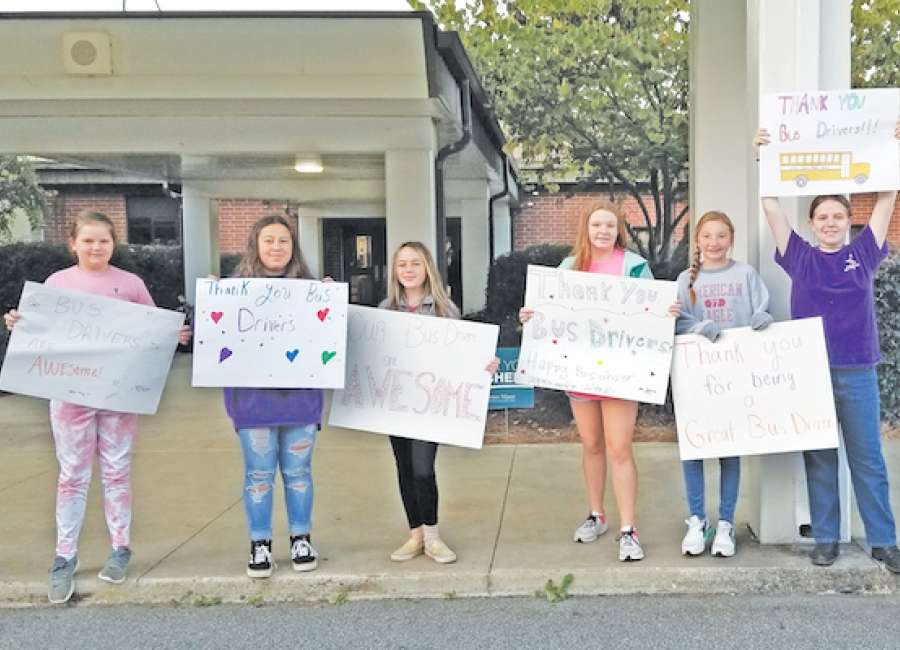 When Blaire Thrasher was in high school, she served as a state officer for Key Club, the Kiwanis International-sponsored high school service organization.

But when she graduated and moved on to Georgia Southern University, she discovered – much to her dismay – that the school did not have a Circle K program, the Kiwanis-sponsored college equivalent of Key Club.
So using the leadership skills she'd learned from Key Club, Thrasher created Circle K at her university.
She finished college as the Georgia Circle K governor, but when she embarked on a career as East Coweta Middle School's engineering and technology teacher, she found herself in strangely familiar circumstances – completely surrounded by a lack of opportunity to participate in Kiwanis.
"When I started teaching, there was no Kiwanis club for me to join because they all meet during the day, and obviously for a teacher you can't (attend meetings)," Thrasher said.
In addition to Key Club for high-schoolers and Circle K for college students, Kiwanis sponsors K Kids at the elementary level and Builders Club for middle school. But ECMS did not have a Builder's Club, so the newly minted teacher once again set to work to remedy the situation.
"I started the Builders Club there in 2009 so I could still be a part of Kiwanis, and we got our charter in 2010," said Thrasher, who has served as the ECMS Builders Club sponsor for 14 years.
And the club has been busy ever since. The Builders Club – open to any student in sixth, seventh or eighth grade – has grown to 40 members, and Thrasher said she is considering moving the club's meeting space to accommodate more students, because she expects membership to keep growing as schools return to a more normal schedule this year.
The goal of Builders Club is to build leadership skills through community service. The East Coweta club is student-run, with a team of officers and committees.
"They come up at the beginning of the year and pick out the kind of projects they want to do," Thrasher said. "I'll give them what we've done in the past and ask them if they want to do anything different."
She said many Builders Club members recall their excitement at receiving monthly books from the Ferst Foundation, which provides free reading materials to children from birth to age 5. That makes the Coins for Cupcakes drive – which supports the Ferst Foundation – a popular choice for the club.
Last year, Thrasher's students planted flowers and worked on other beautification projects on the school campus. The club has also provided holiday decorations and goodies for nursing home residents at Christian City, worked with Meals on Wheels, collected donations for Toys for Tots and raised money for the American Cancer Society by assembling and selling Candy Grams at school.
Builders Club members participated in a Random Acts of Kindness project around school and held appreciation events for cafeteria workers, bus drivers and other staff. The club also held a digital scavenger hunt for their fellow ECMS students, handing out hundreds of prizes to those who joined in.
"This club was probably the most active that I've had in quite a few years," Thrasher said of her 2021-22 group. "I think it had a lot to do with the fact that we couldn't do so much in the past couple of years because of COVID, so they were excited to get back into doing things. So we did about two service projects a month."
Just as it did for Thrasher, involvement in Kiwanis programs has shaped the futures of some of her students.
"I do have multiple (former students) that are still part of Kiwanis that moved up to high school and became part of the Key Club," Thrasher said. "We did trick or treat for UNICEF one year and something for Uruguay. One of my students (from that year), Michelle, actually lives in Uruguay now and is a teacher there. I definitely keep up with my kids and encourage them to join the Kiwanis Club."
All of the ECMS Builders Club projects are funded by the White Oak Golden K Kiwanis Club, to whom Thrasher says she is extremely grateful.
"They make sure that we can do whatever we want to and whatever crazy idea I bring them," she said. "They're excited to help out."
Golden K made sure Thrasher knows she is appreciated, too, singing her praises as Club President Kirk Stallings presented her with the Distinguished Award for the ECMS Builders Club last week.
It's the highest honor for a Builders Club, awarded based on a points system that is based on criteria like leadership, outreach, club structure and accountability/monthly reporting to the sponsoring club.
"You explain your projects and the things that you've done, and the things that the kids have come up with," Thrasher said. "One of the biggest criteria is making sure that the kids have leadership abilities."
Those leadership abilities – and club membership – are due to multiply exponentially, based on plans club members already have in the works.
Students are looking to grow their service to include read-alouds with young children, appreciation events for firefighters and other first responders who have to work on Christmas, raising funds for the Ronald McDonald House and expanding on the beautification projects they started last year.
"We're hoping to do even more this upcoming year," Thrasher said. "And now that they're seeing that we get to do all of these projects, the kids just keep coming."