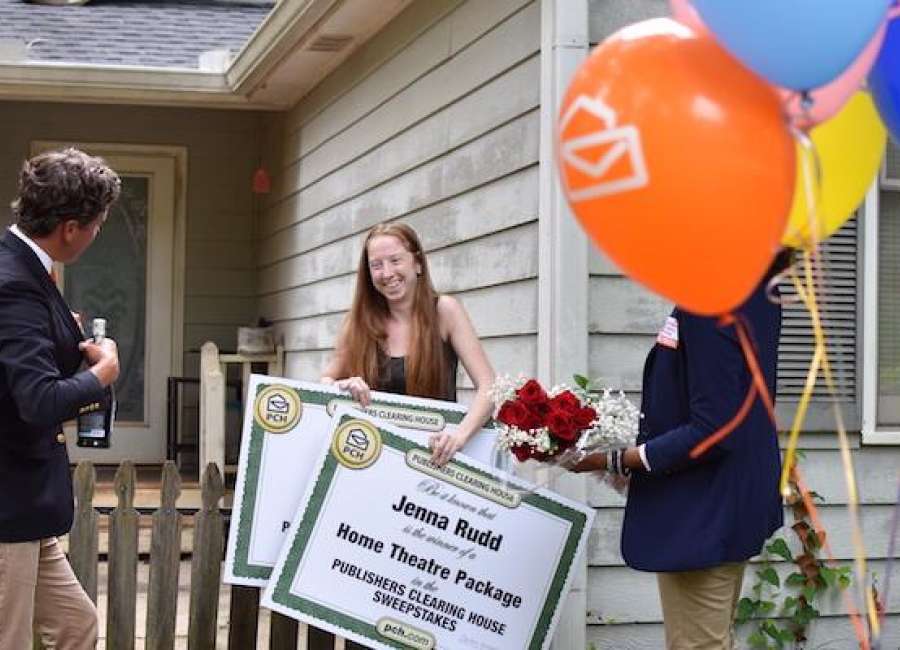 What's worth delaying a night shift worker's bedtime?

A $10,000 prize from Publisher's Clearing House Sweepstakes.
At least, that's the case for Jenna Rudd, who was getting ready for bed when the Prize Patrol – loaded down with flowers, balloons, champagne and two giant certificates – arrived on her front lawn Friday morning.
Rudd, the mother of a small child, starts her shifts at the Amazon Fulfillment Center around midafternoon, but she didn't seem to mind staying up a little bit longer for the announcement that she had won the choice of a home theater system or $10,000 in cash.
She took the cash.
"Do you have any plans now?" asked Howie Guja, who along with Loren Williams made the Prize Patrol presentation. "What do you think? What's the first thing that comes to mind with 10 grand? How are you going to change your life or someone else's?"
Rudd said she's not sure yet.
"Maybe buy a new car?" she said.
She said learned about the sweepstakes from watching her mother play as she was growing up.
"She'd win $100 here and there," Rudd said.
Long gone are the days of stamps on paper for mail-in entries. Entering the sweepstakes is mostly done online, through social media or on mobile phones these days. Rudd, who uses the app, said she plays games on it every day.
Guja asked her if she had any advice for other people, and she said, "Just keep playing. It can happen to you."
As the Prize Patrol took its leave after several promotional video and photo ops, the crew wished Rudd good night and said they hoped she had good dreams.
"This is better than any dream I could have," Rudd said.
About Publishers Clearing House Sweepstakes
PCH was founded in the 1950s as a magazine subscription service that ultimately grew into an interactive media company.
"Our success is built on PCH'S unique mix of free-to-play games and sweepstakes, value-packed offers and the excitement of the Publishers Clearing House brand," PHN states.
According to the company's Q&A, the online game network has more than 10 million unique monthly visitors, and someone wins a prize approximately every five minutes. Sweepstakes are monitored by a certified public accounting firm and a team of attorneys.
The Prize Patrol – created in 1989 to notify winners in person rather than by phone – does not notify any winners in advance, and winners who are not at home still receive their prizes. All promotional materials feature winners who are real people, not actors, at the actual moment they learn they have won.
The sweepstakes has generated a half-billion dollars' worth of prizes funded by company revenues, and the winner selection process is completely random. No purchase is ever necessary to enter or win, and making purchases does not increase entrants' chances of winning. Past winners remain eligible to win again.
The Publishers Clearing House Sweepstakes has become entrenched in U.S. pop culture as well, spawning skits on shows like Saturday Night Live and The Tonight Show. Prize Patrol members have made appearances on game shows as well, participating on The Price is Right, Let's Make a Deal and Family Feud.