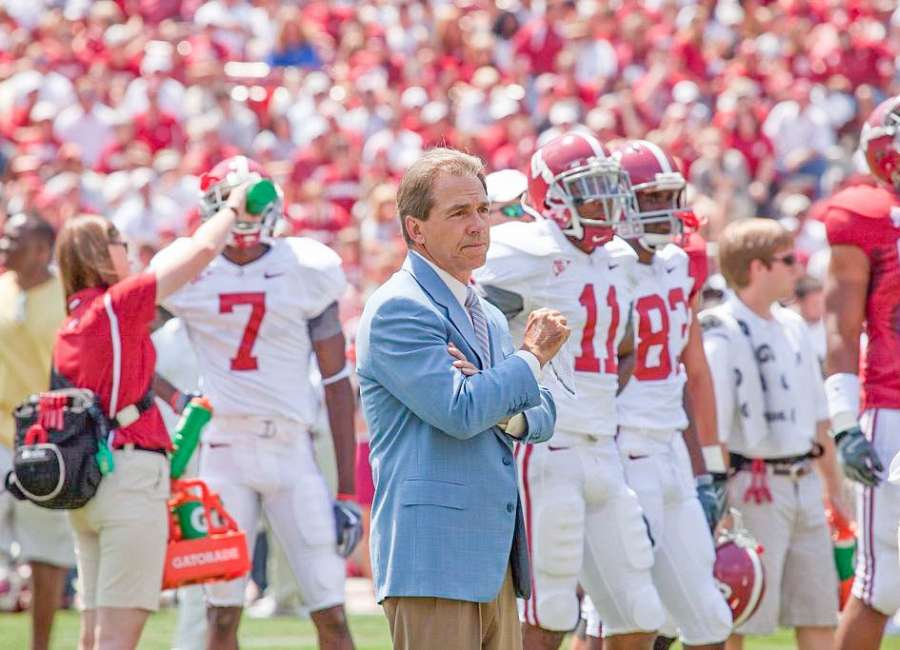 The University of Alabama has always taken great pride in the football program as well as all that surrounds it, such as "the million-dollar band," as the band was called for many years.
Bear Bryant in his 24 seasons took the Tide to 5 National Championships and 12 SEC Championships.
Upon his retirement and then sudden death in 1982, Alabama fans were concerned if they could find a replacement to continue the winning tradition.

Over the next 23 years, Alabama would have six different head coaches and only Gene Stallings, a former assistant under Bryant, took them to a National Championship in 1992. In 2006, coach Mike Shula, a former Alabama quarterback, finished the season 6-7, and the fans were ready to move on.
Nick Saban was born in West Virginia and in high school played quarterback for his team Monongah High. He led the team to a state championship in 1968 and matriculated on to Kent State where he played football as well.
His first coaching job was at Toledo under Dick Crum as an assistant. After Toledo, he had stops at West Virginia, Navy and Michigan State, to name a few. He got his first head coaching job at Toledo and coached there for one year where he had a record of 9-2. Strangely, though, he wanted to get into pro football, and the next year took a job as defensive coordinator of the Cleveland Browns under coach Bill Belichick.
During his time with the Browns, Saban learned a lot from his head coach but would later say it was the worst four years of his coaching life. In 1995 Nick was named the head coach of the Michigan State Spartans, and in his five years, he compiled a record of 34-24-1. After the 1999 season, Saban was named the head coach at LSU and began to apply his craft. While running up a 48-16 record, he won two SEC Championships and in 2003 brought a National Championship to Baton Rouge.
After the 2004 season, the lure of the NFL came back and he left to be the head coach of the Miami Dolphins where again, he did not produce the kind of results he was getting from his college players. After the 2006 season, an SEC school was looking for a new head coach that they hoped would bring success as they had known in the past, and on Jan. 3, 2007, Nick Saban became the head coach of the Alabama Crimson Tide.
Saban brought a new way of coaching and thinking to Alabama as he incorporated much he had learned from his professional football days. As for recruiting, he had developed enough contacts in the pro league where he could entice the better recruits by touting his clout among the owners and coaches. The better recruiting was also matched with a new form of coaching. Saban began to utilize consultants, many of whom were ex-coaches, to evaluate everything from offensive plays to practice to recruits. It is said he has some 50 of these currently in his organization.
The other aspect of Nick Saban is that he is a no-nonsense coach that brings strict discipline to his program and his players. The model that has become Alabama is probably the reason the college game is in such transition as the other schools are trying to find ways to compete with Saban. At this point, Alabama under Saban has a record of 178 and 25 which is a winning percentage of 88 percent, an incredible number. He has won the SEC eight times and has six National Championships. That being said, Alabama has appeared in nine Championship games over Saban's tenure.
Bear Bryan was and still remains a legend, not just in Alabama and the Southeast, but to all the College Football world. His Crimson Tide teams dominated during that time much like Saban.
That being said, Saban is on track to be the most successful head coach at a school there ever has been. I pity the coach that has to take over after he retires, as the shoes to be filled are enormous.
Richard Proctor, born in Newnan, recently moved back from Denver, Colorado, and is an avid college football fan as well as a published author. He is the son of Dr. Ernest Proctor PAPP Clinic.