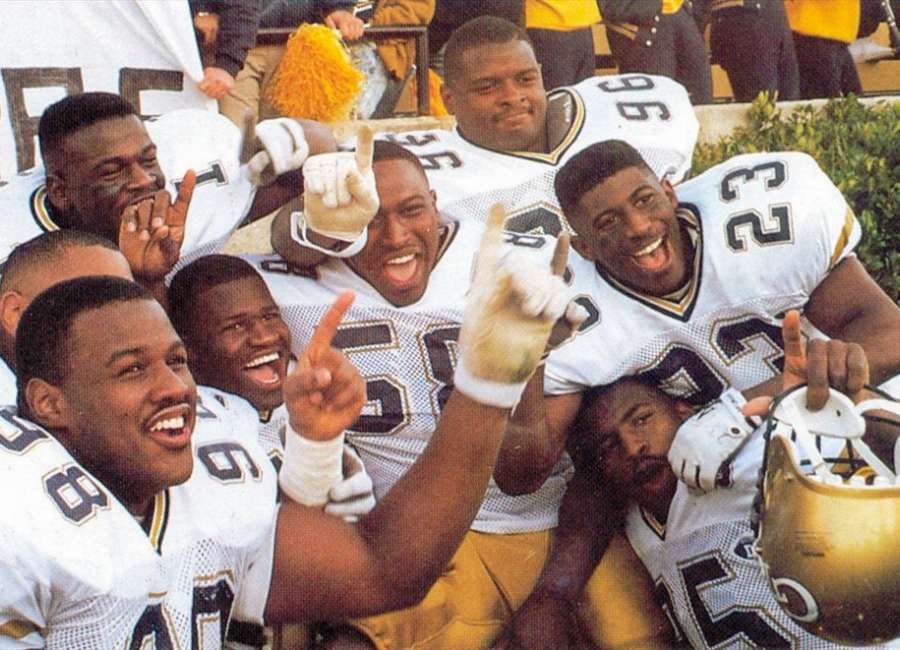 In 1952 Georgia Tech finished 12-0 and would be named National Champions by several of the news sources.
In 1956 Tech would have a 10-1 record and finish fourth in the nation. But for the next 34 seasons Tech would not have any record that would gain them a top five finish or much national recognition. Bobby Dodd would step down and be followed by 4 coaches that never brought Tech to the pinnacle they once were.

Bill Curry struggled from 1980 until the 1985 season where Tech went 9-2-1 and appeared in the All-American Bowl where they beat a very good Michigan State team. He would follow that season with a 5-5-1 record but drew the attention of Alabama. Alabama had been inconsistent since the Bear and had fallen on some issues that began to draw the attention of the NCAA.
After 1986 Alabama offered the head coaching job to Bill Curry, who had a reputation of being very straight laced. Before Curry took the Alabama job he asked his old coach, coach Dodd, if he should take it. Coach Dodd famously told Bill, "Go to Alabama because you will never win a National Championship at Georgia Tech."
In 1987 Bobby Ross was named the head coach of Tech and he brought with him George O'Leary to handle the defense and Ralph Friedgen to run the offense. Prior to the 1987 season the team took its first blow as their top running back, Jerry Mays, was hurt in practice with a knee injury. When the 1987 season ended Tech was 2-9 and struggling. 1988 saw the return of Mays but the team only finished 3-8.
The 1989 season started with a new quarterback, Shawn Jones, a strong defense and Jerry Mays. Tech promptly started the season 0-3 and it was looking bad for Coach Ross. The coaching staff got together as did the team seniors and pledged to make it work. Ross decided that his offense needed to rely on May's running until Jones could get used to the game. Tech then won seven games including a road win over Clemson and a thorough defeat of Georgia.
Even with a 7-4 record Tech did not get a bowl invite, but the team took that winter and spring to prepare for what was to come.
The 1990 season started with a victory over NC State in what was called one of the hottest toughest games as the State coach would later say. Tech then went on a 5-game winning streak that included beating number 25 South Carolina and a very good, ranked Clemson team.
The blemish on the season would be a 13-13 tie with North Carolina in a game that Tech had trouble starting and finishing. Coach Ross decided in a final drive to not go for a first down but elected to tie the game instead. Tech dropped from being ranked 11th to 16th.
After a victory over Duke, the Jackets went to Virginia to take on the number 1 ranked Cavaliers and that game is still replayed on ESPN as one of the greatest fan games of all time. Tech fell behind and went into the half down 28-14. But the second half belonged to the team in white and gold and a last second field goal by Scott Sisson made the final outcome Tech 41 UVA 38. Tech wood shot up to no 7 in the polls.
With wins over Virginia Tech and Wake Forest, the Jackets were ACC champions and ready to play UGA in the annual rivalry. Again, Tech started slow, being down 9-0 in the first quarter, but the offense exploded with 37 unanswered points and Tech finished with a 40-23 victory and a ranking of number 2 in the Nation.
At that time there was no BCS and bowl games were announced sometimes before the last one or two games had been played. When the Bowls were set Tech was number 3 and as such was locked into the Citrus bowl as that was the destination for the ACC champion. They took 30,000 fans and the Rambling Wreck and dismantled their opponent, Nebraska 45-21.
Colorado had held the number 1 spot going into the bowls, even though they were 9-1-1 and had a game decided by a notorious fifth down. The Buffalos would defeat Notre Dame in the Orange bowl 10-9 in which there was a controversial holding penalty on a Notre Dame punt return for a touchdown.
The next day the AP sports writers named Colorado the National Champions based on their votes. It seemed Georgia Tech was just going to miss out until late in the day it was announced that the Jackets were the UPI coaches' poll National Champions. They had won by one vote, and it was rumored that Tom Osborne, the Nebraska head coach, was that lone vote.
Many now say it was the 1990 split championship that began serious talks about making sure that the two top teams would always play each other, and the result was the BCS and its rankings.
But for the Georgia Tech faithful it was a National Championship that they proudly display at Bobby Dodd Stadium today and for a program that had not had much national recognition it put them on display for one year.
As one of the players said when interviewed, "We shocked the world."
***
Richard Proctor, born in Newnan, recently moved back from Denver, Colorado, and is an avid college football fan as well as a published author. He is the son of Dr. Ernest Proctor PAPP Clinic.