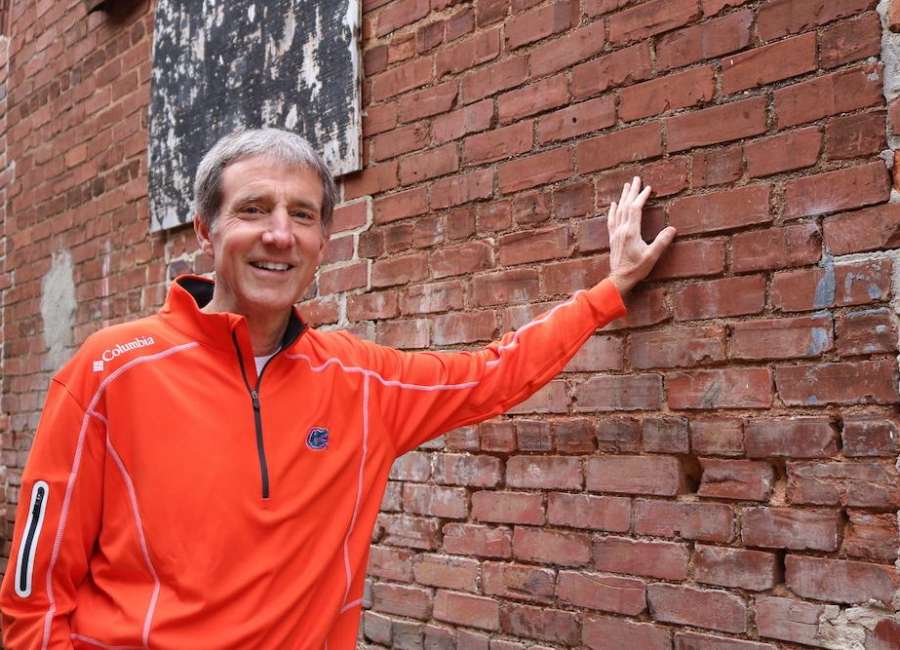 When Al Barker was in his early 60s, one of his patients noticed there were posters of prominent marathons adorning the walls of his optometry practice.
The patient looked at Al and asked him if he used to run marathons.
Little did the patient know that his eye doctor, who had been a runner dating all the way back to the Running Boom of the 1970s, was still actively running marathons. In fact, as many as five or six a year.
I met Al Barker moments after we'd both crossed the finish line of the 1993 Atlanta Marathon. We talked for the better part of an hour before deciding we would run the next Boston Marathon together. We've been friends – and running companions – ever since. Today, there's no telling how much information and how many miles we've shared over the past three decades. But one thing I know for sure: it's a heck of a lot.
***
When he was a boy, Al became fascinated with lenses when he saw the moon through his brother's binoculars. He learned all he could about optics. He even taught himself how to build telescopes. When he saw a brochure for optometry school, he was hooked. Now, 48 years later, he is still practicing a profession that he loves.
***
Running, obviously, is another of Al's passions. After his father suffered a near-fatal heart attack at the age of 47, followed by a second episode 14 years later taking his life, Al realized he had to make big changes in his lifestyle. So, at the age of 30, Al started running. Now, 47 years later, Al is the only runner I know of who has run a sub-five-minute mile, a sub-three-hour marathon, 100 total marathons, 100,000 lifetime miles – and after turning 60, completed a 100-mile run in less than 24 hours.
But Al's passion doesn't stop there. He is also passionate about photography and oil painting. When he was in first grade, his mother always praised the drawings he brought home from school. Wanting to please his parents – as most children do – he kept on drawing, and eventually learned to paint with oils. Now, he loves to capture his breathtaking landscape photographs with a brush.
That he is extremely modest about both disciplines belies the fact that his photographs and oil paintings are both worthy of their own art galleries. Instead, he is humbled that his work resides in a number of homes of the people whose lives he's touched over the years.
Between his optometry patients, running companions, and benefactors of his art, the number of lives Al has positively impacted over the years is impossible to count. One thing I know for sure: mine is one of them.
***
When Al and I started going to races together, my son Josh – who was about 9 years old at the time – confided in Al what he wanted to be when he grew up. Later, Al passed it along to me: "When I grow up, I want to be just like my dad." Today the number of times that thought has crossed my mind would be the same as the number of lives Al has touched: impossible to count.
Tragically, a much-too-soon 25 years later, Josh lost his battle with addiction. On what would have been my late son's 35th birthday, several friends and I organized a 35-mile run to honor Josh's memory. Al came directly from work that day to run the last three miles with me. Al reminded me again – because he knows I never get tired of hearing it – that my 9-year-old son wanted to be just like his dad. Because that's what good friends do.
The very next morning, Al went out for his morning run while Hope, his wife of nearly 50 years, enjoyed her morning coffee watching the news. It was almost like any other day – except by the time Al returned, Hope was gone. We spent most of the day commiserating in his living room about the two very special people we had lost. I did my best to keep his spirits up. But if I'm being honest, he was doing a better job of doing that for me. That's what good friends do.
***
About 15 years ago, Al and I were running with an 85-year-old gentleman from Minnesota who wasn't having any trouble at all keeping up with us. After a few miles, Al pointed at the octogenarian and whispered to me, "when I grow up, I want to be just like HIM." On that day, Al was already 60 years old.
Today, Al is a few years shy of becoming an octogenarian himself. Recently, he decided it might be about time for him to retire. Al's daughter Ashley, son-in-law Cameron, and granddaughters Emery and Conner – who are twins, incidentally – recently moved to the Nashville area, and he wants to have more time to spend with them. Besides, he says, "someone needs to teach the twins how to run."
Retiring from optometry, of course, would also give Al more freedom and flexibility to pursue his other passions. He mentions something he heard many years ago: "It's never too late to have a happy childhood." Seventy-seven years young, he believes that time is now.
Retirement, of course, means Al would have another big decision to make.
What he wants to be when he grows up.
Al, center, with grandaughters Emery and Conner.
****
Scott Ludwig lives, runs, and writes in Senoia. His latest book, SOUTHERN COMFORT is his second collection of 101 columns. His first, SOUTHERN CHARM, and all of his other books can be found on his author page on Amazon. He can be reached at magicludwig1@gmail.com