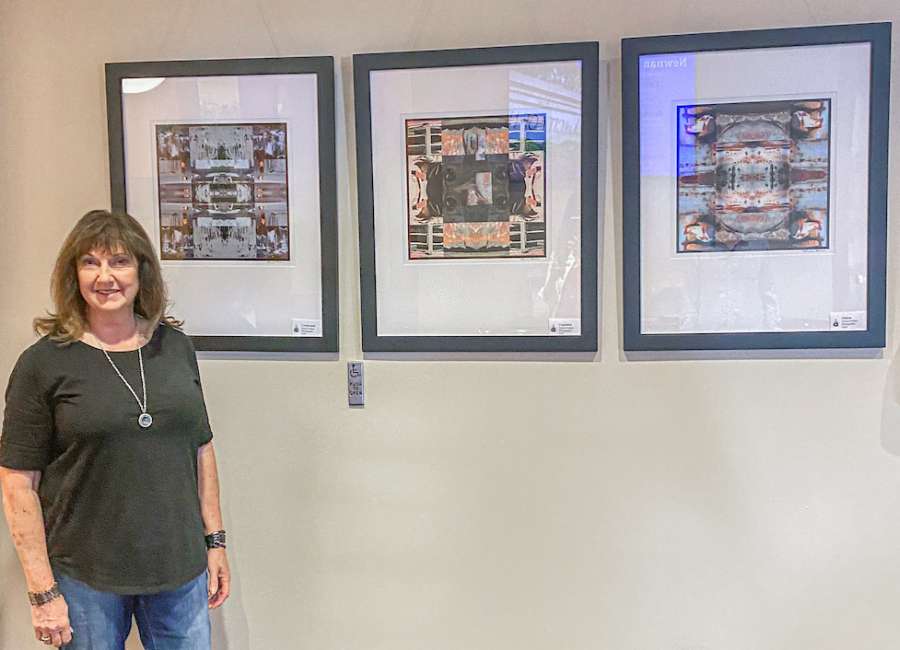 Teresa Foshee is the featured "Artist of the Month" for June.
Selected by The Newnan-Coweta Art Association, Foshee's art will be featured in the entryway to Newnan City Hall until June 30.
Foshee has always been an artist at heart, but life took her in other directions for a long time. She's finally doing what she's always wanted to do – explore, create and design! Foshee is a photographer, potter, and sculptor.
She grew up in Illinois, near St. Louis, Missouri. Foshee always loved to draw, and she remembers spending hours as a child drawing animals from pictures in her parents' encyclopedias. She took some art classes in high school and then attended Harding University in Searcy, Arkansas.
Leaving her studies at the university behind, Foshee attended Sawyer Business College in St. Louis to become an executive secretary; upon graduation, she worked as an administrative assistant for many years.
However, in 2013, Foshee went back to college to finish the art degree she started so long ago. She graduated summa cum laude with a B.A. in Art & Design from LaGrange College in May 2016 with a double concentration in photography and ceramics and sculpture.
Foshee received The William and Elezida Hope Art History Award in 2015 and 2016 from the art department of LaGrange College and The Annie Moore Smith Award in 2016, once again from the art department of LaGrange College.
As a photographer, Foshee is exploring possibilities that lie beyond traditional representational photographs by creating unique abstract designs with her images. She first became interested in the idea of working with multiple images, when she took some pictures of her grandson's snake and delved into the utilization of negative space.
From those images, she created her first two photographic abstracts. That experience largely contributed to her pursuit of combining images using other subject matter such as architectural aspects, old vehicles parts and even some elements of nature.
Foshee has had photographs and bas relief tiles juried into several Art and Photography exhibits in Georgia and Alabama and has won several "Best in Photography" awards and "Awards of Merit." Most recently, Foshee's work has been juried into the Newnan-Coweta Art Association's 15th Annual Juried Member Art Exhibit at The Donald W. Nixon Centre for Performing and Visual Arts, which will be on display June 9-29.
She has also had work juried into the "Simple Pleasures" exhibits at the McRitchie-Hollis Museum (Newnan), The Hathaway Contemporary Gallery (Atlanta), The Montgomery Museum of Fine Arts (Montgomery, Alabama), and the Jan Dempsey Community Arts Center (Auburn, Alabama). Foshee's work has been exhibited at the Lamar Dodd Art Center (LaGrange), Cochran Gallery (LaGrange), Auburn CityFest (Auburn, AL), the City Hall Gallery (Montgomery, Alabama), and in a solo show at West Georgia Technical College (Finding Art in Everything).
Her photographs are included in the permanent collection at the Lamar Dodd Art Center (LaGrange College) and at the Ida Callaway Hudson Lab Sciences Building (LaGrange College). Foshee has also had work featured in the Newnan-Coweta Magazine (January/ February issue, 2017); and, she was a Feature Artist for Dinett Hok Magazine, First Edition, 2019-2020.
Currently, Foshee has photography on display at Due South Seafood Kitchen – The Loft (Peachtree City). Her photographs and/or bas relief tiles/pottery have also been displayed at the Administration Building in Newnan (Art at the Admin), Newnan Theatre Company (Black Box Theatre), Newnan City Hall, Southern Arc Dance (Newnan), Burson ENT (Newnan), Newnan Plaza Pharmacy (Newnan Hospital Annex), Peachtree City Library, Ephesus Library and West Georgia Technical College (Newnan Campus).
Ms. Foshee is a member of NCAA. NCAA's general meetings are held on the third Monday of each month (from August through May) at the Harriet Alexander Art Center on Hospital Road at 7 p.m. An art demonstration is presented each month. Visitors and new members are always welcome.