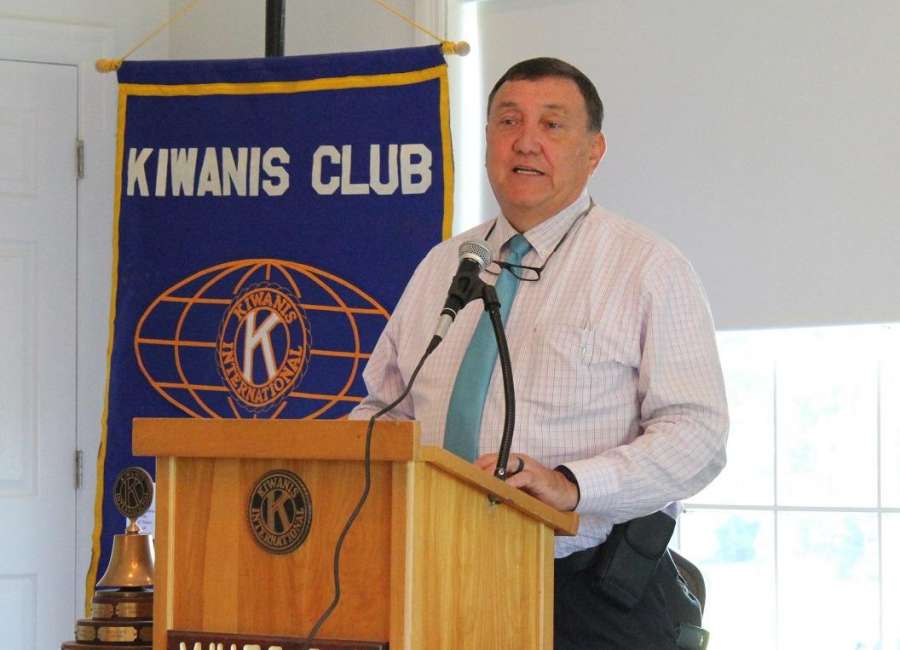 Coweta County Sheriff Lenn Wood spoke on what makes officers want to work at the Coweta County Sheriff's Office at the White Oak Golden K Kiwanis Club's Thursday meeting.
Wood was appointed as Sheriff after the retirement of Mike Yeager and elected to the office in 2019.
After the COVID-19 pandemic, Wood said the jail population is averaging 480 inmates per day.
"Our business has picked up tremendously. We went from the lowest jail population we ever had in the jail during COVID to well over what our population should be," he said.
The new construction at the jail will be complete in about two years, Wood said, which will provide the facility with 180 more beds.
"That will help us alleviate a lot of it," Wood said. "Pretty much every day you see we're involved in another motor vehicle chase. Those are the most dangerous things we do because we don't know what the other person will do. You don't know what they're wanted for. So many of the metro counties have developed no chase policies, so they think 'If I run, I'll get away.' We don't do that here in Coweta. We don't want that crime here, and we'll stop it as quickly as possible."
According to Wood, when other law enforcement officials at agencies hear about how CCSO responds to crime, they want to work in Coweta County.
Applicants often take a pay cut to work in Coweta County, he said, because they're able to do work they're proud of.
Programs such as the annual Mantracker training help spread the word about CCSO to nearby agencies, said Wood.
He said CCSO recently received two job applications from College Park police officers because they were at the training. Other recent applicants come from the city of Atlanta, Peachtree City and Clayton County.
The county approved 22 new positions at CCSO, Wood said, on top of some already open spots.
The sheriff added that he believes it'll be at least three years before those positions can be filled after some deputies retired from the agency, but with the amount of support CCSO receives in the county, he knows the positions will be filled.
"We get so much support from the citizens of Coweta," he said. "My deputies say it's rare they pay for a meal, so we are blessed here. We have a lot of support."