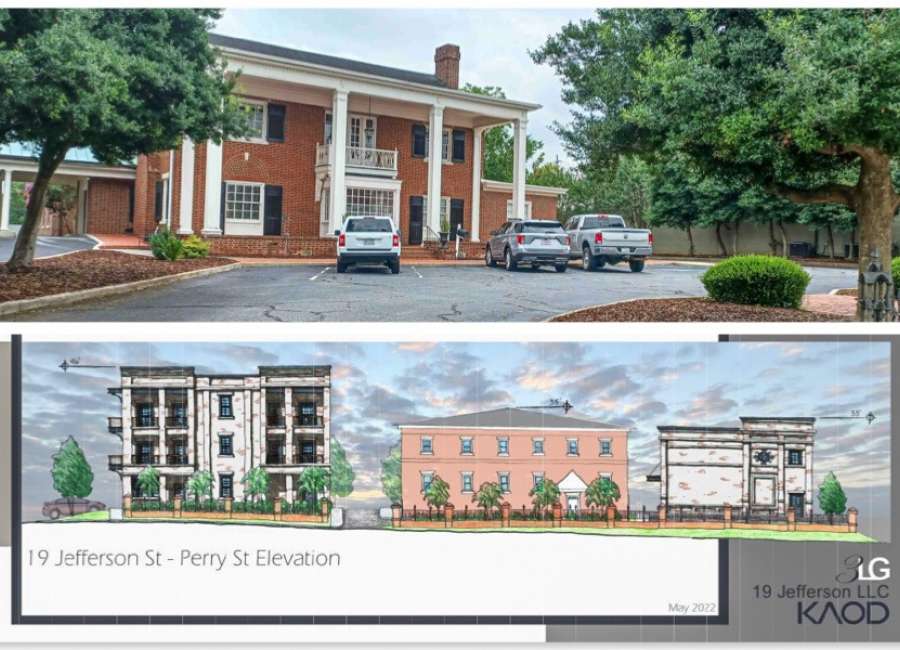 By Laura Camper /laura@newnan.com
The old Newnan Federal Savings and Loan building property in downtown Newnan could have a new life next year.
Last week, members of Newnan's Planning and Zoning Commission approved a certificate of appropriateness for a proposed downtown commercial and residential project at the site at 19 Jefferson Street designed by K.A. Oldham Design.
Tracy Dunnavant, Planning and Zoning director for the city, said the project fits with the area's Central Building District zoning. But it will have to go through the building permit process before moving forward, Dunnavant added.
Bill Stephenson, building official, said at this time the city has not received any building permit applications for the project.
"The C of A (certificate of appropriateness) is very preliminary to any sort of construction project that may be coming to Newnan," Stephenson said by email.
Although they are not sure exactly when they will turn in the application, the owners of the property, John Strickland, Ryan Brooks and Scott Stokes, hope to break ground in six to eight months, Spring 2023, in phase one of the project, they said.
The project would include demolishing the drive-through of the old bank and the construction of two new buildings one labeled residential-commercial and the other commercial on the package submitted to the Planning and Zoning Commission.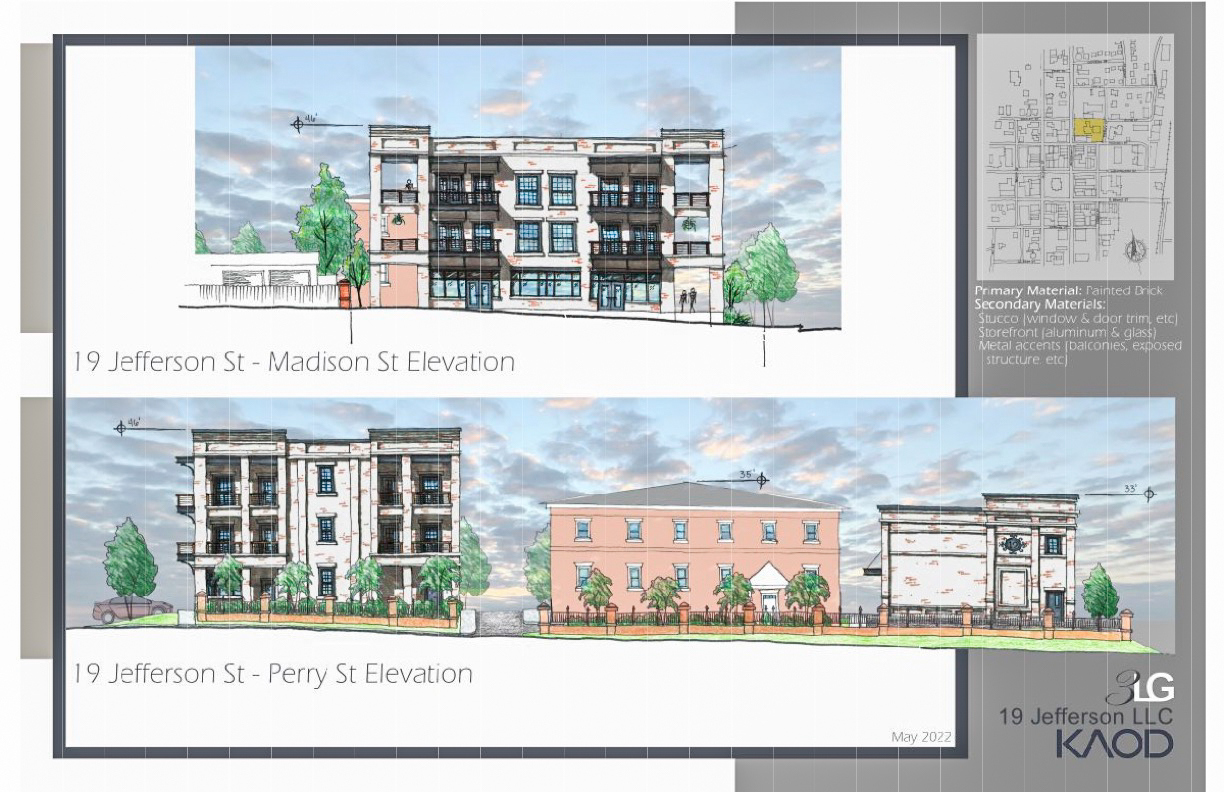 The first phase will be the commercial building, which will house about 10,000 square feet of office space, said John Strickland. The old bank building is 100 percent occupied which makes them think the new offices will fill up quickly once built, they said. They know other communities are seeing an overabundance of office space right now as more and more people are working from home, but said they feel that Newnan will buck that trend.
"There's a lot of uncertainty in our economy right now," Brooks said. "But I think all three of us, Kip (Oldham, architect) included, feel that Coweta County and the city of Newnan … Newnan's going to be a destination area that a lot of other people in surrounding areas are going to move towards."
Strickland agreed, adding that they are trying to fill a niche in the city.
"We're trying to hit a sweet spot with the size of the office spaces," Strickland said. "We want to try to do 1,500-square-foot suites, which makes it affordable for the small-business guy."
They've tried to provide everything needed for the tenants of the future spaces, and even with the additional buildings, Oldham managed to squeeze in a few more parking spots than are existing, Brooks said.
The property is in a great location in downtown Newnan and it will give more opportunities for businesses to move in, Stokes said.
The mixed-use building, built in the second phase, will have six to eight upscale studios or apartments spread across two upper floors. The first floor will have about 2,500 square feet of office space. The renderings show the space used as a restaurant.
"There's a lot of new stuff going on, but we're certainly creating opportunities to bring some other investment to downtown Newnan," Stokes said. There's a lot of things that could go in these spaces to create - I keep saying create value - to create other options for the citizens down here."
One thing that won't change is the old bank building.
That was built in the early 1900s with the back addition built in the late 1980s, Strickland said. The building has special meaning to him.
"My dad actually, he was president of the bank there, and he worked there from 1968 to 1991," Strickland said. "Through high school, I actually worked for the bank there. (This building is) very personal to me."
The project is personal to them all.
"It's our home," Brooks said. "With everything that's changing in our economy, I feel more comfortable investing in Newnan than I do anywhere else, I can tell you that."