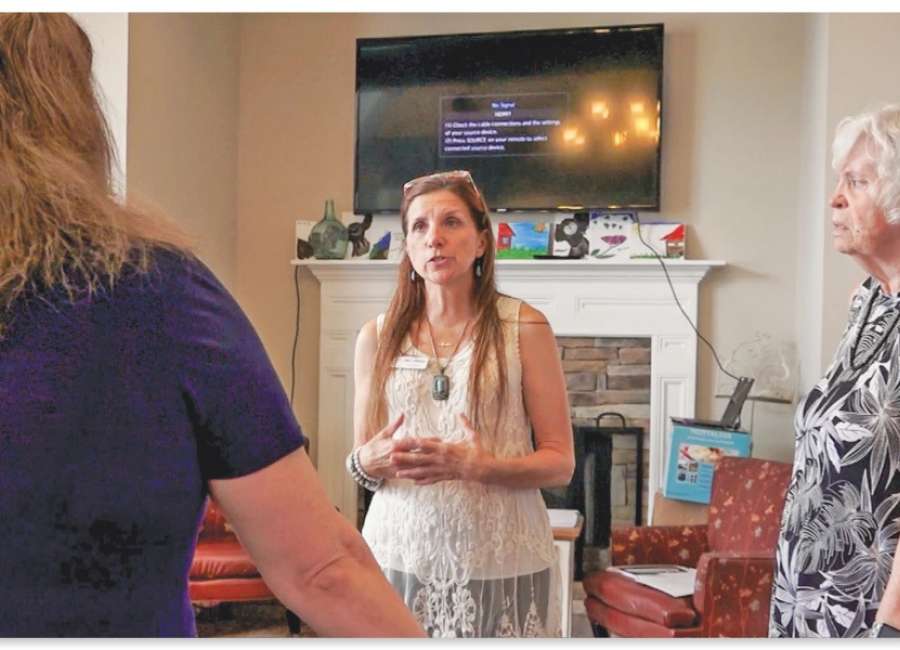 As America ages, more people are becoming caregivers to a loved one in need.

The AARP and National Alliance for Caregiving estimate that 3.4 million children are currently in caregiving roles across the country and provide an estimated 18.4 billion hours of care valued at over $232 billion.
Presently, approximately 16.1 million Americans provide unpaid care for people with Alzheimer's or other dementias. According to the Alzheimer's Association, dementia is the sixth leading cause of death in the U.S., 1 in 3 seniors dies from some form of Dementia, while 5.7 million Americans are living with Alzheimer's.
Between 2000 and 2015, deaths from Alzheimer's increased by 123 percent.
Lori Lawrence is the founder of Phil's Friends, a caregiver support group founded in honor of her father, Philip Edward Lawrence, who was 100 percent disabled from a 1972 motorcycle accident.
Lawrence said after her father's accident, he suffered front left lobe damage along with a long list of other physical disabilities but was able to lead what she considered a fantastic life. But about 5 years before he passed, they began noticing changes in his ability to do tasks he had accomplished for years with no problem.
"You ask yourself, 'Is this due to his age, or is something else going on?'" Lawrence said. "The doctors can tell you and you can read all types of literature, but ultimately time is the only way for you to accept the changes in your loved one who has (a) Alzheimer's or Dementia-related condition."
Phil's Friends specializes in providing services in education, medical equipment and modifications for caregivers. The nonprofit group meets online every Wednesday evening.
Initially, the group met in person but changed to a virtual model in 2020 for COVID-19 prevention, which also presented another set of challenges for caregivers.
"Because of COVID, caregivers were keeping family members more isolated, and the more isolated they are, the less stimulation and interaction they got, which increased the decline," Lawrence said.
However, the move to a virtual model has proven to be a positive one for caregivers, who are typically stretched thin for finding personal time to attend in-person meetings.
After a long day and trying to get their loved one situated long enough to get away for a meeting, many caregivers were simply too exhausted to make the in-person meetings, Lawrence said.
"It's much easier to open your laptop at home after a hard day and connect with others rather than having to take a drive somewhere for a meeting where you're spending half the time worrying about getting back home," she said.
Caregivers are often overwhelmed with their daily duties and can fail to prioritize their own needs. But Lawrence said groups like Phil's Friends offer caregivers some much-needed support since members are going through similar circumstances.
While being a caregiver could be considered a dark time in someone's life, Lawrence said sharing experiences gives others an opportunity to learn that they're not alone.
"Like any other support group, you are carrying a heavy load and until you are with people who are carrying a similar load, you can't exhale," she said. "When you hear what other people are experiencing, even if it's not 100 percent applicable to your own situation, you can comfort, communicate and share information that not only helps others but ultimately, yourself too."
The ongoing stress carried by caregivers is often as harrowing as what their loved ones are experiencing.
"The statistics are alarming," Lawrence said. "Forty percent of caregivers pass before their patients. You have to create a support team; you can't do it all."
Lawrence said Phil's Friends was founded in the hopes of helping other caregivers improve their ability to care for their loved ones experiencing memory decline at home. With the support of friends & families and the Coweta/Fayette community, the group aims to provide services in the areas of counseling, education and medical equipment for those in need.
Phil's Friends also collects durable medical equipment and has a storage facility so if someone is discharged from the hospital, they can help right away.
"And since we're a 501(c)(3), we can also give a letter of acknowledgment," she said.
The most important message for all caregivers, Lawrence said, is letting them know they aren't alone and meeting with people undergoing similar circumstances can make a big difference in their quality of life.
"If I can make one day easier for one person, that's all I could ever ask for," she said. "Even if it's getting them through one task they had no idea how to accomplish. To complete something or learn something from our group or workshops — it doesn't get any better than that."
For more information about Phil's Friends, contact Lori Lawrence at info@philsfriends.com