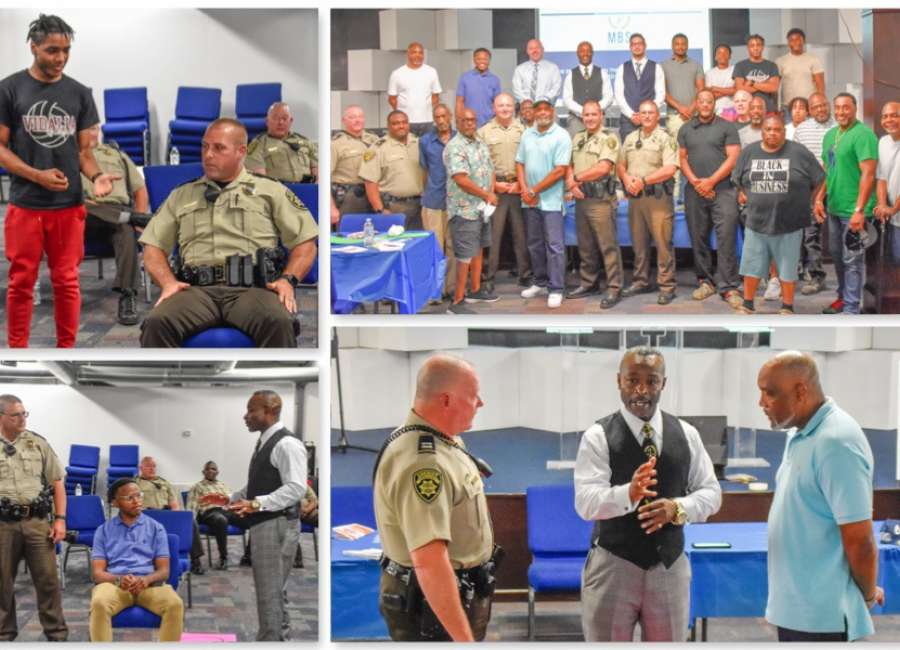 By BETH NEELY / beth@newnan.com
Michael Baldwin was born and raised on the West side of Chicago.
He became a father and a heroin addict by age 15, and eventually ended up serving a double life sentence in California's Corcoran State Prison for armed robbery, kidnapping and attempted rape.
He was released in 2018 after serving 26 years.
On Sunday afternoon, Baldwin addressed a small crowd in the sanctuary of Purified Living Ministries on Fisher Street in downtown Newnan about his life's calling: helping redefine relationships between law enforcement the communities they serve.
Baldwin is the founder and CEO of MBS Consultants, a company he founded in order to be "the bridge between those who serve and those in need of services," a gap he feels is detrimental to those whose lives are affected by crime in one way or another.
"We can count the number of crimes that are committed. We can't count the number of people impacted by a single crime," he said. This also applies to the members of law enforcement who respond to calls for service. "A witness to violence is a victim of violence."
How we got here
Purified Living Ministries Pastor Chris Carlyle has had an active role in cultural reconciliation for years. He has partnered with many religious leaders throughout the years to engage the community on topics that aren't always comfortable.
"I refuse to be a preacher over here just preaching in a corner. It's time to get out and do things for the community," he said.
In addition to his leadership role in the church, he also runs CC's Wings & Things, a local restaurant that frequently serves on-duty officers. "Every time I see a police officer, I tell them I'm praying for them," he said.
He got to know officers as they came in his restaurant. "I saw one guy come in, and I saw something was on his mind. I asked him what was wrong and he said, 'It's hard out there, man.'"
"I had to take a step back. This man is a human being. I had to look at this man through another lens," Carlyle said.
Trauma and trust
So how do communities and law enforcement cope with the amount of trauma experienced by both sides?
Baldwin's plan provides an opportunity for healing, accountability and restoration by bringing members of the community and law enforcement together for the opportunity to experience a deeper level of humanity that otherwise might not be experienced in day-to-day interactions.
He said there is a need to localize the "we" in community to prevent national politics from eroding trust in local communities. "We can start that dialog right here and let the rest of the world catch up with us."
He acknowledged that some conversations can be difficult and there are many barriers that prevent us from understanding each other, but that doesn't mean the conversations can't happen.
It starts with "being willing to be understanding before being understood," he said. "You can't walk in someone else's shoes unless you take yours off." That is, allowing yourself to be vulnerable and opening yourself to hearing another person's perspective can make a productive dialog possible.
"If someone tells you that they're scared, believe them," Baldwin advised. Trust is a vital part of any successful relationship.
To demonstrate his point, Baldwin brought out a poster and laid it on the ground between two volunteers, CCSO Captain Chuck Smith and Pastor Chris Carlyle. Depending on which side of the poster they were standing, it either read the number "9" or the number "6."
He then asked Smith and Carlyle to state what number was on the poster in front of them. "Neither of them is wrong," he said. "But their perspectives are different."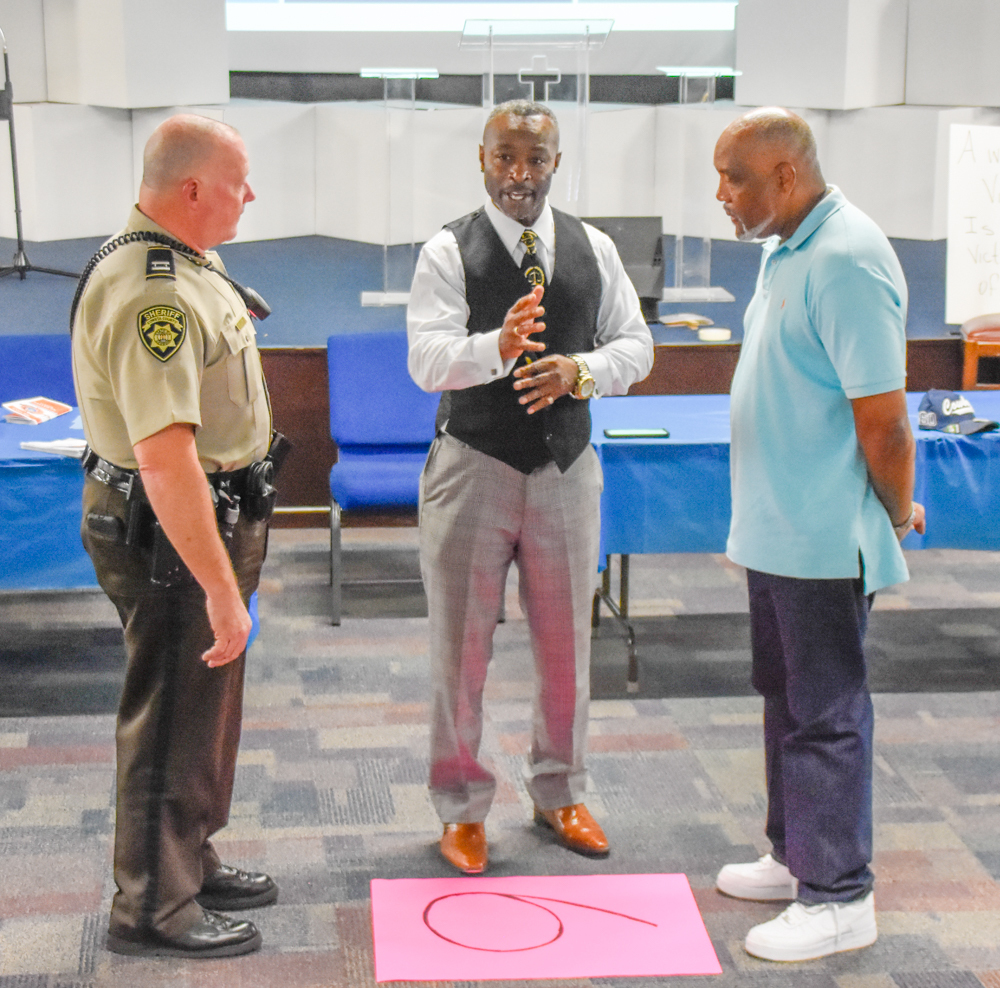 Difficult interactions
"Why is it difficult to interact with someone who has a different perspective?" asked Baldwin.
One participant suggested "cancel culture," citing how easy it seems for people to write off others with opinions deemed "wrong."
Nowadays, he said people seem to have less interest in even spending time in the same room with anyone who has an opposing opinion, much less attempting to understand why they feel the way they feel.
Fighting publicly via social media is another way to deepen the divide between people.
On the other hand, he said, agreeing all of the time isn't necessarily a good thing, either.
"If you've got two people walking down the road thinking the same thing, one of them ain't thinking," he quipped.
"We don't all have to agree. We can still get along. God made us all different," said Darrell Stewart, a local pastor who has been ministering to inmates in jails and prisons for the last 30 years.
Powerful influences
Baldwin went on to explain how influences can shape our worldviews, sometimes without our realizing it.
An influence, he explained, is anything that can cause an effect on you or your behavior. Baldwin then pointed to audience member Charles Wyrick and asked him to stand up, which he did. Baldwin continued to speak, then asked Wyrick to take a seat.
A few minutes later, while continuing to explain influences, Baldwin again asked Wyrick to stand. This time, Wyrick shot back, "Say please!" and the crowd laughed.
"Our influence is only as powerful as our ignorance to it," said Baldwin. Any influence has no power if you're aware of it.
Knowing what affects you and why can help you understand and anticipate triggers, possibly allowing you to control any negative behaviors before they occur.
Both sides of the badge
Baldwin said people are generally afraid of the collective force that wears a badge, regardless of how far away the latest traumatic event occurred.
The Black Lives Matter protests, George Floyd murder, Breonna Taylor killing and others all trickled down to the local level and brought with them the same tensions found on the national level.
Traffic stops are known as some of the tensest moments of an officer's life, and the person being pulled over isn't usually too relaxed, either. Baldwin invited volunteers to act out a traffic stop with the officers, offering tips and invited everyone to ask questions at any time.
Several participants admitted to being terrified by the sight of blue lights in their rearview mirrors. One person admitted to running from the police in the past because he was convinced he was going to die because he was referred to as "a suspect."
Baldwin asked the officers what they thought the man should have done. A suspect, said Lt. Jason Wood, could be anyone with any potential level of involvement in an active case. He could have been considered a "suspect" just because he had on the same color shirt as the guy they were looking for, Wood suggested. By running away, it probably made him look more suspicious to the officers.
Staying there and having a simple conversation would have made it clear that he was not at all close to the scene of the crime, Wood said.
In a traffic stop demonstration, Major Mark Fenninger said that one of the first things he does when he steps out of his patrol vehicle is pull his pants up, which, to a frightened driver on the side of the road, might look like he's "going for his gun."
Between the thick kevlar vest and the heavy utility belt, things tend to shift a bit when he stands up, he said sheepishly.
When he does feel the need to confirm the presence of his weapon, Fenninger uses his elbow as a way to check without appearing threatening, a move he admits officers with less experience might not consider.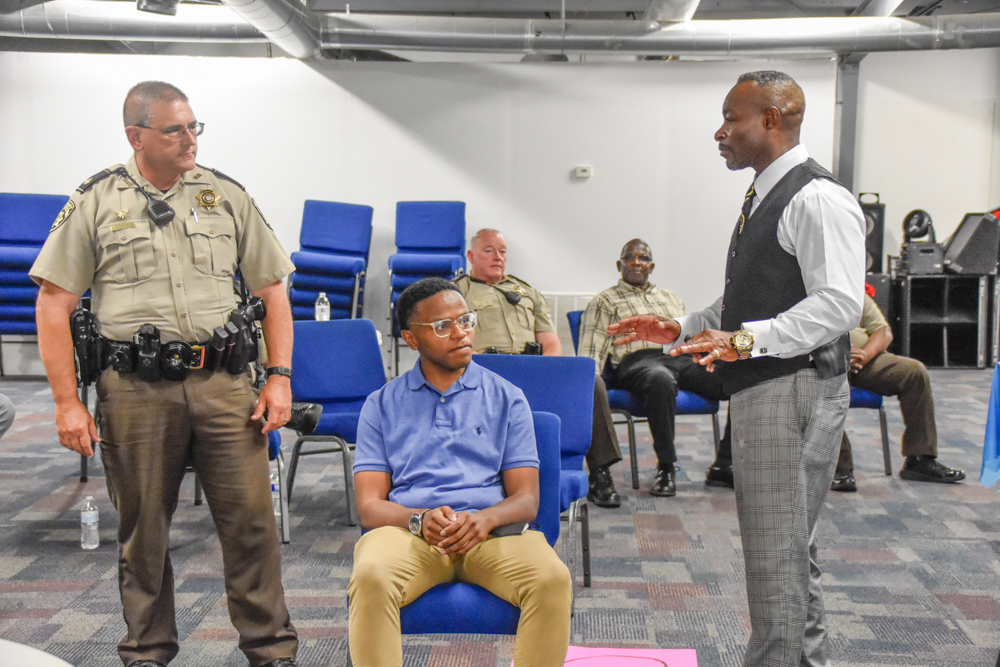 When it was time for the non-law enforcement participants to try their hand at a traffic stop, things got confusing. Not many people knew exactly what was supposed to happen during a routine traffic stop.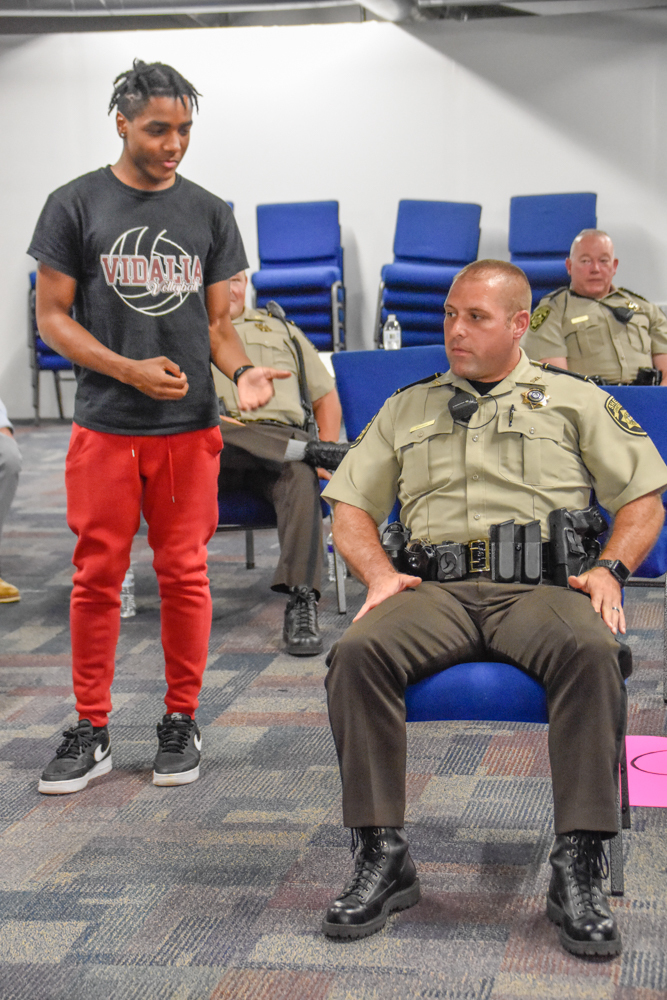 "I've found when you let down all your windows when you get pulled over, it takes the temperature down real fast," said Baldwin.
The officers agreed.
"And I know that what my hands do is the most important thing to you," he continued.
Most importantly, explained Lt. Jason Wood, "We're here to serve the people. It doesn't matter what color you are. If you call 911, someone will come to help you."
"I'm not in this job for the money. I was called by God to help people," added Cpt. Chuck Smith.
"We all live here, and we all need to work together," said Lt. Josh Windom.