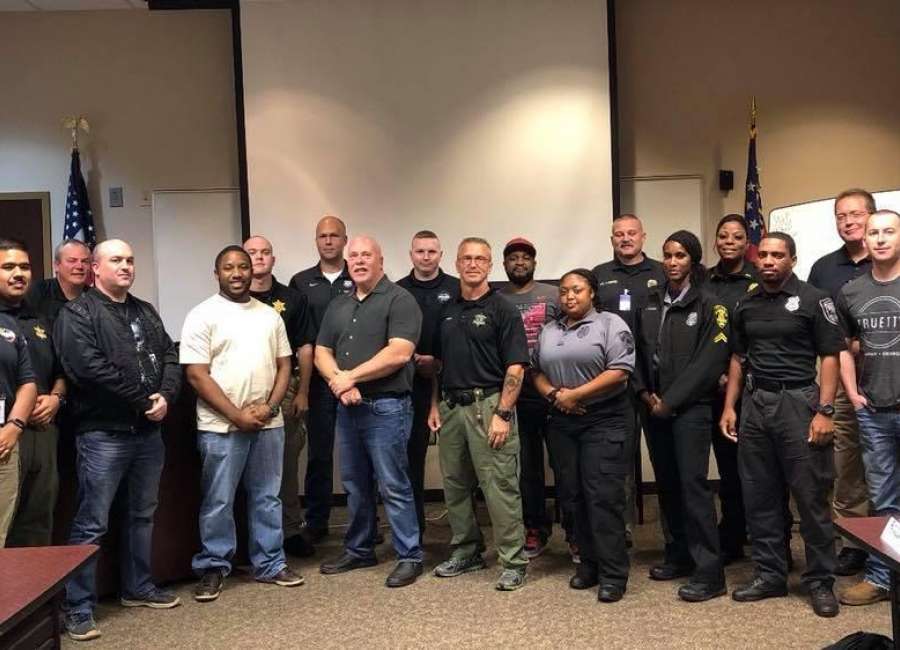 Lou Koons has never met anyone who wants to commit suicide.
His nonprofit, Armed Forces Mission, has trained more than 23,000 people on how to perform suicide interventions, and he himself has been a part of more than 1,700 suicide interventions.
Koons said he believes suicide is not the result of wanting to die, but the result of loss that leads to hopelessness that is so overwhelming that it short-circuits one's coping mechanisms.
Circumstances, not signs, are what people should look out for if they think someone is experiencing suicidal ideation, he said. Part of suicide intervention involves stepping in and asking if someone is having suicidal thoughts.
"We have to be engaged in community and we've got to be courageous to step into a person's circumstances," Koons said. "Nowadays, that's so difficult for a lot of people. We don't want to be engaged or involved. It's going to take somebody who has the courage to step in and say 'How are you doing?'"
Koons founded AFM in 2012 as a response to suicidal ideation found in veterans.
"We have one mission and that is to eradicate suicide in the communities that we serve," he said.
The nonprofits initial mission was to focus on veterans issues, but Koons said the scope of its work quickly expanded to include police officers, firefighters, EMS responders and civilians – anyone that had suicidal thoughts.
Koons said the goal is to always be listening, which leads to building a rapport with someone and then, if necessary, asking them if they have been considering suicide and then asking how to best keep them safe.
After asking that question, Koons said people have given him ropes or asked him to hold on to their guns for their safety.
Sometimes the way to help is calling 911, taking someone to the hospital or performing an involuntary commitment, he said.
Koons said he was trained in suicide intervention while he was a chaplain in the military.
Unknown to his superiors, however, Koons said he was experiencing suicidal ideation at the time.
"They had no idea I was suicidal. I consider it divine intervention that they put me in charge of something that I needed myself," he said.
Koons's own brush with suicidal ideation is what lead him to found AFM when his own son saved his life.
He said he joined the U.S. Army in 1991 and served for four years as a chaplain. Afterwards, Koons said he worked as a real estate broker and had a thriving company in the south metro-Atlanta area, until the real estate market crashed in 2008.
The next year, one of his sons was injured in a backyard explosion, and it sent Koons into a tailspin.
He said his son was trying to start a fire to burn debris and threw accelerant on the flames, which blew up. He was taken to Grady Medical Center for his burns.
The hospital bills were difficult. Koons said his family dropped their medical insurance because he couldn't afford it and his real estate business was still struggling.
So, he decided to rejoin the military.
"My goal was to deploy with the Georgia National Guard and die in the desert. No one would know it was a suicide, and then my family would be taken care of for the rest of their lives," Koons said.
Koons's oldest son was also in the military when he rejoined. His son was stationed in Charleston, while Koons was training at Fort Jackson, South Carolina. Koons and his training unit were sent to Charleston for some exercises, and while he was there he spent some time with his son on a tour of a boat.
HIs son had just received two hours of suicide intervention training from the U.S. Air Force, Koons said, and commented that his father had stopped working out.
"I've always worked out," Koons said. "He was the only person who saw that one sign. He said 'Dad, are you having thoughts of suicide?'"
After he left Charleston, Koons said his son traveled to Fort Jackson at four in the morning to get him to work out.
"I just woke up to the reality that there's a lot of people like me that are hurting and having suicidal thoughts, and unless somebody asked them if they're having those thoughts of suicide, there's a risk that they may die," Koons said.
The following year, he founded AFM, and now travels the country teaching suicide intervention techniques to anyone who wants to learn.
Heather Burrell, the secretary for AFM's board and a former medic in the U.S. Army, joined the nonprofit in its early days.
She said one of AFM's goals is to reduce the stigma around conversations concerning suicidal ideation.
"If somebody told you they had cancer, you'd say, 'Oh that's horrible,' and you go to the doctor and there's treatments and groups you can attend, but if you say, 'I'm feeling bad and I'm struggling and the only way out of this, that I can see, is suicide,' people can turn away," she said. "Everything in the dark is scary. When you bring it out into the light and have conversations, then just that awareness oftentimes will take a little bit of the load off of people."
If the stigma persists, she said, then people often won't have the emotional tools for themselves to address the problem.
"Our prayer is that one day we're not having these conversations about suicide and that it's not people's go-to," she said. "Instead, they have a safe place and safe people that they can talk to and say, 'Hey, I'm struggling. I need help.'"
Peter Madsen, a retired Brigadier General and former chairman of AFM's board, said he joined the organization to assist with the endeavor of helping veterans.
What he thought was originally a veterans issue, quickly widened in scope.
"We found that it was more than just veterans," he said. "It was society. It was teenagers. It was people during the pandemic. Suicide is not just a veterans issue – it's a culture issue. We see it in our schools and in our communities."
Koons said he's trained more than 500 first responder agencies to perform suicide interventions.
Many times after he's taught an intervention class at an agency, he'll get a call from a firefighter or police officer that they used what he taught them 30 minutes or a couple hours after the class, he said.
More people should talk openly about suicidal ideation, Koons said. He doesn't believe that more candid discussions of suicide will lead to higher risk, instead it will just become an easier subject to talk about and address.
"I may not be able to save the world, but I can save somebody's world," he said. "That's the motivation we have to help people."