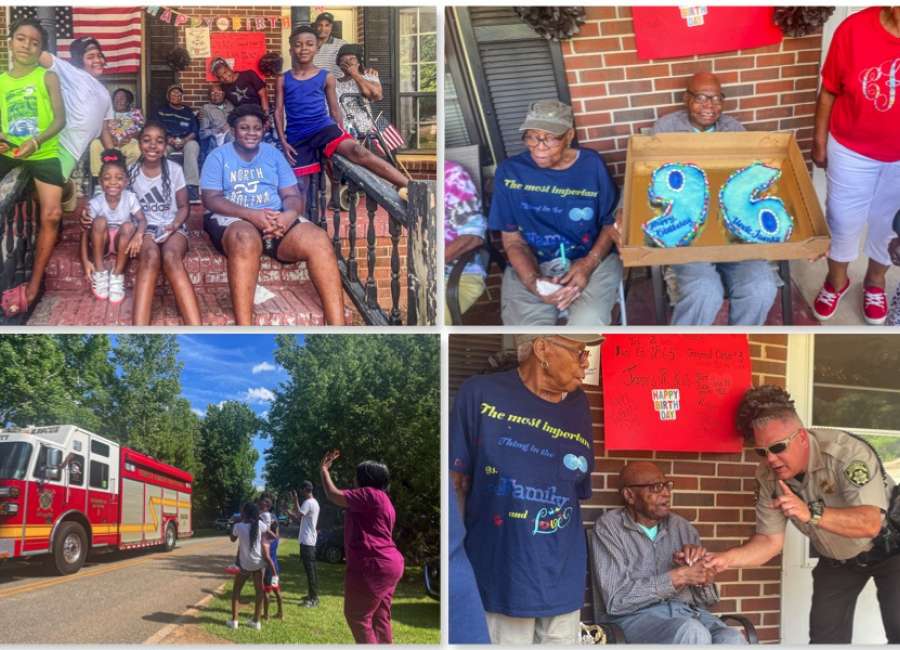 By John Caesar

On Saturday, June 18, James R. Keith celebrated his 96th birthday with friends and family alike just one day before his actual birthday on June 19.

Keith's celebration was very lively and filled with tons of homemade food and cake. Kids were playing with water guns, adults were mingling and playing some games.
After throwing a mini parade for the World War II veteran, members from the Newnan Police and Newnan Fire Department stopped by to personally wish Keith a happy birthday.
After the parade, Keith said he felt wonderful about the party which hosted family and friends celebrating yet another wonderful year with him.
The attendees of the party seem to unanimously agree that one of Keith's defining traits is his love of everyone and his strong convictions in treating everyone equally.
Keith's daughter, Angela Gilliard, recalled his love to bake cakes and pies, including for a Riverdale restaurant owned by Evander Hollyfield. Gilliard would drive from Powder Springs to Newnan to pick them up for delivery.
"Daddy would only allow me to charge them $4 per pie. Even though they sold them $3 a slice, that did not matter to him, because it only cost him $4 to make," she recalled. "He said "do like you want to be done, and treat people right!'"
One of his neighbors, Blake Dawson, said one thing he admires about Keith is that at 96 years old, Keith's still very much active for his age.
"He's 96 years old and gets out, gets his mail every day," Dawson said. "He gets out and cuts his own grass every single day. I mean that's just cool."
Keith's caretakers are his son, Charles W. Keith, and Charles' wife, who spend time with their father every day.
"We keep his house clean, do all his shopping, make sure he is eating and taking his medication," Charles said. "We don't like to leave home except to go to scheduled appointments."
Although, being 96 years of age does come with some issues for the veteran. Keith suffers from some medical problems, and one of the most apparent is his hearing loss. Often, when trying to get his attention, it will take multiple attempts to finally reach him.
In spite of this, Keith is considered rather healthy for someone of his age. Keith's daughter, Angela, said despite her father's medical problems, he's healthier than many individuals 20 years younger than him.
Keith agreed and said he feels as healthy as any 22-year-old gentleman.
With 96 years of experience under his belt, Keith notes that one of the biggest changes that's happened in the world through his eyes is the transition between segregation and today.
"When I was growing up the world was all segregated," he said. "And now everybody got a right for anything they want to be."
Despite growing up in the age of Jim Crow, Keith said he always let people know where he stood.
"It didn't matter if they were white or black, I speak up for my own self," he said.
Keith said some of his fondest memories in life were going to school, getting married and working. He considered his marriage and his ability to be a father that can take care of his kids and himself as his biggest accomplishment in life.
Keith advises the young men of today to "do unto others what you would love for them to do unto you. Do the best you can, and treat everybody alike."
Photos by John Caesar