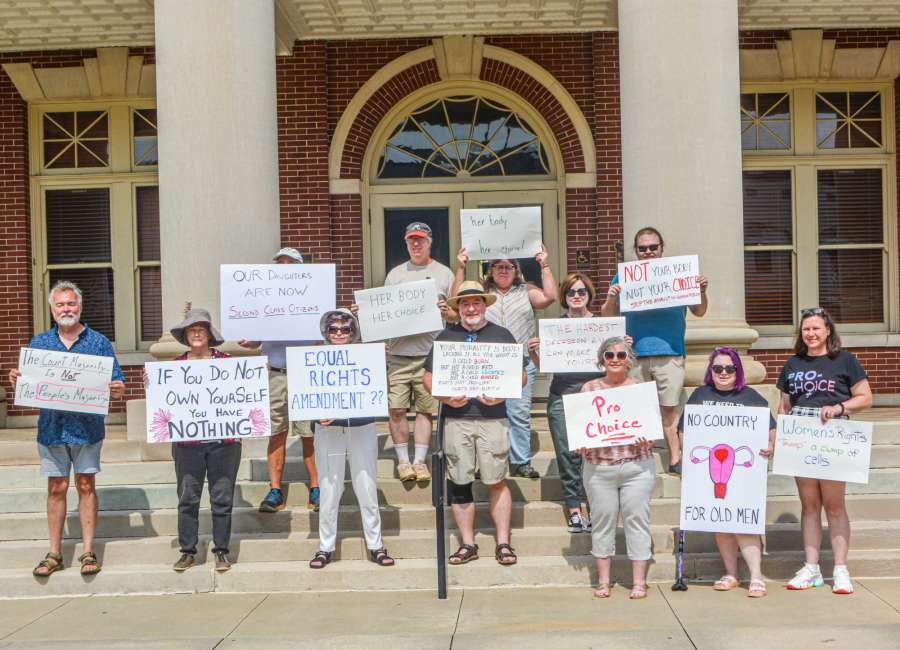 By Dakotah Kennedy / news@newnan.com
A group of Newnan residents gathered downtown Sunday to protest the Supreme Court's recent decision to reverse Roe v. Wade.
The SCOTUS decision in Dobbs v. Jackson Women's Health Organization overturned almost 50 years of legal precedent, and local residents voiced their belief in the right to safe and legal abortions.
"We're out here to let our community know that we do not agree with the overturning of Roe v. Wade," said Angela Thomason. "We are here to let women know that we stand with them."
Thomason is the administrator of South Atlanta Progress, a chapter of Indivisible, a nationwide organization, that organized the protest outside of the 1904 Historic Courthouse in downtown Newnan.
Thomason said she was not always pro-choice. During her 20s and 30s, she was staunchly pro-life, she said
"My husband and I used to disagree a lot about that," she said. "Then I came to realize that it is a very dangerous situation for [women]. Women can die or have severe health complications. If we are going to have to take that risk, we should have a choice."
Tom Thomason, Angela's husband and a lifelong progressive Democrat who ran for the Georgia House District 71 seat in 2018, said he believes it should always be the woman's decision.
"It is not my choice to make. Men can be involved, but they also have the choice to use protection," he said. "Before Roe v. Wade, there were plenty of illegal abortions. Roe v. Wade didn't create abortion. It made it safer."
His wife agreed.
"Every family should have the right to make a decision that is best for them. I should not have the right to make that decision for them," Angela said.
The Thomasons worry how Dobbs will affect their daughters, who are both in their 30s. One is contemplating pregnancy.
"She's determined to have her baby in a blue state just in case something happens where she needs to make that choice," Angela said.
Currently, abortion is still legal in Georgia and not considered an "auto-trigger state."
However, in 2019, Governor Brian Kemp signed one of the most restrictive anti-abortion laws in the country banning abortion at six weeks.
Although the law was never enforced, the Dobbs decision could push the abortion ban forward within the coming days. Georgia's Attorney General Chris Carr immediately filed a notice asking the appellate court to rule in favor of the restrictive abortion law - popularized as the "Heartbeat Bill."
Access to safe abortions concerns some in the local healthcare community as well.
"There will still be abortions," said Melli Furlong, a former delivery nurse and abortion care provider in Newnan. "This decision will increase mortality and morbidity in women."
Furlong and her wife, Kate, say they worry about the ripple effect that could happen with Roe's reversal and what that means for other rights, such as same-sex marriage. The Furlongs have been married for seven years.
As a delivery nurse, Furlong said she took care of women who wanted their pregnancies very much. She described the pain that can happen when a family learns that their baby has a potentially fatal anomaly and might not survive to term.
"It's very traumatizing. They come in crying and they just need someone to realize how much they want this baby," she said.
When a pregnancy is no longer viable because of a complication, Furlong said many women would rather have an abortion than go through labor and the exorbitant cost of having a baby.
"That's a big responsibility, especially if you aren't going to have a baby to take home," she said.
Furlong became an abortion provider after observing the negative climate around abortion access. For three years, she said she helped women make decisions about their bodies without judgment.
"They need someone there who supports them and doesn't judge them for what they are doing," she said. "It helps them realize that they are not a bad person [for having an abortion]. It's a very intense time. People think it's a very light decision. Nobody ever does it lightly."