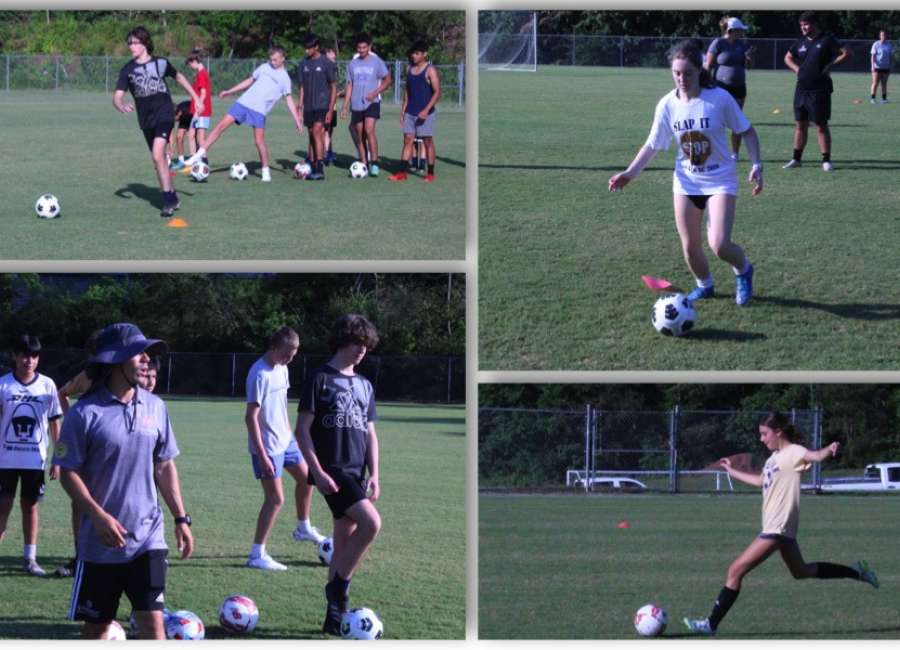 Newnan High School's soccer program is looking to the future, specifically to middle school soccer players that may become a part of the high school program.

This summer, the soccer program, in association with Synergy Athletic Solutions, is conducting a camp to train middle school soccer players, as well as current members of the Newnan High soccer program.
The camp was spearheaded by Brandon Lovett of Newnan Utilities and Josh Villalobos, owner of Synergy Athletic Solutions and former member of the Puerto Rico national soccer team.
"This project, this camp is to give back to the Newnan High community from a soccer standpoint, combining both the middle and high school ages together to serve them and to try to grow their program. That's the goal of what's going on all summer."
Villalobos said the program on Thursday morning was about shooting goals, and during the morning session, students were able to learn drills, passing the ball between their teammates before getting to take a shot at firing the ball past the goalkeeper and into the back of the net.
The sessions are held two days a week during the summertime, on Mondays and Thursday from 8 a.m. to 10 a.m.
Lovett said the students will be able to routinely come back to the program during the summer and pick up skills needed to improve their game.
The head coaches of the boys' and girls' soccer teams were excited about the opportunity to develop the current and future players.
"The whole goal of this whole program was to develop players that are coming to Newnan High School and develop players that already exist at Newnan High School," said boys' head coach Brad Willems. "That was the vision behind this program, was to build more players and get more skill on this team."
"It's good. Brad and Brandon and Josh came up with the plan and I came on board and it's awesome to see as many girls as I've got up here, getting work done in the summer," said girls' head coach Frankie Henderson. "Otherwise, if they weren't playing club or doing camps in the summer, they would just be hanging out and not getting any better."