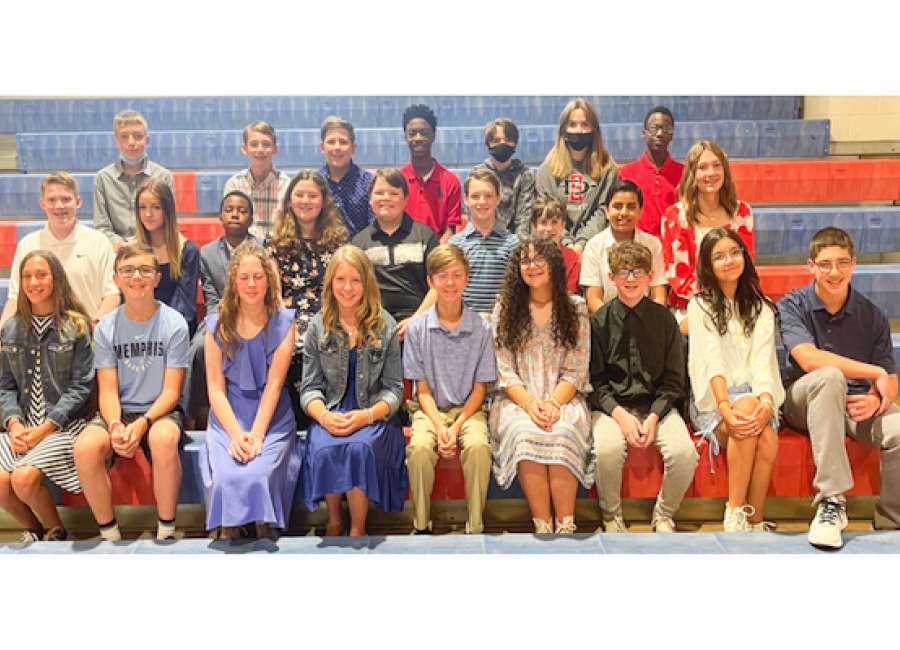 – Photos courtesy Madras Middle School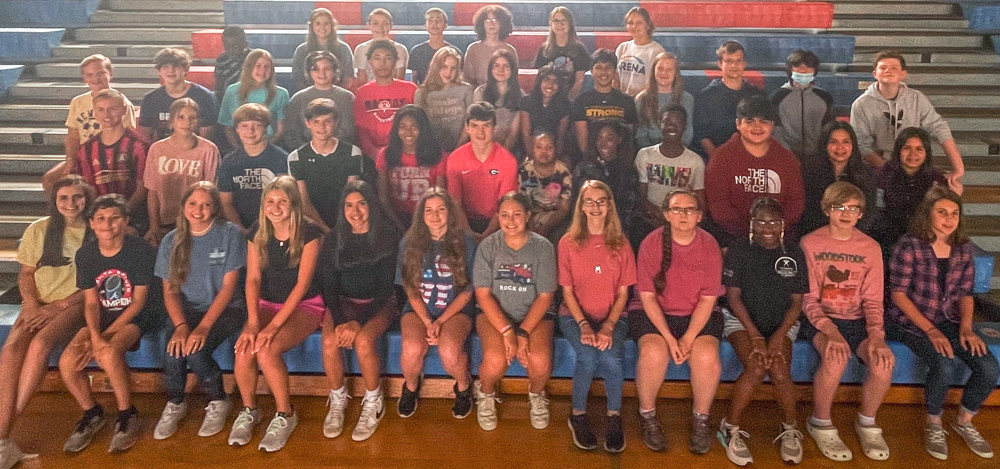 Eighth grade all A's: Front, from left, Harper Agee, Zain Altabchi, Addison Black, Sara Bloecher, Liliana Cano, Cassie Chambers, Elizabeth Connolly, Elyse Cook, Zoe Dean, Mary Frederick, Timetria Gibson (Team Award), Anderson Glass and Kathryn Gray; second row, Cole Hayes, Emma Hill, John Jennings, Zaden Jessup (Principal's Award), Shaniyah Johns, Walker Johnson, Grace Johnson, Pyper Jordan, Aimua Korli (Jaye W. McCoy Citizenship Award), Luis Lopez-Cruz, Sandra Lopez-Perez (Principal's Award and Kendra Lopez-Perez; third row, Cooper Mansfield (Tim Cole Service Award), Davis Markham, Lila McDowell, Ella Morris, Reggial Nevels (Team Award), Tharron O'Donnell, Sara O'Mahoney, Rhea Patel, Shiv Patel, Emmeline Peace, Edward Rice, Robert Smith and Hudson Sopp; back, Corinne Terrell (Golden Eagle Award), Joshua Thomas, Sylas Thompson, James Trosper, Madison Vaughn, Nadia Villela, Caylyn Woodard and Kaylee Woodring.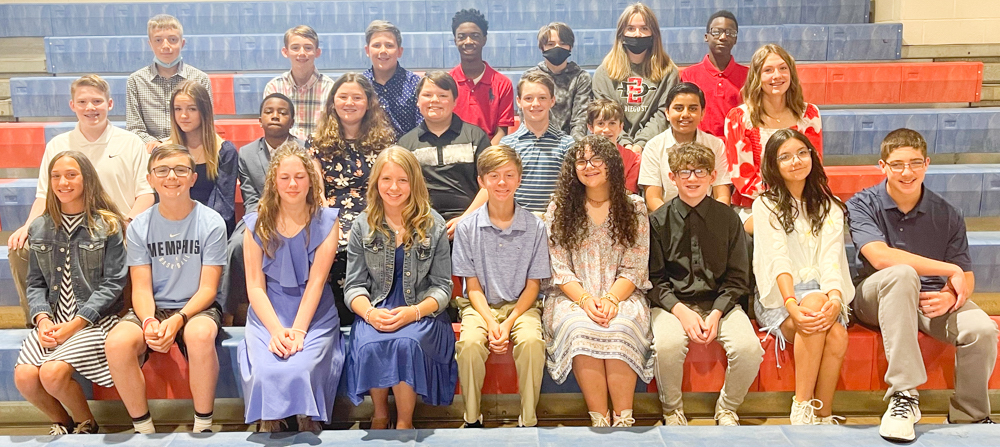 Seventh grade all A's: Front, from left, Riley Adamson, Owen Armstrong, Brooklyn Baker, Lilly Barnard, William Bass, Ava Cates, Samuel Coffman, Giovanna Dos Santos Fazolin (Team Award) and John Ellis; second row, Benjamin Farmer, Brooke Gassler (Principal's Award), Jace Hall, Ann Marie Harlan, Jackson Holbird, Michael Laporte, William Miller, Aanuj Patel and Braxton Richardson; back, Reid Roberts, Harris Rogers, Aiden Roney (Principal's Award), Cooper Ryan, Demetre Swindle, Sydney Williams and Kardell Young; not pictured, Eli Ferguson and Sienna Brightman.

Sixth grade all A's: Front, from left, Colin Adams, Ashley Baptist, Morgan Barber (Principal's Award), Joseph Barnett, Gabriel Bowne, Gillian Brooks, Bentley Brown, Taylor Chapman, Tamzin Collett (Team Award), Emma Conti, Tenley Copeland, Wryson Davis and Miko Del Rosario; second row, Riley Gilham, Houston Hawes, Maura Hayes, Grace Henninger, Danielle Hernandez, Bronson Jury, Makenzie Khaler, Sawyer Kingston, Prince Korli (Team Award) and Kendall Lange (Principal's Award); back, Gavin Martin, Keelyn Martin, Ellie Miller, Ryan O'mahoney, Olivia Owens, Nadia Rudder, Giovanni Saturnino, Dominic Savio, Emma Tanski and Cannon Thomas; not pictured, Jayden Peters.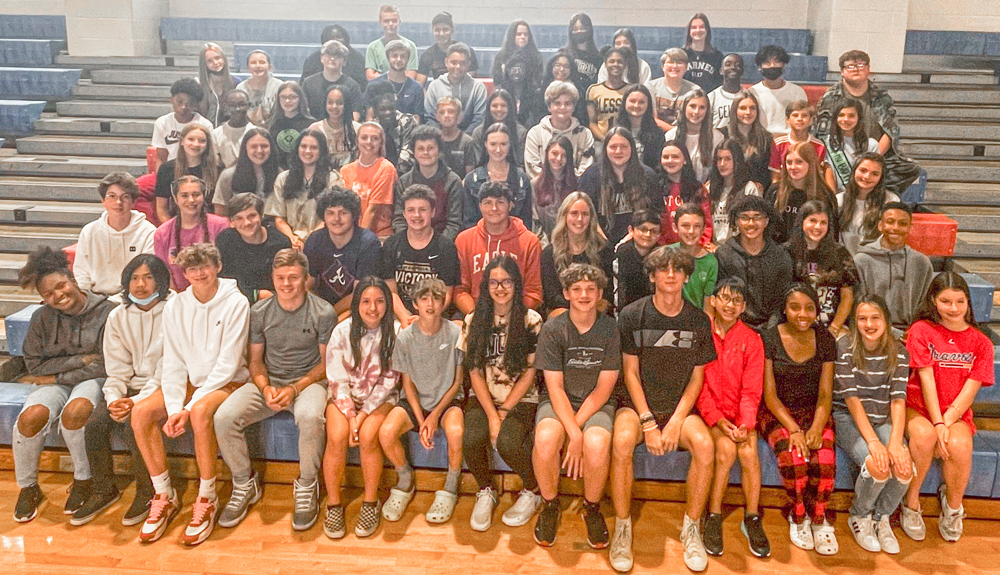 Eighth grade A's and B's: Front, from left, Myesha Adams, Fletcher Arounleut, Barron Baggett, Dylan Barber, Karissa Barcenas, Peyton Beck, Bella Bennett, Dylan Berry, Matthew Bilton, Matthew Bivins, Nia Boyd, Maddison Brenan and Gabrielle Buckley; second row, William Bulford, Alexandra Carlson, Charles Caswell, Robert Chapman, Tanner Clark, Jet Clark, Shanna Coggins, Sebastein Corné, William Cox, Braelin Crump, Katherine Darnell and Kameron Davis; third row, Marlee Davis, Sara Davis, Marli Duncan, Mikalee Elrod, Landon Fricke, Sara-Ann Goodwin, Peyton Gowen, Blakely Greenway, Hollis Haynes, Chloe Hogg, Carleigh Holcombe and Ava Johnson; fourth row, Aiden Jones, Camden Jones, Aleah Jones, Daijah Keener, Mackenzie Key, Kevin Koskey, Kaitlin Lange, Ethan Lavelle, Makayla Meak, Anna Miller, Emilee Miller, Carson Mundt and Adelyn O'Bryan; fifth row, Olivia Rahn, Baelynn Ray, Dillan Rayfield, Caleb Reed, Andrew Reyes, Sierra Robinson, Keysha Rodriguez Sprouse, Kyle Sanchez, Serenity Saunders, Caleb Sherrer, Rudii Smith, Lucas Tran and John Vickery; back, My'Angel Whatley, Jace Wiley, Dallas Wilkins, Noah Williams, Joanne Yoon, Kendra Young and Sarah Zachry.

Seventh grade A's and B's: Anderson Brown, Jasie Bryant, Lindsey Cannon, Abigail Carson, Aaron Childs, Ace Clark, Colin Clifford, Addison Close, Kyndall Coleman, Lilith Ann Collett, Skyler Coverson, Emma Cunningham, Carlin Daniel and Esmeralda Del Valle-Rodela; second row, (2nd Row) Alexis Gaddy, Timothy Gibson, Walker Gray, Ava Hale, Blair Hall, Abram Hausmann, Conner Hoerger, Abigayle Holloman, Caiden Horner, Henry Howard, Brice Jarvis and Brierra Jarvis; third row, Bennett Johnston, Emily Jones, Ansley Jordan, Chelsea Lawrence, Andrew Lewis, Rimmer Lowe, Noah Mattera, Steven McDonald, Reighlyn Meacham, Ryan Moleski, Mohamed Kasim Momin, Hayden Morgan and Max Morris; fourth row, Charlotte Oakley, Summer Paradis, Lauren Perez, Jorden Platt, Dominick Ravo, Allyson Riggs, Jaylin Robinson, London Robinson, KaDe'via Roman (Team Award), Kaliyah Russell, Greyson Salters and Emma Schultz; back, Charolette Sebastian, Carson Shaner, Jacqueline Sieving, Krista Skinner, Chloe Tanski, Alana Thompson, Mary Tingle, Hailey Tucker, Kellen Victory, Vanessa Williams, Jackson Wilson, Gianna Wold and Elijah Zehr; not pictured, Lauren Blake, Braeden Derk, Kellen Duisik, Alexander Maldonado and Kristianna Maldonado.

Sixth grade A's and B's: Jeremy Adcock, Chase Alicea, Brayland Anderson, Mia Andrew, Bennett Barnard, Blakely Barnes, Alexander Betts, Luke Brown, Kylie Cowart, Brody Cunningham, Khloe Curry, Addison Dettmering and Yuriel Diaz-Arias; second row, Maya Dodson, Dawson Enger, Grayson Gaddy, Carter Gates, Ethan Gividen, Leonel Gonzales, Amaya Gonzalez, Madex Hall, William Harper, Lylah Harris, Stephen Hayes, Cason Horton, Maliyah Keener, Ciara Laidlaw, Caleb Langley, Alexander Lawrence and Jayla Levy; third row, Zachary Love, Nash Lowe, Reese Lugo, Landen Mann, Dylan Martinezcana, Briley Matthews, Ashlyn Mitchell, Chandler Moore, Chyler Moore, Joseph Mundy, Aditya Nanapaneni, Ian Nash and Emilee Oates; fourth row, Jasmine Parks, Ella Parten, Jacob Pepper, Mikayla Perkins, Callie Reed, Isaiah Reyes, Brinley Rhodes, Marcus Richardson, Gideon Richardson, Ethan Ritter, Nora Rudny, London Scott and Brayden Sharp, back, Tyler Shelton, Alysha Shockley, Alexander Singh, Jayden Smith, Grant Sopp, Niyana Teagle, Brooklyn Terlizzi, Chloe Thomas, Colton Thompson, Parker Vettese, Bailey Wallace, Caleb Walton and Miranda Winters; not pictured, Joshua Evans.