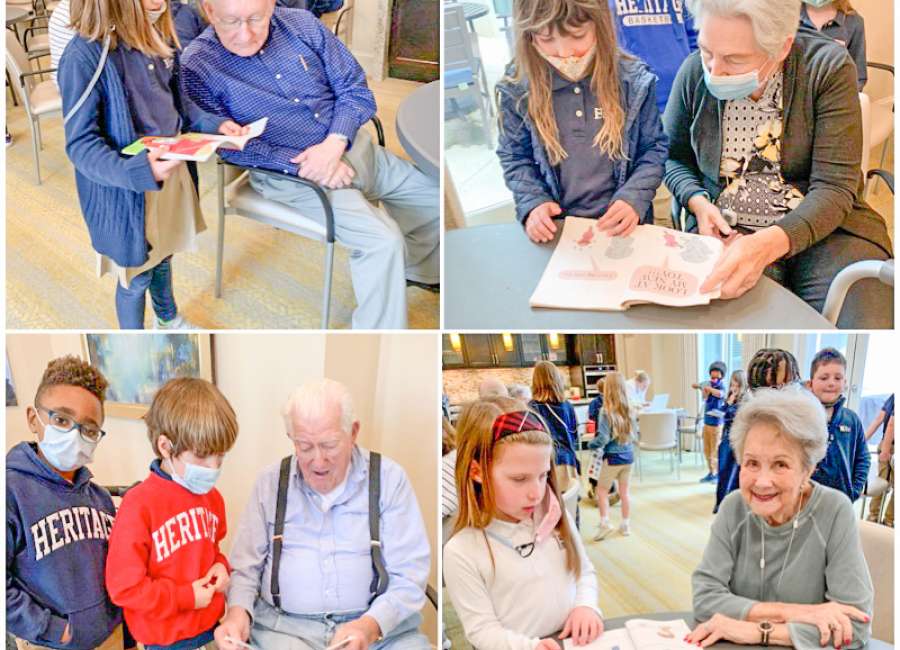 BY JAYLA McDANIEL

Over at The Heritage School, the first graders are getting new experiences while improving their reading skills.
First grade teachers Becca Springfield and Katie Agee created a special reading program for their first grade classes. One Friday a month from September to May, each class would take a field trip to Westhill Retirement Community and would practice reading one book a month with the senior citizens.
"I've always wanted to do a service-learning project with my students, but first graders are too young for programs like Bridging the Gap or Backpack Buddies," Springfield said. "I've had this idea to do a buddy project with senior citizens for a long time."
Springfield said students were excited about the project and would finish their work early just so they could practice reading their book with a buddy. Some also asked to practice with staff members.
Skills like expression, fluctuation and punctuation are hard to teach without a partner, so students read a wide selection of books, such as "Elephant and Piggy" which helped kids practice their inflection.
Springfield said the kids in these two classes gained a higher motivation to read than in any other class she'd taught before.
Among the residents are retired teachers, veterans and several people whose grandkids lived far away. Parents of the first graders remarked that many of the kids are also in the same boat, with their grandparents living far away.
"This whole experience was magical. It kept getting better every month," Springfield said.
Last November, students wrote letters at the beginning of the month and mailed them to veterans. One particular child put a lot of thought into her letter, which emotionally moved a man.
"He came up to her with tears in his eyes and explained how much the letter meant to him, and she explained how she was very thankful that he protected our country," Springfield recalled.
Many kids had one special person they wanted to read to. One woman tended to be a loner and would sit in the back corner whenever kids would come. At the end of the year, it was revealed that she had written notes in all the kids' books that said "A+, great reading!"
Because of the COVID-19 pandemic, many kids experienced a loss of connection with others outside of school and family. But this experience is helping them make connections with people who are different from them, according to Springfield.
"These kids have grown more confident," she said. "They have the agency to hold doors and pull out chairs for residents with mobility issues without being asked to. These are skills that usually don't appear until they are a little older."
One child remarked on how he was a "double helper" since he helped a resident pull out her chair and she helped him with his reading.
"I am very proud of all of them, and I can't wait to do it again next year," Springfield said.
Jessica Griffith, director of activities at Westhill, said the experience has been a big hit with residents. During a recent town hall meeting, residents expressed their enthusiasm for the program.
"It's certainly become something people look forward to every month and we're excited about resuming the program once school is back," Griffith said.
And while the reading has been beneficial for the youngsters, Griffith said the relationship has been just as fulfilling for the residents.
"Many residents' families are far away or have grandchildren that are all grown up now," she said. "Getting to see and hang out with kids really makes a big difference."