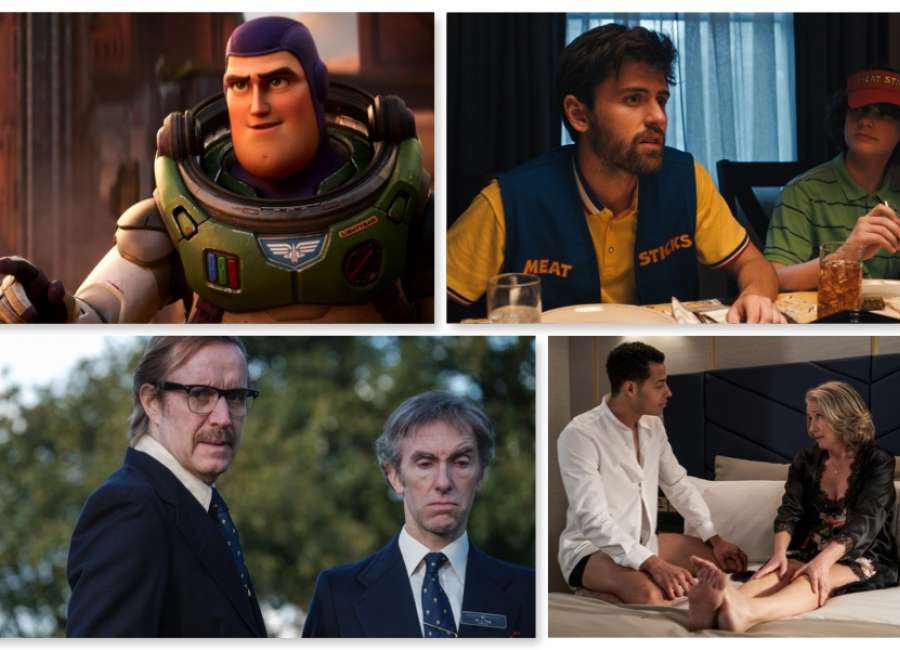 Reviews by Jonathan W. Hickman

Lightyear: Funny "Toy Story" spin-off fails to resonate with Pixar emotion
Review Rating: 6/10
Film Details:
Director: Angus MacLane ("Finding Dory" co-director)
Cast (voice talent): Chris Evans, Keke Palmer, Uzo Aduba, Peter Sohn, Taika Waititi, Dale Soules, James Brolin, Isiah Whitlock, Jr., and Bill Hader
MPAA Rating: PG
Running Time: 1 hour 40 minutes
Available in wide theatrical release
Once again, Disney and Pixar rely on their lucrative "Toy Story" brand to eke out inevitably strong box office returns. This time, with "Lightyear," viewers get the movie that inspired one of the toys featured in Pixar's ground-breaking 1995 hit.
While this film is overly familiar and follows the animation juggernaut's narrative playbook, "Lightyear" is an entertaining comedy that merely hints at the pathos that made the studio great.
"Lightyear" opens by telling us that this is the blockbuster movie that gave Andy (the little boy from "Toy Story") one of his favorite action figures—Buzz Lightyear. After that declaration, we're thrown headlong into a dizzying intergalactic adventure.
Instead of this Buzz being voiced by Tim Allen, Disney's Marvel superstar Chris Evans (he was Captain America) plays Lightyear. Conservative groups have taken to social media claiming that "wokeness (their word)" has canceled Allen. Even Allen joined in condemning this movie without likely even seeing it.
While this voice talent change might seem odd, in the context of the narrative, it makes sense that the real Buzz might not also voice the toy version. But that quibble doesn't affect the entertainment value of "Lightyear."Evans is just fine lending his affable pipes to the heroic Space Ranger.
The story has Space Ranger Buzz Lightyear and his commander Alisha Hawthorne (Aduba) getting stranded on a far-off planet. Their massive spaceship houses thousands that are in cryo-sleep chambers. Once these folks are revived, and the possibility of leaving the planet for home is deemed impossible, a new civilization is planned.
But Buzz, who feels responsible for their predicament, won't let go of the slight chance of leaving the dangerous, alien planet. He is determined to go, you guessed it, "to infinity and beyond."Therefore, he engages in a series of experimental test flights that offer hope while leaving behind severe side effects. Each flight for Buzz that last mere minutes in space translate to years on the planet.
The time-travel aspect of Buzz's mission gives the Pixar geniuses a chance to recycle the montage that was so effective in 2009's "Up."So, we see Buzz not age while his commander Hawthorne lives a lifetime.
It's important to note that Hawthorne's story has resulted in the undeniably family-friendly "Lightyear" being banned in many countries. You see, Hawthorne marries another woman and has children and even grandchildren.
Aside from this relatively benign but nice character arc, the montage is not nearly as emotionally connective as the one in "Up."But it works well as a plot device to expose Buzz's damaging obsession. One of the themes is letting go and moving on with one's life.
But the heartfelt meaning of "Lightyear" pales beside the memorable humor. Leading the way is the soon-to-be-classic character SOX (Sohn). This little robot cat steals the show with laughs that single-handedly boost the entire production. Expect SOX toys to be flying off the shelves this Christmas. Of course, the lack of SOX in the traditional "Toy Story" canon might mean that the inevitable SOX feature film will be another "Toy Story" sequel.
The action sequences of this space opera work mainly as a backdrop for comedy. And the film's last third involving an invasion of robots reminded me (at least, in design) of Disney's infamous late 1970s failure "The Black Hole." I'm sure this connection is not a memory that the studio would want to invoke.
The Phantom of the Open: Golf historical footnote delivers sweet, but twee, film
Review Rating: 6/10
Film Details:
Director: Craig Roberts (see 2019's "Eternal Beauty")
Cast: Mark Rylance, Sally Hawkins, Ian Porter, Jake Davies, Christian Lees, Jonah lees, Mark Lewis Jones, and Rhys Ifans
MPAA Rating: PG-13
Running Time: 1 hour 46 minutes
In limited release
"The Phantom of the Open" is based on the true story of epically bad golfer Maurice Flitcroft (Rylance). In the film, Flitcroft, a humble crane operator, decides in his late 40s to change careers and become a professional golfer. There's one problem, he has never played the game.
By a stroke of luck (or misfortune), the naive Flitcroft applies for and is granted a place in the 1976 British Open. This entry is accomplished without ever playing a round of golf. Naturally, he must practice, but his financial limitations and ignorance of the sport make access to courses almost impossible. Practicing on the beach, in public parks, and in his backyard, he prepares for one of the sport's most significant events.
I won't spoil what happens next, but winning the tournament is not the objective in this heartwarming tale. The remarkable thing is that Flitcroft competed, and after catching the golf bug, he couldn't stop pursuing his Open dreams.
Oscar-winner Rylance is typically watchable in the lead and is matched by the always terrific Hawkins, playing his devoted wife. The surrounding cast is fun, especially real-life twins Christian and Jonah Lees as Flitcroft's disco dancing duo.
Golf fans will be entertained as this historic sporting footnote is relatively unknown. The film ends with archived footage of the actual Flitcroft showing off his lack of golfing talent. What's evident in the old footage is that the real Flitcroft was a bit more of a showman, and he might have had a little more understanding of the ruse he was pulling off by representing himself as a golf professional when he certainly was not.
Cha Cha Real Smooth: Authentic Performances undergird winning coming-of-age drama
Review Rating: 8/10
Film Details:
Director: Cooper Raiff (see 2020's "Sh@#house")
Cast: Cooper Raiff, Dakota Johnson, Vanessa Burghardt, Leslie Mann, and Brad Garrett
MPAA Rating: R
Running Time: 1 hour 47 minutes
In limited theatrical release and streaming on Apple TV+
Cooper Raiff's second feature, "Cha Cha Real Smooth," won the audience award at this year's Sundance Film Festival. And it's easy to see why. This pleasing coming-of-age story hits all the right marks.
In the film, Raiff, who also pens the screenplay, plays Andrew, an aimless recent college graduate forced to move back in with his parents, played by Leslie Mann and Brad Garrett. Unable to find suitable employment, Andrew stumbles into a business as a party motivator. He helps to jumpstart and keep celebrations going at bar and bat mitzvahs.
Andrew's younger brother, David (Evan Assante), idolizes Andrew and seeks his advice about how to approach girls. But Andrew's hiding his disillusionment from the newly minted teen while chaperoning the boy at parties. At one of these parties, he meets young single mother Domino (Johnson) and her autistic daughter Lola (Burghardt).
Because Andrew is more in touch with his childlike side than his adult one, he instantly, innately gains Lola's trust, which pique's the interest of the searching Domino. This interest threatens her impending marriage to a tough guy lawyer named Joseph (Raúl Castillo). Neither Domino nor Andrew knows what they want, and as this forbidden romance unfolds, the two indecisive fellow travelers have to make some tough decisions.
In addition to the story thread relating to autism and youthful disillusionment, "Cha Cha Real Smooth" is the kind of drama fans of independent cinema often embrace. It's a narrative reflective of 30 years of Sundance films, but what sets this entry apart is the authentic performances of the two leads and Burghardt's depiction of a child on the autism spectrum.
Burghardt, an actress on the spectrum herself, knows Lola intimately. This sincerity comes across in the first frame in which she appears. A performance this genuine cannot be easily replicated without an experiential basis. And this authenticity undergirds everything about Raiff's loose but focused film. Dialogue and interpersonal interactions play as if you are in the room with these people. And the painful choices they make will stick with you.
I liked how messy these characters' lives are and how they are permitted to be clumsy, awkward, beautiful, silly, sad, and happy. It's a story about people we know or should know.
Good Luck to You, Leo Grande: Mature themes thoroughly examined
Review Rating: 9/10
Film Details:
Director: Sophie Hyde (see 2019's "Animals")
Cast: Emma Thompson, Daryl McCormack, and Isabella Laughland
MPAA Rating: R
Running Time: 1 hour 37 minutes
Streaming on HULU
Nancy Stokes isn't her real name. Leo Grande isn't Leo Grande. It's a bit of fiction, some playful fun. Chalk it up as the requirement of an elicit business transaction. At least, that's how it started.
We'll call them Nancy and Leo. Nancy is a widow and a retired teacher. She's feeling unfulfilled in many ways, but finding sexual serenity is at the top of her list. So, she employs the services of a sex worker. And she's got a checklist for the professional Leo because Nancy never does anything without a plan.
Leo is a beautiful young man. He's Irish and very well built. He tells Nancy that he works out and clients like it. Of course, they do. When he visits Nancy in her hotel room, she insists on getting right to the sex business, but Leo suggests they talk about it first. He's used to these stroppy transactions, but he couldn't be prepared for Nancy.
You see, it's the talking that gets them in trouble.
I've tried to set up the best film of the weekend while being careful not to give too much away. "Good Luck to You, Leo Grande" is a chamber piece that features two outstanding performances by Oscar-winner Thompson and relative newcomer McCormack. And it is one of my favorite films of the year so far.
Thompson, who has two Oscars for writing and another almost 30 years ago for acting, might snag best actress for this fantastic role. It's a literally naked performance that's not only skin deep. When Nancy has her moment, it is hard not to be hit with a wave of emotion. I was utterly unprepared for the experience. And I suspect I won't be the only one so affected.
The taboo subject of sexual satisfaction as one ages is just part of what director Hyde and screenwriter Katy Brand are exploring. The emotional component of the orgasm, with or without physical climax, is an unmistakable focus. We all get old, sure, but we're never too old to experience something new, something real, something missed because it wasn't on the list. And as Nancy learns, doing the missing thing cannot be planned out.
Because these two souls are isolated within the hotel room and kept at arm's length by the nature of the illegal transaction, Hyde and Brand can thoroughly examine both the physical and the emotional. We initially see the physical aspect of sex. But that part of the experience is rendered relatively empty by the deep discussion that comes before and after. It's a therapy of the most intimate.
By setting nearly the entire movie in one hotel room with just two characters, Hyde was forced to rely on her performers to hold our attention. McCormack's impressive physique and stunning good looks will only keep viewers interested for so long.
It's the chemistry, not entirely romantic, that carries the story. Thompson and McCormack convey the empty longing of their characters in such an unmanufactured way that it proves to be utterly immersive. Over the sessions that they attend in that unexceptional room, we see them grow, and we grow to understand them.
"Good Luck to You, Leo Grande" isn't for everyone. It delves into themes ignored all too often for far too long. Even the most proper of viewers will respond to its adult message.