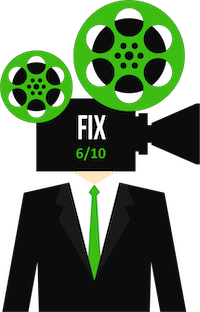 Review by Jonathan W. Hickman
Film Details:
Director: Baz Luhrmann (see "Moulin Rouge!")
Cast: Austin Butler, Tom Hanks, Olivia DeJonge, Helen Thomson, Richard Roxburgh, Kelvin Harrison, Jr., David Wenham, and Kodi Smit-McPhee
Running Time: 2 hours 39 minutes
Available in wide theatrical release
Director Baz Luhrmann veers awfully close to parody with his spectacle-heavy biopic of one of the 20th Century's most iconic cultural phenomenons.
However, this sometimes wild and uneven telling of Elvis Presley's rise to superstardom has rarely looked and sounded better. Unfortunately, the glossy visuals and breakneck pacing saps the emotional power from what should be a sympathetic and engaging profile.
In this umpteenth take on the life of the King of Rock and Roll, "Elvis" scores early by cross-cutting a stage performance with a childhood flashback. We see the young, beautiful Presley huddling with his mother, father, and fellow band members before appearing before an unforgiving and uncertain crowd. And in flashback, we see the man as a youngster gaining inspiration from inside a sweaty, pulsing Tupelo, Mississippi, tent revival.
This dizzying sequence, somewhat spoiled in the film's trailer, is an undeniable rallying point that sets a promising tone. But, after that, Luhrmann's commitment to pageantry overwhelms the narrative almost to a ridiculous degree. To be fair, "Elvis" is never dull.
During this early performance, a creepy, leering Col. Tom Parker (Tom Hanks under tons of prosthetics) observes the boy and hatches a plan. Parker, a seasoned carnival barker who narrates the film from a hospital room, signs on to manage Presley. In time, the flashy singer will become Parker's sole client (replacing country singer Hank Snow), and Parker will spend the entire movie attempting to justify his mismanagement.
Despite the technical skill of Luhrmann and his team, "Elvis" falls into the typical problems associated with biopics. It tries to cover too much ground. Over the course of the film, Presley goes from a revival tent to a giant hotel/casino stage in Las Vegas. Over 30 years pass in two hours and thirty-nine minutes. And as Luhrmann has shown us many times before, more to this director is more, where less might be more impactful.
All the notable performances are grandly on display. Aside from the first stage show, the event held at the International Hotel is the one that resonates best. This extravaganza is where Elvis ended his career in residency in Las Vegas. And we see how he instinctively put together the gifted musicians and talented singers leading up to the landmark performance. This sequence is a movie unto itself and had Luhrmann focused his film entirely around it, "Elvis" would have been far more effective.
Austin Butler is well-cast as the title icon. The makeup and wardrobe sell the actor as Presley, but Butler's body language also evokes the man. Unfortunately, the same cannot be said of Hanks, who has the thankless task of playing a living, breathing cartoon character.
There's no doubt that Parker was a bizarre personality. He was neither a Colonel nor a Parker, and his shadowy origin story could have been explored to provide context. But Luhrmann wants it both ways, he wants to make a movie about Presley, but one told through the eyes of his manager without telling us anything substantive about the portly unreliable narrator.
Positioning Parker as his storyteller gives Luhrmann an escape hatch, providing him with much creative liberty to craft a fanciful movie. And the opulent whimsy that Luhrmann is known for (see his marvelous "Moulin Rouge!") does prove to be entertaining. However, the result is an impressive series of intellectual montages lacking emotional heft.
Elvis fans should be satisfied by the perfectly staged concerts that combine seamlessly with behind-the-scenes drama. But empty narrative elements that peak early in the church revival tent prevent the film from being worthy of its regal subject.