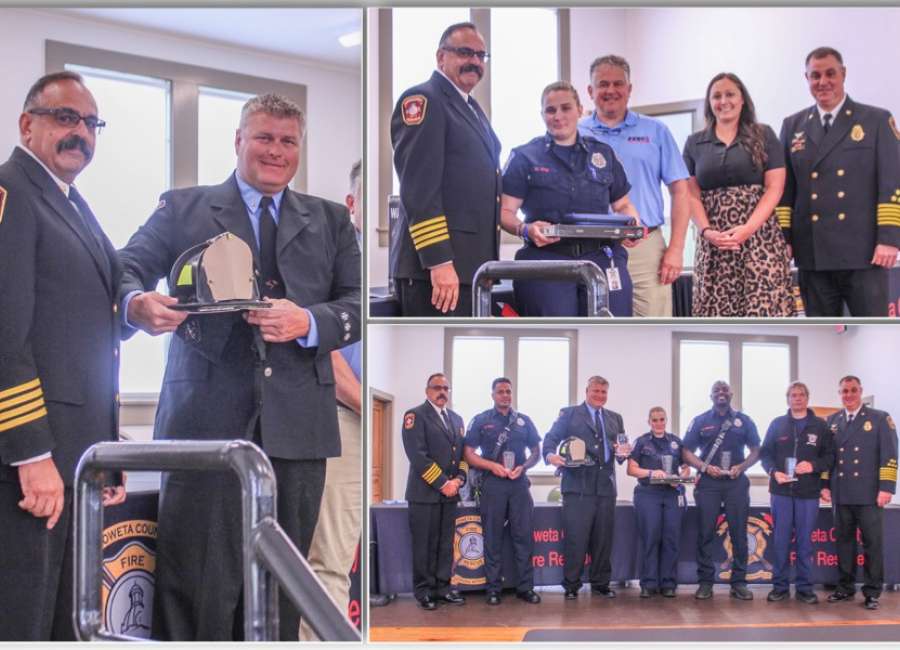 Coweta County Fire Rescue celebrated its top employees of the 2020 and 2021 calendar years on Wednesday.

The event was the first awards ceremony held by Coweta County Fire Rescue since the COVID-19 pandemic shut down public gatherings in 2020. As a result, the department honored the quarterly winners from the second half of 2020 and all of 2021 during the ceremony.
"These awards are voted on by their peers. It's not voted on by the administration, not voted on by officers, it's their peers that they work with day in and day out," said Fire Chief Robby Flanagan. "As we talk about some of these people, you'll hear things that they do that is a representation of what we want as Coweta County firefighters in this department."
Flanagan said that with the county taking over 23,000 calls a year, firefighters are oftentimes away from their families as they sit on duty, waiting for the next call.
"Your loved ones are gone a third of the time. They're with each other, here today and at the station."
During his speech, Flanagan credited Anita Royal, public relations liaison for Coweta County Fire Rescue, for the Employee of the Year program.
"She makes sure to send out the pamphlet, the score sheet for people to nominate employees. You have to fill out the reason why you think the employee should be nominated and the criteria," Flanagan said. "She gathers all that back, and she puts the group together and they go through the scoring. They don't know who the employee is, they do it based on the score. Once they finish tallying up the scores and the reasons why, they vote on who that is. That's how you get elected for employee of the quarter."
After that, winners of employees of the quarter are finalists for employee of the year.
Warren Brooks was the top employee from the third quarter, and Shane Isree was the top employee from the fourth quarter in 2020.
In 2021, the quarterly winners were Ryan Lipscomb, Holli Dye, Eric Camp and Jesse Parkerson.
Deputy Fire Chief Greg Shinkle, a recent addition to Coweta County Fire Rescue, spoke of the importance of people to make a fire department a success.
"It is truly an honor to work with the men and women of Coweta County," Shinkle said. "My time in fire service of over 30 years now, it's people like this that makes a fire department a success. Many times, it is not the men and women that work for us, it is the other family members that give up so much while we're at work. It's not just them, it's the family members."
Warren Brooks: 2020 Employee of the Year
Warren Brooks, who also won the award for employee of the third quarter in 2020, was named the 2020 Employee of the Year.
In the presentation provided by Flanagan, Brooks was said to be trusted "to do the right thing, no matter what."
"He is a God-fearing man and very honest," the presentation states. "He takes pride and honor in his job, and is always early to work and will stay as long as necessary until his relief arrives. He is prideful in his work, and it shows."
The presentation spoke of Brooks' compassion for other people, co-workers, family and those he is taking care of on the job.
"Warren makes sure all are taken care of," the presentation states. "If someone does not have food, he makes sure they have food. He is extremely pleasant to all citizens, no matter their background."
After the ceremony, Brooks spoke of his gratitude for receiving the award.
"I just want to say thank you to God and my family for spending time with me and going through the sacrifices that we have to do," Brooks said. "We do it because we love it."
Holli Dye: 2021 Employee of the Year
Holli Dye, who was the employee of the second quarter in 2021, was named the 2021 employee of the year.
In her presentation, Dye was cited as always upholding "moral and ethical conduct wherever she is."
"She also is excellent at helping the new hires and teaches them to do things the right way, no shortcuts," the presentation states. "Holli always tries to attend courses that are offered to help keep her up to date on the latest medical training. She has been assisting with teaching the EMT recruit class on her off-duty time."
The presentation reported that while the department expects everyone to come to work and to perform to the best of their abilities, Dye "goes above and beyond her role."
"She believes in doing the right things, even when nobody is watching," the presentation states. "That's integrity at its best."
"It's definitely unexpected. I wasn't really expecting to get an award like this. I just come to work everyday and do my job, and try to do a little bit more more than most people would, do a little bit extra. I guess that's how I got my award. I just try to treat all the citizens with respect and try to treat them like I would my own family."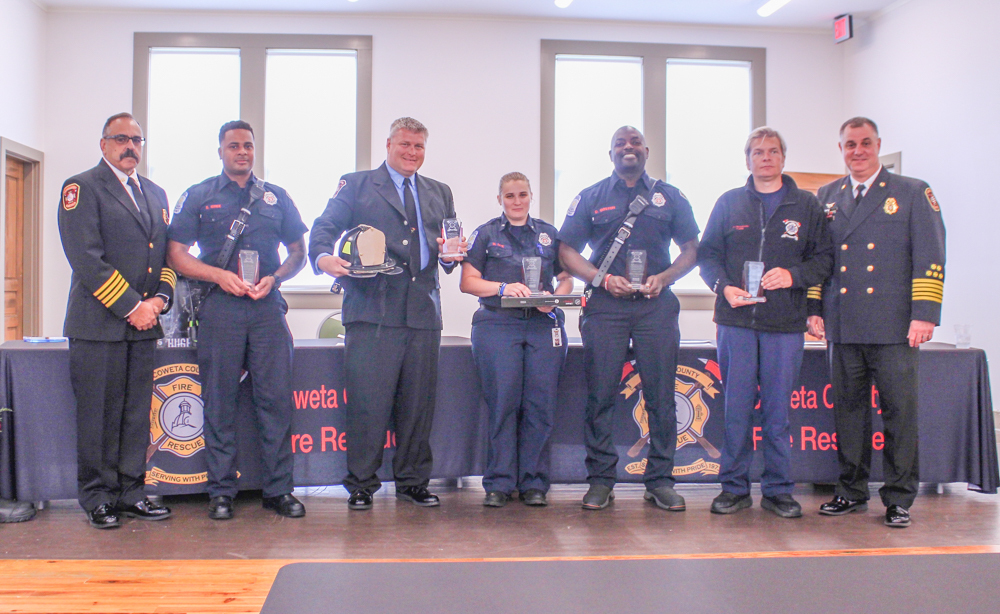 A number of firefighters were honored at Coweta County Fire Rescue's awards ceremony on Wednesday. From left are Deputy Chief Greg Shinkle, Lt. Warren Brooks, Paramedic Holli Dye, Firefighter Donnelle Goston accepting Firefighter Ryan Lipscomb 1st quarter 2021, Firefighter Paramedic Eric Camp, and Chief Robby Flanagan.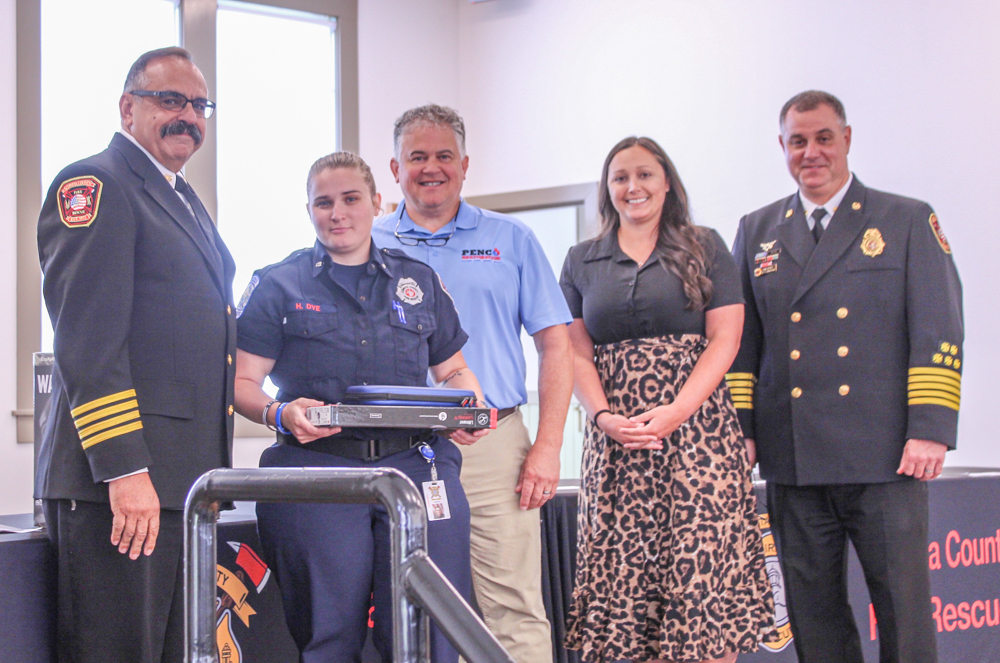 Holli Dye was honored as the 2021 Coweta County Fire Rescue employee of the year. Dye talked about coming to work and trying to do more than most employees would.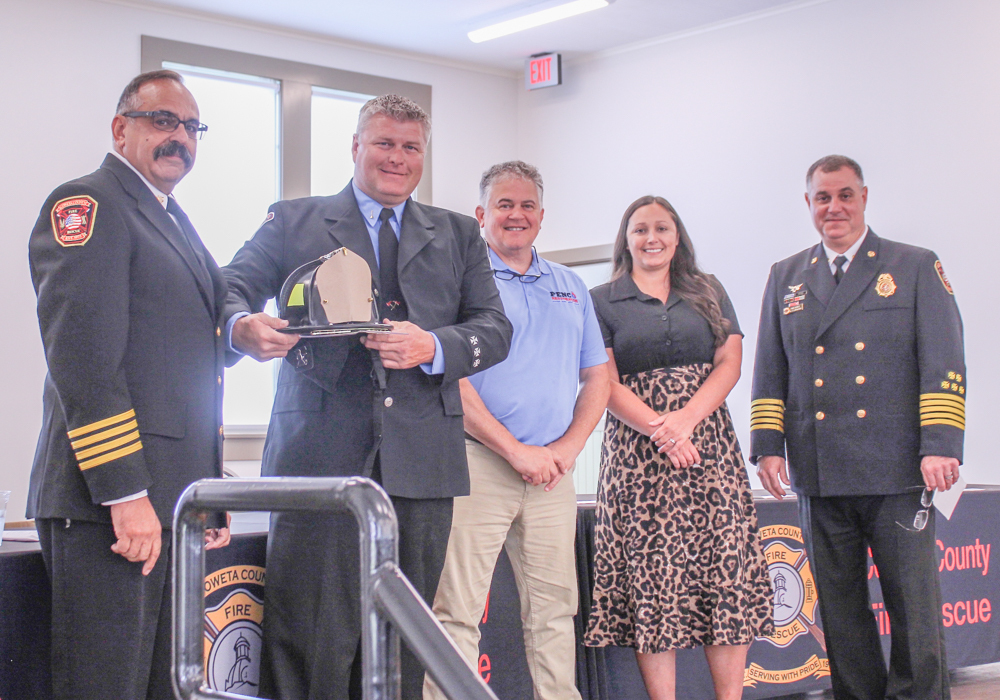 Warren Brooks was honored as the 2020 Coweta County Fire Rescue employee of the year. Brooks spoke of his gratitude to his family and to God, and said that he does what he does because he loves it.