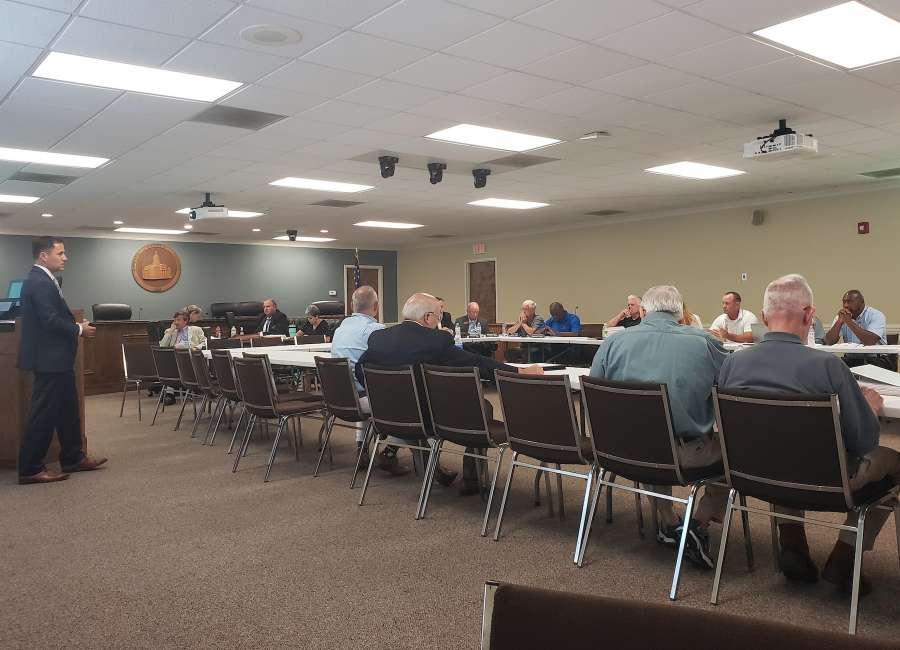 The process of renegotiating Coweta County's Local Option Sales Tax started on Wednesday, in a meeting that, at times, appeared contentious as the cities and Coweta County disagreed over how Local Option Sales Tax revenues should be distributed.
During the meeting, representatives from most of Coweta County's cities — Newnan, Senoia, Grantville, Sharpsburg, Palmetto, Turin and Chattahoochee Hills, were present and for the most part indicated they were pleased with the current distribution of LOST funds.
The distribution of LOST funds, however, could change in the coming years if the city of Chattahoochee Hills, a city shared by both Coweta and Fulton counties, is phased into the LOST system and receives at least some share of sales tax revenue.
Officially, no final action was taken by the county and its cities over LOST revenue sharing, but a committee was formed containing representatives from most of the cities as well as the county to determine the next steps moving forward.
Per state law, the county and its cities must determine an agreement on the LOST revenue sharing within 60 days from the start of negotiations.
Mayor Dub Pearman of Senoia said that with more revenue coming in, everyone will continue to receive more funds from sales taxes.
"Even with keeping the percentages, the pie is getting bigger," Pearman said. "I don't have a magic 8-ball, but the basic forecast is projecting it will continue to grow, so as long as the pie is getting larger, getting the same percentage isn't going to hurt us."
Blue Cole, mayor of Sharpsburg on the eastern end of Coweta, suggested that if the cities were happy, there was no sense in deliberating over "one or two percentage points."
"If we keep it close to where it is, including phasing in Chattahoochee Hills, there's no reason to sit around here when we could sit around the dinner table with our wives and children," Cole said.
"If it ain't broke, we don't need to fix it," said Al Grieshaber, city manager for Grantville, on the southern end of the county.
But Coweta County officials disagreed. Michael Fouts, county administrator, said during the last time the LOST revenue split was negotiated, the county lost a bit of the revenue, which went to other cities.
According to documents supplied to meeting attendees by the Coweta County government, the county received as much as 72.74 percent of LOST revenue following negotiations in 2002. That number has dropped over the years as cities gained eligibility for LOST revenue due to changes in services or annexation.
To receive any portion of LOST revenue, a city must meet the definition of a "qualified municipality," which means incorporated municipalities that impose a tax other than a LOST sales tax and provide at least three services including water, sewage, garbage collection, police protection, fire protection or a library.
There are eight criteria for distributing sales tax proceeds, including the service delivery responsibilities of each "political subdivisions" to population served by that jurisdiction and served during normal business hours, as well as the resident population; the existing service delivery responsibility of each political subdivision; the effect in change in sales tax distribution on the ability of each political subdivision to meet its short and long-term debt; the point of sale and use that generates tax to be apportioned; existence of intergovernmental agreements involving the political subdivisions; the use of any political subdivision of property taxes and other revenues from taxpayers to subsidize the cost of services provided to other taxpayers; and any coordinated plan of county and municipal service delivery and financing.