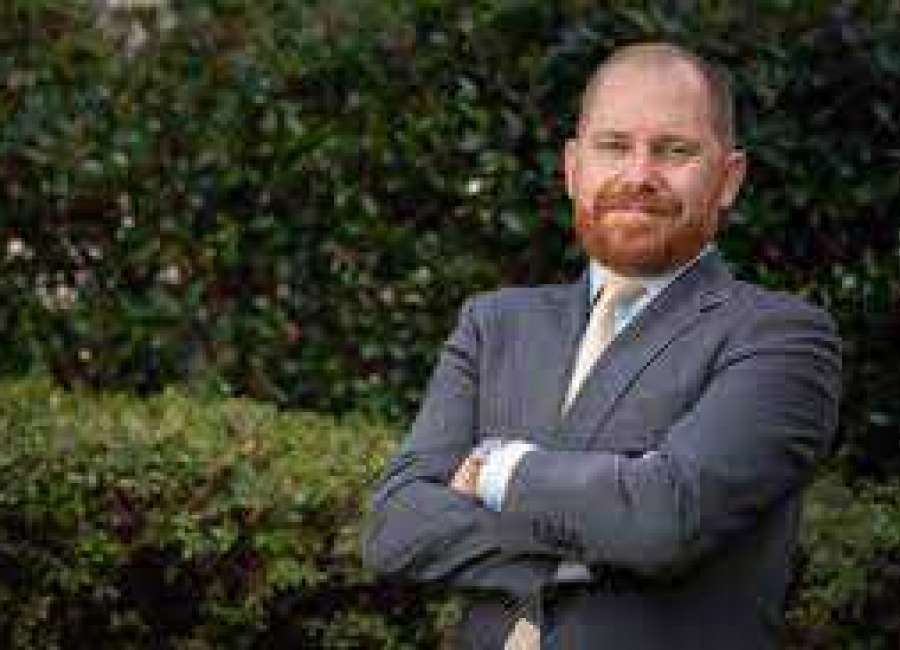 Rebecca Grapevine
Staff Reporter
Capitol Beat
ATLANTA – Charlie Bailey, a lawyer who is running for Georgia's lieutenant governor position, was the sole candidate to appear at the Atlanta Press Club runoff debate today.
Kwanza Hall, the other Democratic candidate in the runoff, failed to show up for the debate, giving Bailey a chance to explain how he would defeat Republican nominee Burt Jones in November.
The Democratic primary race was pushed to a runoff because no Democratic candidate passed the 50% mark in the May primary. Hall earned 30.2% of the vote, while Bailey garnered 17.6% of the vote.
Bailey said that he would use the powerful lieutenant governor position to improve health care and education.
"The number one priority is expanding Medicaid," said Bailey, who speculated that Democrats would have a deficit of only six votes in the state Senate next year.
"I think we can go get six Republican votes to expand Medicaid, to reopen eight of the rural hospitals that have closed in the last 10 years, help cover the over 600,000 Georgians that don't have health care coverage," Bailey contended.
Bailey criticized Republican nominee Burt Jones' record of support for Donald Trump.
"The values of Burt Jones and Donald Trump and authoritarianism and extremism are not the values of Georgians," said Bailey.
Bailey said that he could defeat Jones in the November general election.
"We're going to show a contrast in my ideas, which is for expanding Medicaid, making technical college tuition free again…actually not giving teachers just a bonus, but a real raise," said Bailey. He said he thought teachers should earn at least $70,000 per year.
Bailey also pointed to his near-win in the 2018 race for attorney general, when he earned 49% of the vote, as evidence of his competitiveness for a statewide race.
Bailey initially planned to run for attorney general this year as well but shifted to the lieutenant governor race at the behest of Democratic party leadership.
Bailey said he had worked for the most recent Democratic lieutenant governor, Mark Taylor. "I know what a Democratic lieutenant governor that actually cares about working folks can get done," he emphasized.
Bailey criticized his absent Democratic opponent Hall, saying Hall had illegally taken thousands of dollars from the city of Atlanta and calling him an "unserious person."
"I would say [Hall] not being here, it's a pattern…of a lack of respect for voters," said Bailey.
In contrast to Hall, Bailey said he had garnered the endorsements of Democratic gubernatorial candidate Stacey Abrams, former Atlanta Mayor Shirley Franklin, congressional representatives Lucy McBath and Hank Johnson, and former Gov. Roy Barnes.
Bailey emphasized the need for more gun control measures.
"I think Republicans in the state, including Burt Jones, show more allegiance to an inanimate object than they do to human beings," Bailey said.
"I have seen the devastation that high-capacity magazines have caused," added Bailey, who was a prosecutor in Fulton County. "These machine guns, these assault weapons that were built for the military, they have no place in our society and I think we should ban them."
"I believe we are all human beings …that we all deserve the same dignity, the same safety, the same justice, the same opportunity to build for our kids a better life than the one that we had," Bailey said at the conclusion of the debate.
The runoff between Bailey and Hall will be held on June 21. The winner of the primary runoff will face Jones in the November general election.
This story is available through a news partnership with Capitol Beat News Service, a project of the Georgia Press Educational Foundation