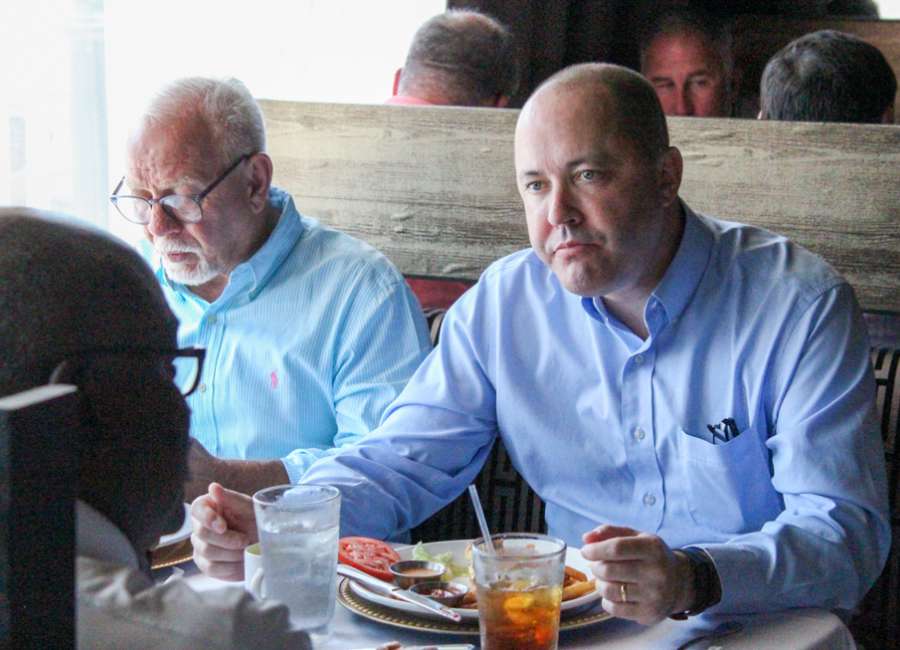 Georgia Attorney General Chris Carr honored a number of public safety personnel from Coweta County and surrounding communities on Thursday with a luncheon at The Cellar in downtown Newnan.
"It is a tough time to be in public safety; it is an important time to support the men and women in public safety, and that's what today is about," Carr said.
While in Newnan, Carr spoke to The Newnan Times-Herald about a new Gang Prosecution Unit that will start business in a few weeks. The unit will work to combat gang activity across the state.
"Our primary legislative priority this session was to stand up a gang prosecution unit in the model we have with our human trafficking prosecution unit. That's what we did; the legislature gave us the authority to prosecute gangs statewide, along with DAs, and along with our federal law enforcement partners."
Carr praised Coweta County District Attorney Herb Cranford, calling him "one of the best" in taking care of gang violence.
"We look forward to working with him," Carr said.
Thursday, the day of the luncheon, was also the first day on the job for Cara Convery, the new leader of the state's Gang Prosecution Unit, a unit that will start on July 1.
The unit, which was made possible by House Bill 1134 passed by the Georgia General Assembly, and helped with $1.6 million budgeted in the state's 2023 fiscal year budget, will include eight lawyers and four paralegals to prosecute gang activity across the state.
"We're going to hit the ground running," Carr said. "I think there's a number of different areas where we can make a difference. One, we know that gangs don't stop at the city or county line. You have gangs operating in multiple jurisdictions, multiple counties around the state, it may make more sense for the state to take the lead there."
"I am excited and humbled to be joining Attorney General Carr as we build upon the work and innovation of the Department of Law's Prosecution Division through the vehicle of Georgia's newest and most expansive gang unit," Convery said in a press release from the state of Georgia. "I look forward to building our team and for us to immediately begin this critical work. By partnering with our local, state and federal partners, we will develop cases that attack our state's most serious threat to public safety in dangerous criminal street gangs."