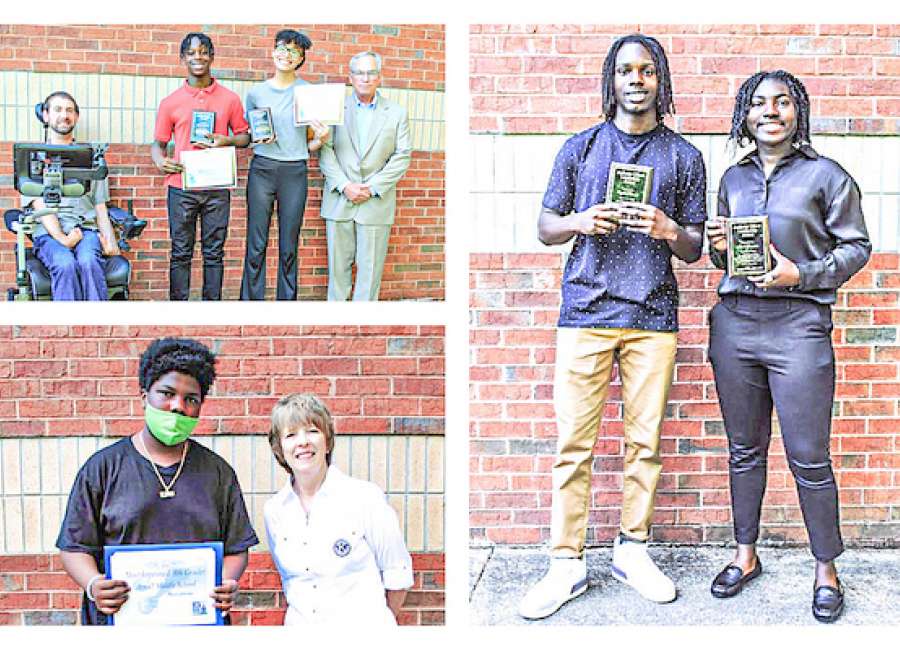 – All photos courtesy Arnall Middle School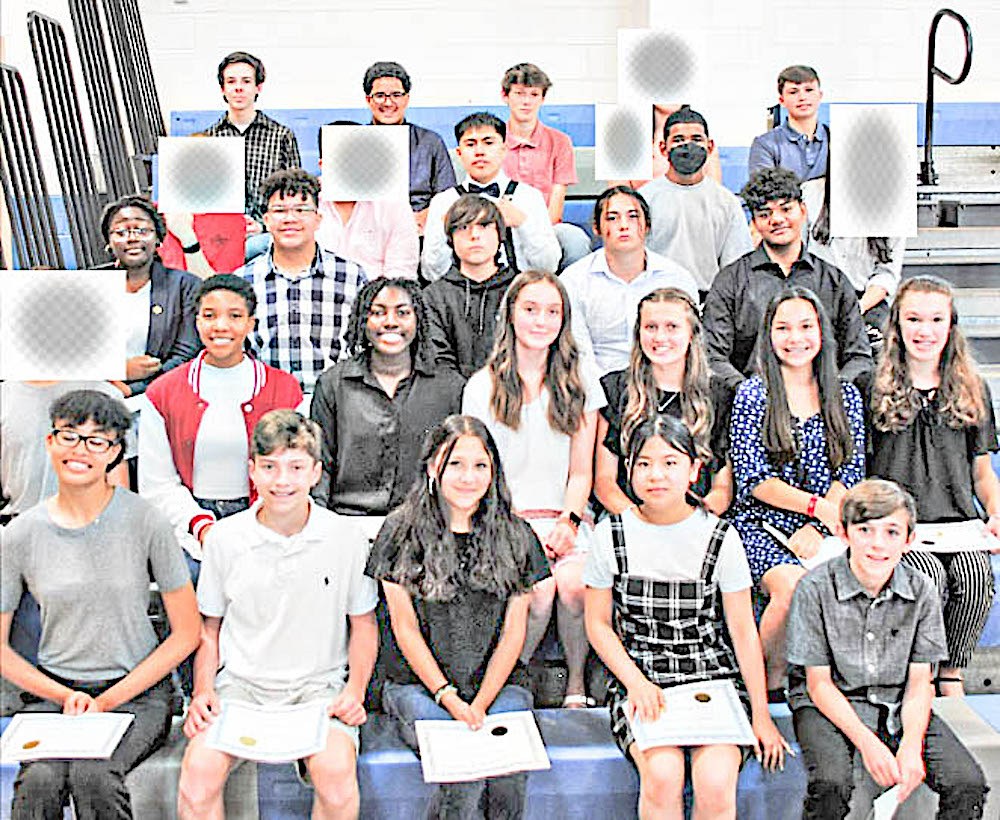 All A Honor Roll students in the eighth grade are front, from left, Kai'Leia McCarty, Aiden Hite, Jayla Woodward, Chaeyoung Park and Alexander Watkins; second row, Shatia Walker, Jewel Simmons, Grace Bartram, Jemison Hawkins, Alaina Alba and Angelina Boscarello; third row, Evelyn Gulley, Josmel Burgos Baez, Argjend Prokshi, Brysen Davies and Quazi Rahman; fourth row, Allan Amador Del Valle and Deonta McIntosh; back, Logan Lopez, Zedryc Borrali Cosme, Zaccory Rutledge and Aiden Lynd.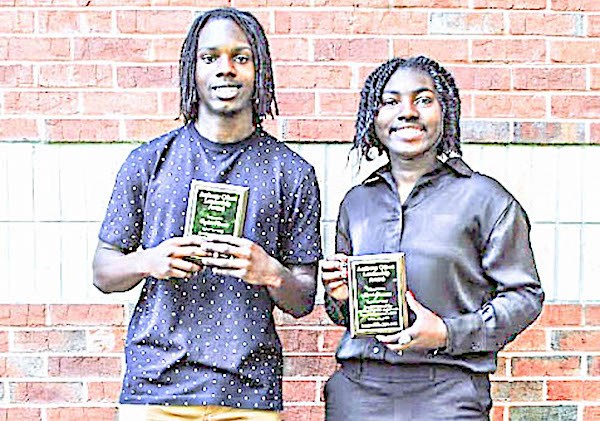 The Anthony Olbert Award winners are Jewel Simmons and Jaydon Abrams.
All A Honor Roll students in the seventh grade are front, from left, Seolmin Heo, Jakob Gonzalez, Ava Forte, Jun Chang, Maksim Chan and Matthew Ahrens; second row, Madelynne McCrary, Rurie Lee, Taegeun Kim, Jeen Kim, Beomgeum Kim and Aleighyah Kekoanui; third row, Arya Poteet, Adrian Pelc, Esha Parmar, Maggie Nash, Jonathan Monteith and Madison McCrary; back, Tommy Tressler, Bao Tran, Emilie Robinson, Adrienne Ray and Roselyn Prout.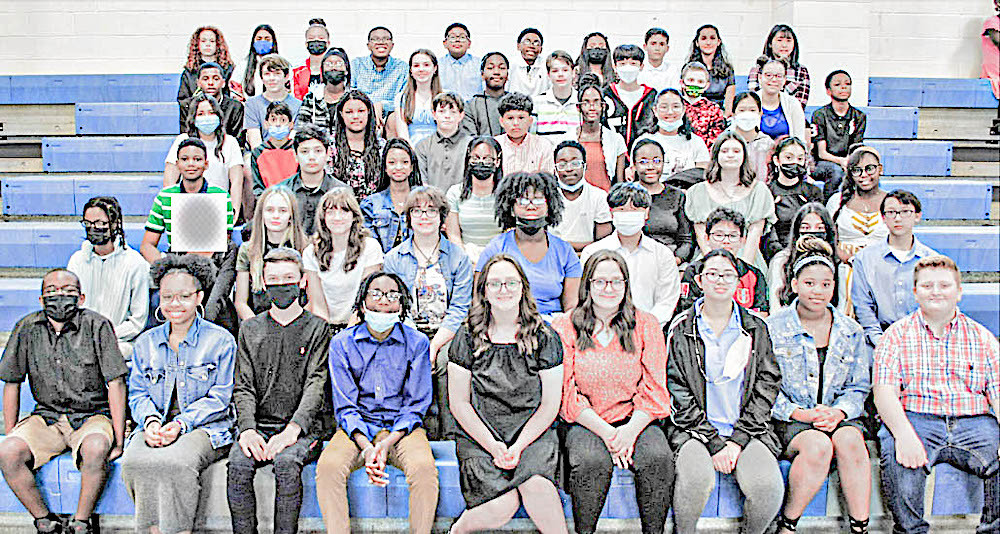 A/B Honor Roll students in the seventh grade are Nadia Alderman, Sydney Fletcher, Jadelynn Saraiva, Stephen Alley, Moriana Flowers, Cody Sauro, Logan Astin, Adam Gaillard, Jeonghyeok Seo, Brianna Barkley, Arianna Gordon, Chaseton Shockley, Haiden Beau, Sarah Gray, Martise Simpo, Paisley Beau, Kenzington Hardwick, Savannah Stevenson, Kyle Black, Michaiah Hardwick, Laylah Sumler, Anthony Boscarello, Jayda Hardy, Braedon Thames, Jakara Brown, Londyn Harris, Dulce Torres, Jaden Burroughs-Jones, Paul Harzbecker, Gabriel Townsend, Cayden Caldwell, Daylen James, Ashlyn Tran, Robert Carpenter, Hangyeol Kim, Lynneth Trinidad-Ruiz, Prabhleen Cheema, Cadie Martin-Mendoza, Cameron Vargas, Edward Chidester, Jaida-Lee Morrison, Crystal Vasquez-Cervantes, Jordan Cook, Bayron Mosqueda-Mesa, Jason Vazquez-Dauzon, Morgan Criste, Ellis Parker, Gavin Walker, Kasen Denton, Nevaeh Parks, Zayvion Walker, Lillian DePenning, Dev Patel, Kalia Ware, Isabella Donathan, Kahory Ramirez Morales, Zair Zaman, Allen Remikie and Cidney Zamora.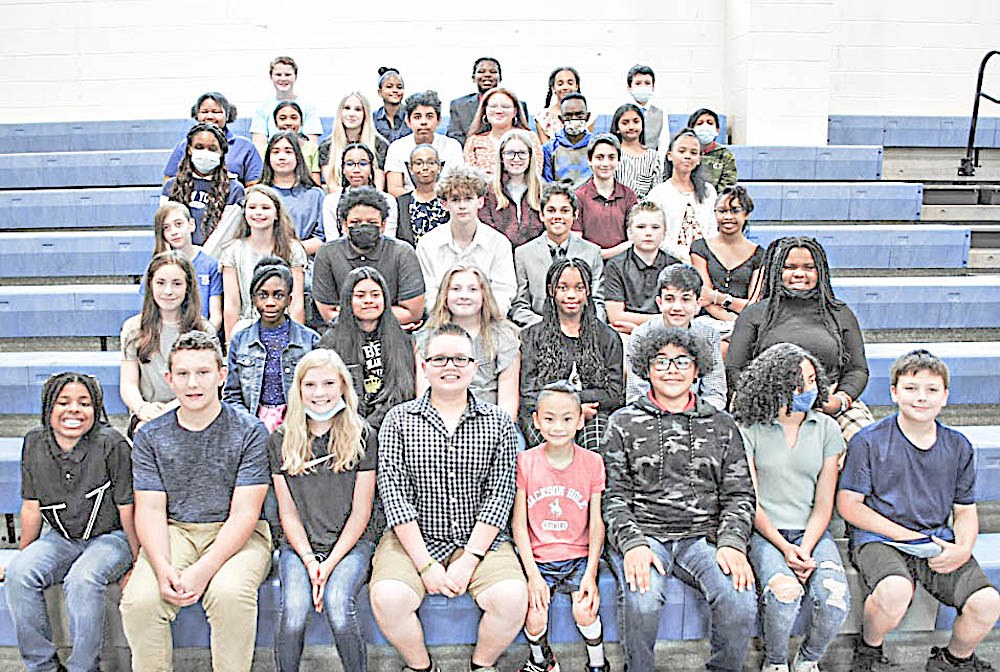 A/B Honor Roll students in the sixth grade are Benjamin Acklin, Jackson Funderburk, Jai Patel, Angie Alvarez Ortega, Warren George, Krisha Patel, Leandro Aparicio Paz, Jonathan Gray, Caden Pettway, Kin Apecena, Jordan Greer, Reagan Scott, Andrew Brooks, Kyle Hardin, Dimas Serrano Estrada, Peyton Brown, Owen Jacobson, Lauren Shoch, Lyndon Campbell, Makenzie Jenkins, Sounaly Sisavad, Tianna Campbell, Sadie Kelley, Christiana Stafford, Paulson Carey, James Kincaid, Elyas Tahta, Eden Castillo, Wilmarys Lara, Maya Taylor, Aurelis Channell, Alexander Martin, Keegan Wimbush, Brianna Cruz-Rodriguez, Maci Massengale, Anylah Wright, Jasmine Edward, Jacquelan Mathis, Carson Yeager, Mary Scott Fabrizi, Camille Medford, Ella Zeqiri, Amiria Favors, Rhea Miles, Coley Flowers and Malia Odehouri Koudou.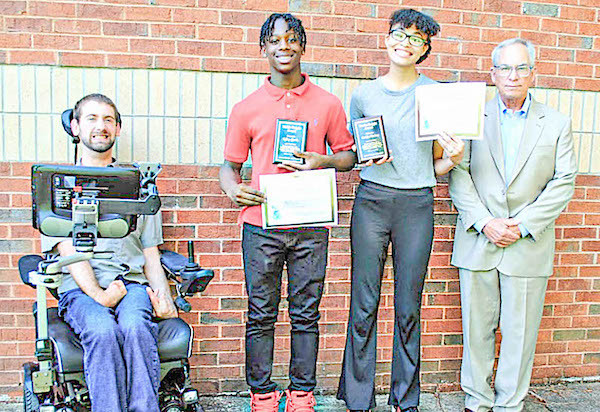 The Joe Sherwood Noble Knight Award winners are Kai'Leia McCarty and Jeffrey Law.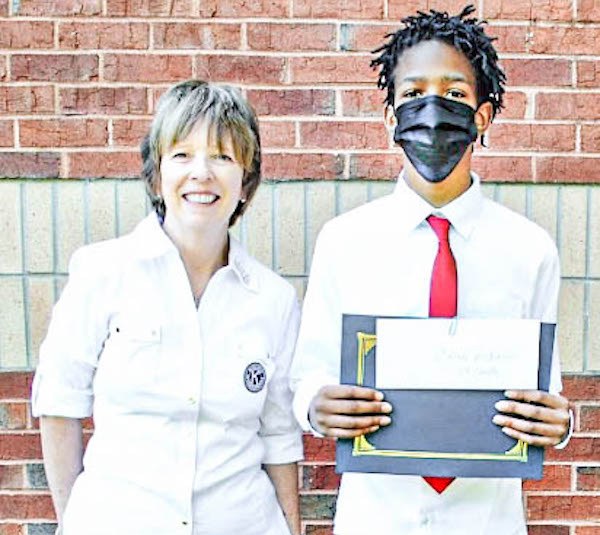 Caleb Anderson, pictured with Tina Marsh, is the Kiwanis Most Improved seventh-grader.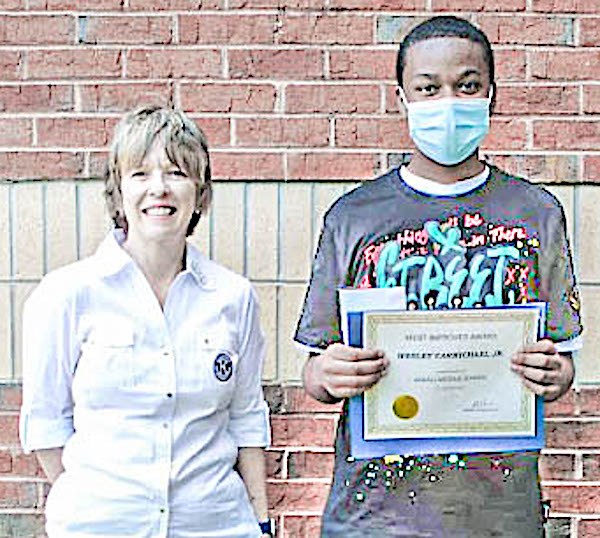 Wesley Carmichael Jr., pictured with Tina Marsh, is the Kiwanis Most Improved sixth-grader.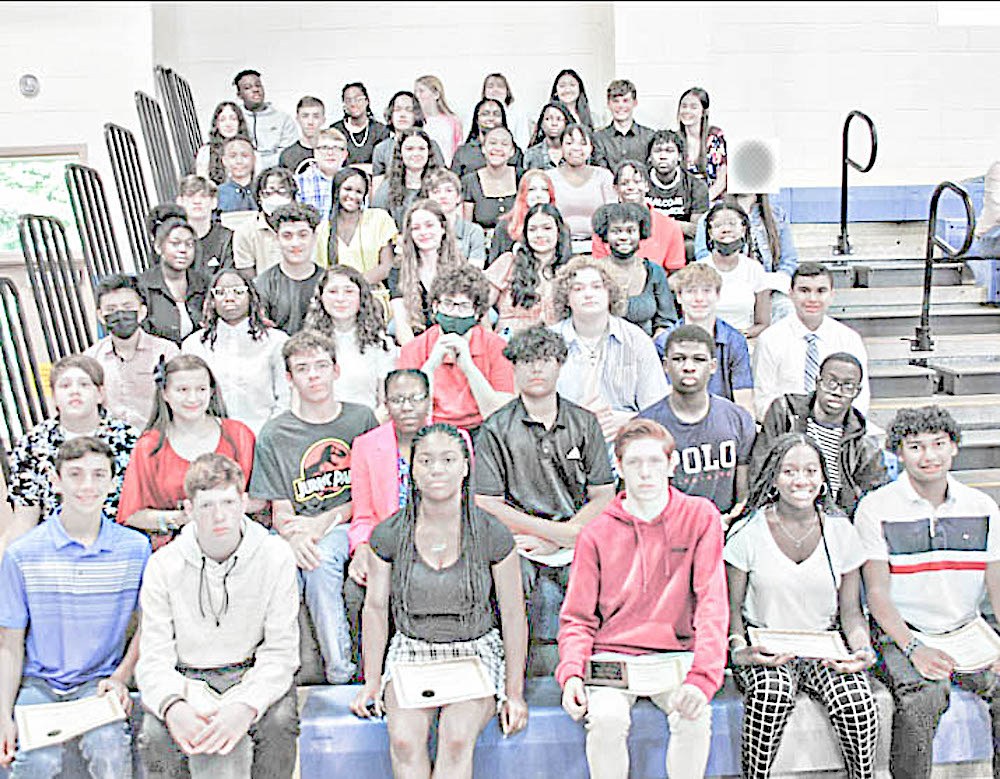 A/B Honor Roll students in the eighth grade are Jaydin Amie, Jadyn Hill, Logan Romig, Arnecia Ball, Dillon Hudson, Carter Scott, Kayleigh Bearden, Charles Jackson, Ryleigh Scott, Taylor Bonner, Curtis Jacobson, Landen Shirling, Desiree Bravo Martinez, Briana Kopf, Tiffany Spencer, Jacqueline Caccavella, Jeffrey Law, Zion Stamps, Presley Carroll, Katiana Stanley, Axel Colmark, Jazaria Louden, Caleb Taffa, Benjamin Cooper, Nicholas Macias, Logan Taylor, Makaia Darden, Jenna Mitchell, Gavin Thatcher, Ka'Niysha Dates, Laxmi Patel, Pierce Thatcher, Alexander Deyoe, Marianna Perdomo-Macedo, Hailee Vance, Kaylee Duke, Jaliah Phillips, Diego Vicente-Mosquera, Caiden Evans, Iyanna Powell, Tah'Shaud White, Obadiah Fuller, Dary Raymundo Solis, Jace Willoughby, Makenzly Greene, Rihanna Reams, Jordin Guy, Katherine Rivera, Damien Hall, Adrian Robert, Ravyn Hawkins and Jeffrey Robinson.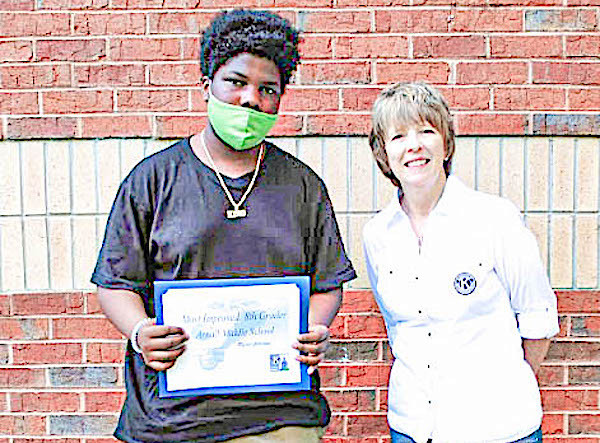 Rafael Gilstrap, pictured with Tina Marsh, is the Kiwanis Most Improved eighth-grader.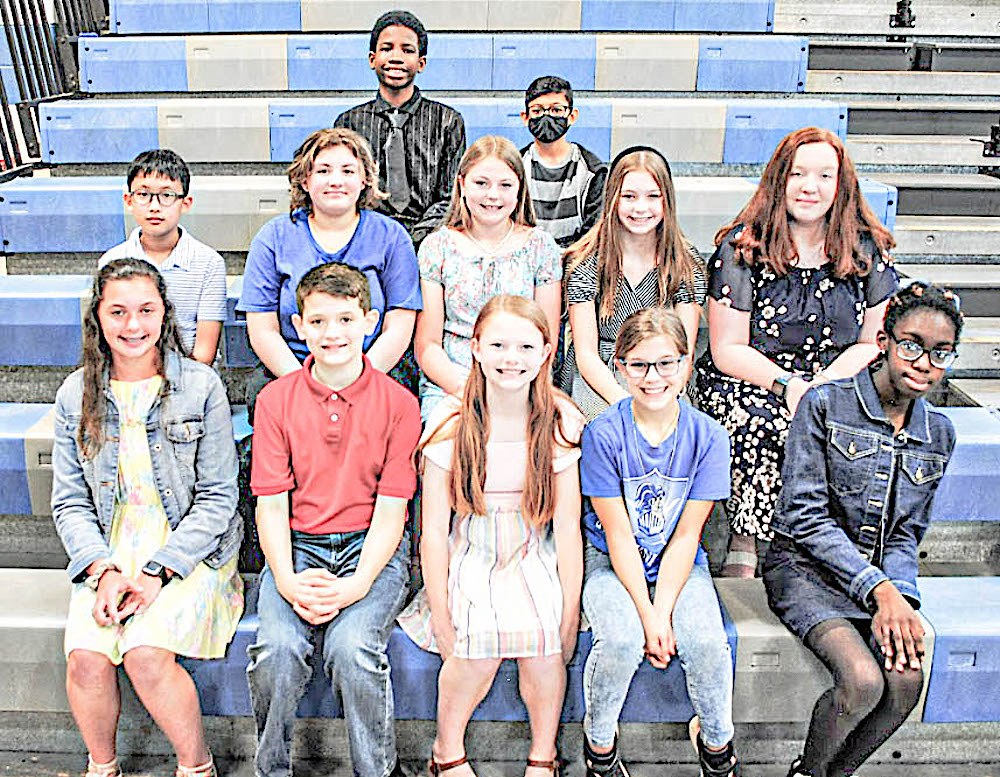 All A Honor Roll students in the sixth grade are front, from left, McKenzie Dufresne, Jaron Butler, Bailey Bence, Kiley Barnes and Ajenifuja Adewonuola; second row, Daniel Ryu, Lexi Romig, Ashlynn Mathis and Emma Jackson; back, Christopher Thomas and Luke Smith.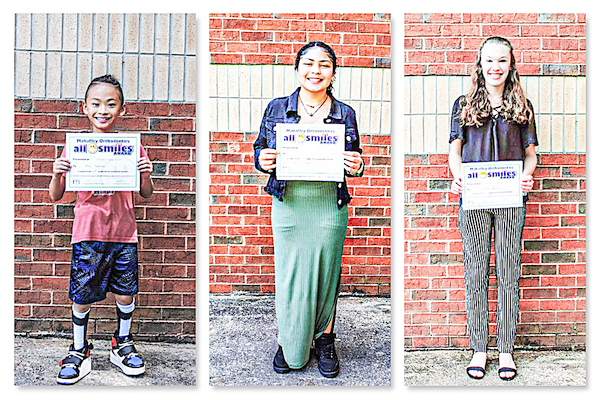 Winners of the Mahaffey's All Smiles Awards are Kin Apecena, sixth grade; Aleighyah Kekoanui, seventh grade; and Angelina Boscarello, eighth grade.