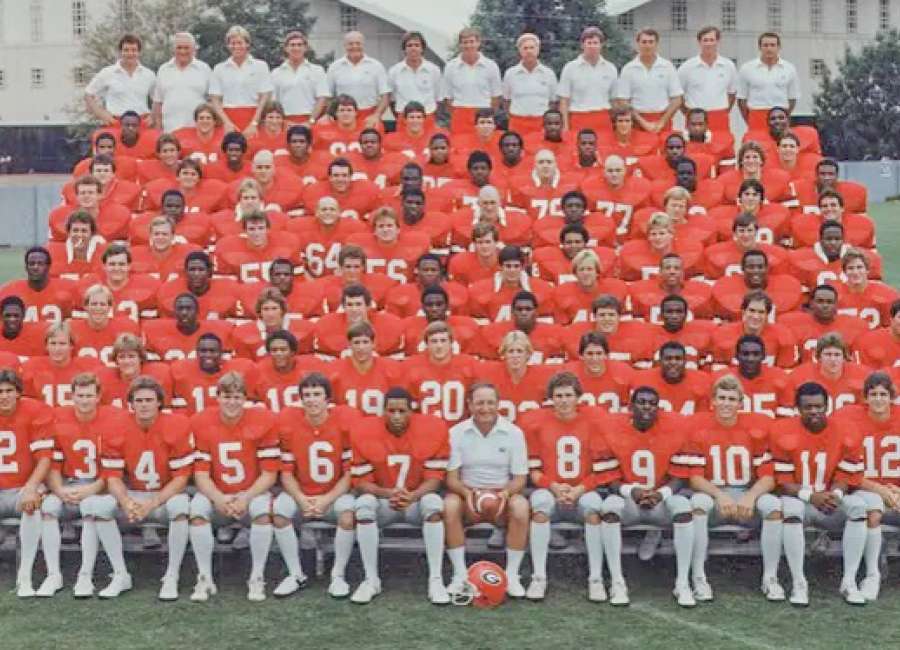 The Georgia Bulldogs of 1979 were predicted to be a top 10 team as they had gone 9-2-1 in the 1978 campaign.
But starting the season with a loss to Wake Forest in Sanford Stadium ended that prognostication. The season had some strange turns and due to the SEC being somewhat weak, all the Dogs had to do was beat Auburn and they would be in the Sugar Bowl.
Auburn won the game 33-13, and Georgia would go on to finish the season 6-5 after a win over rival Georgia Tech. Looking toward 1980, Georgia was going to be a good team, but there was nothing predicting what would actually transpire.
Meanwhile, in Wrightsville, Georgia, a young man who was quite a track star and a very good football player was graduating from high school. He played in A football, which means that he had not played against AAAA defenses, but he was a prized recruit for many teams.
Most of the people that follow recruiting pretty much thought he was headed to Clemson, but on a warm Easter Sunday, Vince Dooley got the news that Herschel Walker would be playing for the Georgia Bulldogs.
Even though Herschel was ranked as one of the top recruits in the nation, it was still not clear how he would do against college-level players.
Coach Dooley ran the I formation for his offense, which meant the tailback was the primary weapon. Buck Belue had assumed the role of the starting quarterback, and the Dogs had some experience and size in the offensive line. The defense was stout, as well, and Georgia looked forward to the season.
The first game was in Knoxville against Tennessee, and into the second half, Tennessee was holding with a 15-0 lead. Walker did not start the game, as Coach Dooley thought he would rely on his more experienced running backs and slowly insert Herschel as the season went on. But facing an opening loss, the Coach called to his offensive coordinator telling him that Herschel was going in.
The first touchdown Herschel took a pitch, and 16 yards and running over safety Bill Bates later, scored his first touchdown. As the legendary Larry Munson called it:
"He's running all over people! Oh, you, Herschel Walker. My God Almighty, he ran right through two men. They had him dead-away inside the 9. Herschel Walker went 16 yards. He drove right over orange shirts, just driving and running with those big thighs. My God, a freshman!"
Hershel would score again, and Georgia won the game 16-15. But the legend was born and as the students returned to campus for the fall, there was electricity in the air.
Georgia would go on and win their next nine games before their matchup with the Florida Gators. Georgia entered the game ranked number two in the nation behind Notre Dame, who was ranked number one. The game again had heroics as Georgia won the game on a pass play to Lindsey Scott that also has a famous Larry Munson call.
"Lindsay Scott! Lindsay Scott, Lindsay Scott! I broke my chair. I came right through a chair. A metal steel chair with about a 5-inch cushion. I broke it. The booth came apart. The stadium, well, the stadium fell down. Now they do have to renovate this thing. They'll have to rebuild it now."
With some irony, on that same day, Notre Dame had to stage a late comeback against Georgia Tech and kick a field goal to tie the game. A very bad 1-9 Tech team would "win" that day 3-3, moving Georgia into the number one spot.
Georgia would finish out with wins over Auburn and Tech and would face Notre Dame in the Sugar Bowl. On New Year's Day, Georgia defeated Notre Dame and was voted number one in both the AP and UPI coaches' poll.
The following season Georgia would lose to Clemson, who would become the National Champions that year. But they would return to the Sugar Bowl to lose to Pitt and their star quarterback Dan Marino. In 1982 they would again be undefeated heading into the Sugar Bowl but would lose to Penn State.
In 1982, Herschel Walker would win the Heisman trophy and be set up for a final year. But he made the mistake of talking to an agent, and in those days, when you did that you were no longer eligible to play. Herschel would leave Georgia for the USFL.
That three-year stretch would be the most successful for coach Dooley and for many would be known as the Herschel years. In 2009, Herschel's number 34 would be retired and is no longer worn by any players at Georgia.
Richard Proctor, born in Newnan, recently moved back from Denver, Colorado, and is an avid college football fan as well as a published author. He is the son of Dr. Ernest Proctor PAPP Clinic.