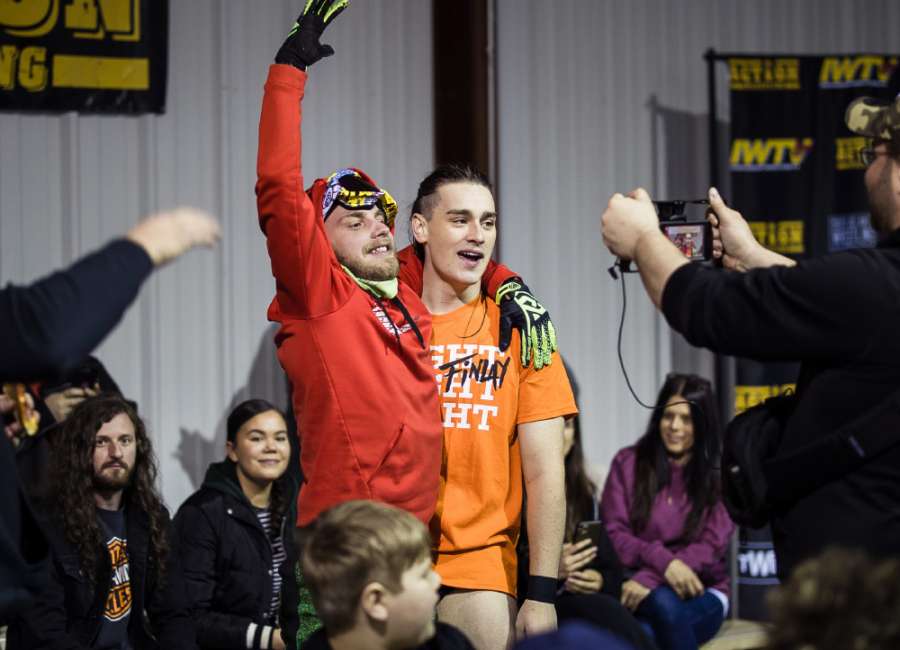 Professional wrestling will come to Newnan High School for a show on May 21, featuring a number of talents from Newnan.
ACTION Wrestling, a promotion based out of Tyrone, will hold a show at Newnan High School to benefit the school's football and wrestling teams, and several Newnan High School graduates will headline the show. The show is appropriate for all ages.
Newnan stars come home for the main event
In the main event, Newnan High School graduates and fourth-generation pro wrestlers David and Brogan Finlay will team with family friend and fellow Newnan High graduate Bobby Flaco.
Brogan and Flaco are a regular tag team on the ACTION circuit, while David has gone from his time at Newnan High to honing his craft around the world, especially in Japan.
Most notably, David has worked in a tag team with Juice Robinson, together known as FinJuice. Together, the two have won tag team championships in the U.S. and Japan, winning the IMPACT Wrestling Tag Team Championship and the IWGP Tag Team Championship in New Japan Pro Wrestling.
According to ACTION Promoter Matt Griffin, this marks the first time that the Finlay brothers will work as a tag team.
The Finlays and Flaco will take on Liam Gray, Adrian Alanis and Newnan High School graduate Damion Turner.
The show will also feature performers that have appeared on the Starz show "Heels," a show about an independent pro wrestling promotion based in a fictional town in Georgia.
In that match, Luke and P.J. Hawx will take on Brady Pierce and J. Spade, who both work as stunt doubles on the show.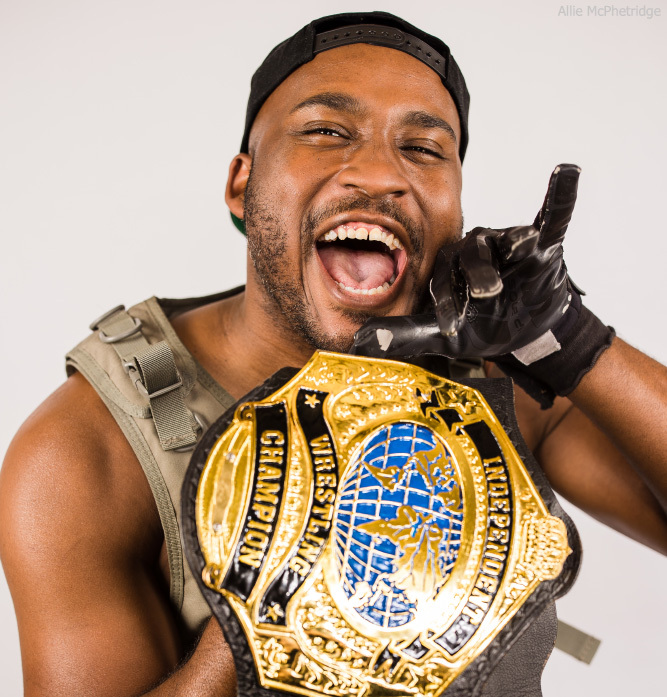 A.C. Mack is the Independent Wrestling World Champion, having won the championship from Alex Shelley back in January. (Photo credit: Allie McPhetridge)
A.C. Mack, the IWTV World Champion, will defend his championship against Alan Angels, a former ACTION regular who is now a member of the popular stable "The Dark Order" in All Elite Wrestling. Angels is Number Five in that stable, a group led by Mr. Brodie Lee before his death in late 2020.
Mack won the championship on January 21, defeating Alex Shelley in Tyrone. The championship is defended not just in ACTION Wrestling, but across numerous wrestling promotions broadcast by IndependentWrestling.tv, a site that Griffin viewed as a Netflix of independent wrestling promotions.
These promotions span the United States, and as Griffin said on Wednesday, Mack's travel schedule has grown as a result of winning that championship.
The championship is considered a World Championship by Pro Wrestling Illustrated magazine.
Kevin Ku, the ACTION Champion, will be defending his championship on the show. Ku, a part of the tag team "Violence is Forever" with Dominic Garrini, beat Arik Royal in March for the ACTION Championship.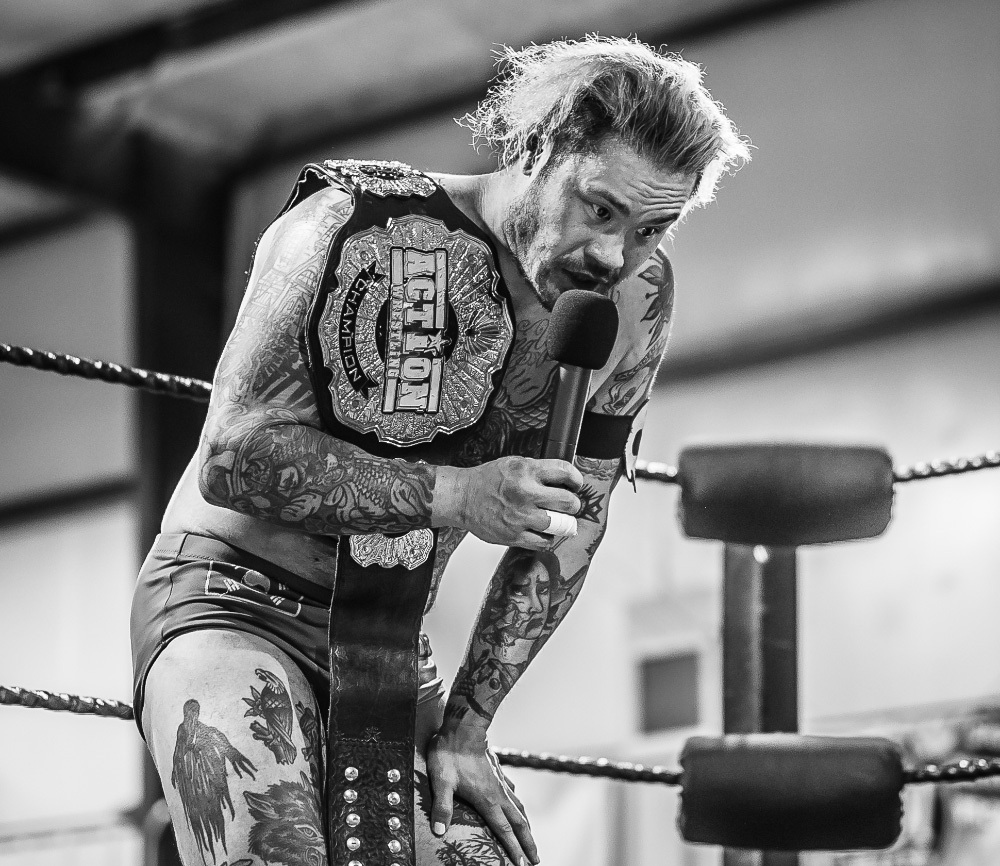 Kevin Ku, one half of the tag team "Violence is Forever," is the reigning ACTION Champion. (Photo credit: Allie McPhetridge)

In addition, Damyan Tangra is signed to take on New Jersey's Marcus Mathers, making his ACTION debut.
Griffin explained that the promotion loves to bring in talent from across North America to compete in ACTION, not just talent from Georgia.
"I love to rotate talent and bring in new people," Griffin said. "It exposes our local guys, they get to network and meet guys from out of the region and sometimes get bookings. I don't want to be a Georgia-only promotion. There's so much good independent wrestling around the country."
Wrestling a more participatory art than others
One of the beautiful things about professional wrestling in a setting such as this is the way that the wrestlers and anyone else performing are able, and will, interact with those on hand at the show.
Griffin compared that to another form of entertainment, one that won't quite be as interactive with a live professional wrestling show.
"The comparison I use when I talk to people who aren't really familiar with wrestling is, you can go see 'Dr. Strange,'" Griffin said. "But what you see at 7 o'clock is the same movie that they saw at 5 o'clock and 9 o'clock. There's nothing different about it. The only difference is if you see it in 3-D, or IMAX or whatever. Also, Dr. Strange is not going to be interactive. Dr. Strange is not going to come out of the screen and if you yell at the bad guys in Dr. Strange, they're not going to turn to look at you and stare you down."
On the other hand, he said a crowd can bring so much energy to a show, to the point that a good crowd can become "another participant" in the show.
This can be seen in professional wrestling shows to all levels. Wrestlers will react to how crowds react to their matches, and wrestlers will interact with fans during matches.
As part of that, Griffin said he does not use guardrails during matches to remove a barrier between the wrestlers and the fans. The fans that sit in the front row, however, know what could come from sitting in that front row with nothing between them and the ring.
"I educate my front row people, if a wrestler gets thrown out of the way and they say 'move!', there's probably another body coming over the top rope."
Griffin said the energy at a wrestling show is different from even a high school football game.
"You're not supposed to boo the other team. You're supposed to cheer for your guys, but you're not supposed to boo the other team. In wrestling, if you're a bad guy, you need that heat."
Griffin said the worst reaction for a heel, or a villain, is to have no reaction whatsoever.
An annual affair?
While ACTION Wrestling usually has shows at the Roger Spencer Community Center in Tyrone, the promotion has ventured out to other locations, including East Coweta High School, in Sharpsburg, and Sandy Creek High School in Tyrone.
"Hopefully, the goal is it'll be a good show, and we'll want to be able to come back and do it next spring," Griffin said. "That's what I've got at East Coweta, where we'll do a fall show."
ACTION Wrestling typically holds their show at East Coweta High School in October.
The May 21 show will mark the first time that ACTION has had a show at Newnan High School. Doors open at 6 p.m. and belltime is 7 p.m.
General admission tickets are still available at $10 each, and can be bought at ACTION-Wrestling.com. Those that can't get tickets for the show can still watch the show live on May 21 on IndependentWrestling.tv.