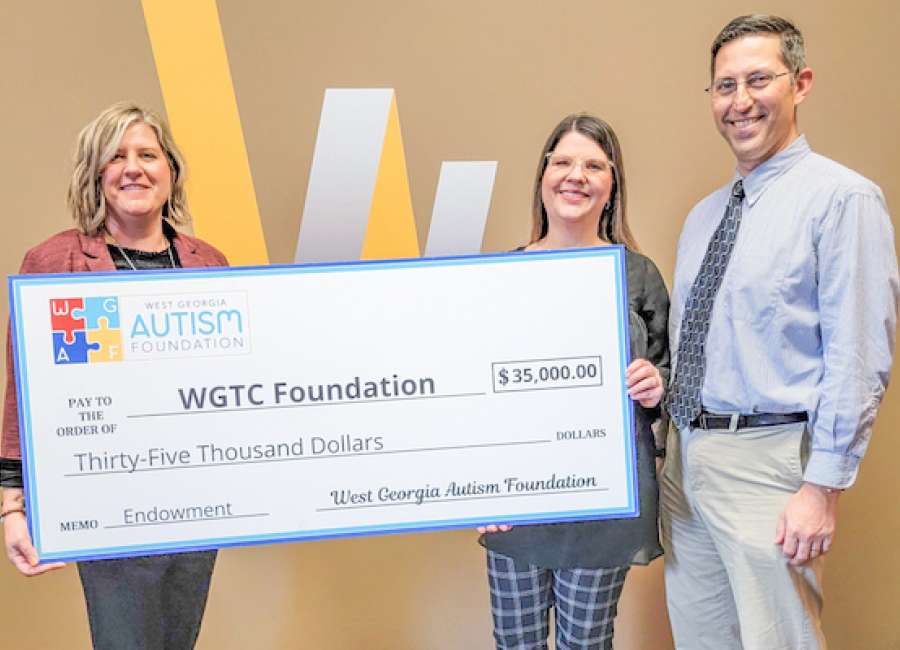 The West Georgia Autism Foundation recently established a $35,000 endowment with the West Georgia Technical College Foundation.

The endowment – known as The West Georgia Autism Foundation Endowment Fund – was created to establish an internship for autistic students attending West Georgia Technical College.
"This has been one of the greatest opportunities for the West Georgia Autism Foundation to establish something unique that will permanently benefit our local autistic community for years to come," said Dr. Harry Nelson, interim president of the WGAF. "Not only are we building resources that will promote diversity of skills in the local workforce, but we are developing strong community partners who will invest in the development of greater career opportunities for our autistic citizens."
The internship will benefit three autistic students per year, with one student selected each semester. WGTC Career Services Manager Zelma Jones will coordinate each internship and work to place the students with an assignment in their field of study. Students will work two four-hour shifts each week and will be paid monthly.
WGTC Foundation Executive Director Brittney Henderson said she is very excited to begin a partnership with the West Georgia Autism Foundation.
"This is a very unique internship that will help further educate our students," Henderson said. "Oftentimes, autistic students graduate but don't have the opportunity to gain real-life experience in employment and independent living. The hope is that this internship will give these students the opportunity to bridge the gap between academic and on-the-job learning to aid in gaining meaningful employment after graduation."
The West Georgia Autism Foundation was created in June 2017 by community leaders in the West Georgia area who were concerned about the financial burden many families affected by autism face. They represent nine west Georgia counties – Carroll, Cobb, Paulding, Douglas, Troup, Haralson, Coweta, Polk and Heard – who are committed to improving the lives of people with autism.
For more information on the West Georgia Autism Foundation, visit www.wgaautism.org . For more information on West Georgia Tech, visit www.westgatech.edu .