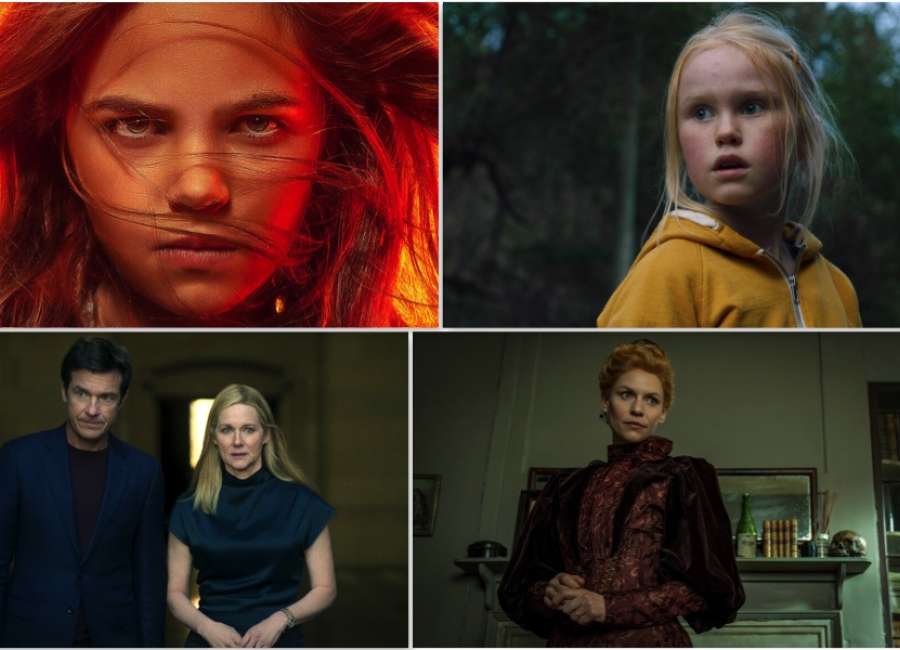 Reviews By: Jonathan W. Hickman

The Essex Serpent
Review Rating: 8/10
The six-episode series is available on Apple TV+
The latest "Downton Abbey" film hits theaters next week. Like "Doctor Strange in the Multiverse of Madness," that film franchise should help to reinvigorate the theatrical box office bringing in the older vaccinated crowd. "The Essex Serpent" is an England set story that should appeal to a younger audience, especially with "Loki" star Tom Hiddleston starring opposite "Homeland's" Claire Daines.
Adapted by Anna Symon (see "Mrs. Wilson") from the novel by Sarah Perry, "Serpent" is a spooky combination of drama and supernatural creepiness.
The story follows a brave London widow named Cora Seaborne (Danes), who moves to Essex to investigate the possible presence of a mythical sea serpent. As the title creature allegedly terrorizes the community, Cora forms a strained romance with the alluring Will Ransome (Hiddleston), a pastor with a strained relationship with his congregation and an even more troubled one with his family.
Talented director Clio Barnard (see "The Arbor") is at the helm in this deliberately paced chiller.
The Innocents
Review Rating: 6/10
In limited theatrical and VOD release
At first blush, this morbid science-fiction entry might appear similar to filmmaker Céline Sciamma's heartwarming "Petite Maman." But a word of warning, "The Innocents" isn't nearly as wholesome and impactful as "Maman," which was one of last year's best movies. Both films involve very young children coping with somewhat supernatural occurrences, but "Innocents" tips over into the horror genre.
Directed by recent Oscar-nominated screenwriter Eskil Vogt (see last year's transcendent "The Worst Person in the World"), "The Innocents" is a creepy fantasy film about a group of Nordic children forced to reckon with the crippling superpowers of one of their own.
This disturbing film is reminiscent of 2019's "Brightburn" in that it involves what would happen if a child possessed dangerous abilities. But unlike that somewhat familiar supervillain origin story, Vogt's uncompromising indie approach gives us less flash and action in favor of more introspective drama. It's a tough, intentionally unsettling watch, for sure.
Search Party
Review Rating: 7/10
All five seasons are streaming on HBO Max
I know that I'm late to the "Party," but the wife and I binge-watched this unusual series over the last couple of weeks. The final episode dropped in January, so now all seasons are available, permitting audiences to experience the entire story arc in a short time.
"Search Party" started in 2016 as a Seinfeldian tale about four self-obsessed millennials trying to make it in the big city. But when a friend goes missing, the ultra-sensitive and somewhat paranoid Dory (Alia Shawkat) sets out to find her. And she enlists her pals, boyfriend Drew (John Reynolds), and besties Elliott (John Early) and Portia (Meredith Hagner). But as their slapdash and often hilarious investigation proceeds, this hapless foursome encounters ever-increasing strangeness. And more than a few poor decisions threaten to lead them to ruin.
With each season, "Search Party" delightedly reinvents itself, consistently upping the ante. And Dory's often harrowing journey brings her in contact with an outrageous collection of bizarre characters. Some viewers will find the wild leaps in the narrative either exciting or unbelievable, and by season five, you're either in it until the end, or you've given up.
"Arrested Development's" Shawkat steps wonderfully into the spotlight as the heart and mind of the series. She even directs a critical episode.
Ozark
Review Rating: 8/10
All four seasons now streaming on Netflix
I've been a big fan of "Ozark" since the series dropped episode one in 2017. What started as an edgy show released in the shadow of "Breaking Bad" evolved by season three into a captivating family crime drama with memorable characters.
Jason Bateman and Laura Linney play Marty and Wendy Byrde. When a drug cartel kills Marty's business partner, they are forced to flee to the sleepy Ozarks with their children, Charlotte (Sofia Hublitz) and Jonah (Skylar Gaertner). But the relentless cartel doesn't give up and finds them hiding in the mountainous region. To keep his family alive, Marty, a gifted accountant, agrees to launder the criminal organization's money through various local businesses.
As part of his Ozark operation, Marty employs the rough and resourceful Ruth Langmore (a fantastic Julia Garner). In time, Ruth becomes Marty's right hand, even, in some ways, exceeding his abilities.
In the final season (presented in two parts), Marty and Wendy become embroiled in a power struggle between the FBI and the cartel, led by the frightening Omar Navarro (Felix Solis). Can the Byrde's survive the violence and manipulation? Will Ruth's ambitions tear their world apart?
While "Ozark" works its magic once again, four seasons are enough to bring this money-laundering/drug smuggling crime saga to a fitting end.
Operation Mincemeat
NOT REVIEWED
Available on Netflix
Although "Operation Mincemeat" may be available in limited theatrical release, it can now be seen on the streaming giant. This film, based on the true story of a secret British military operation in World War II, is directed by John Madden (see "Shakespeare in Love" and "The Best Exotic Marigold Hotel"). The movie concerns two intelligence officers who use a corpse and false documents to mislead German forces. Colin Firth leads an impressive cast (including "No Country for Old Men's" Kelly Macdonald and Jason Isaacs).