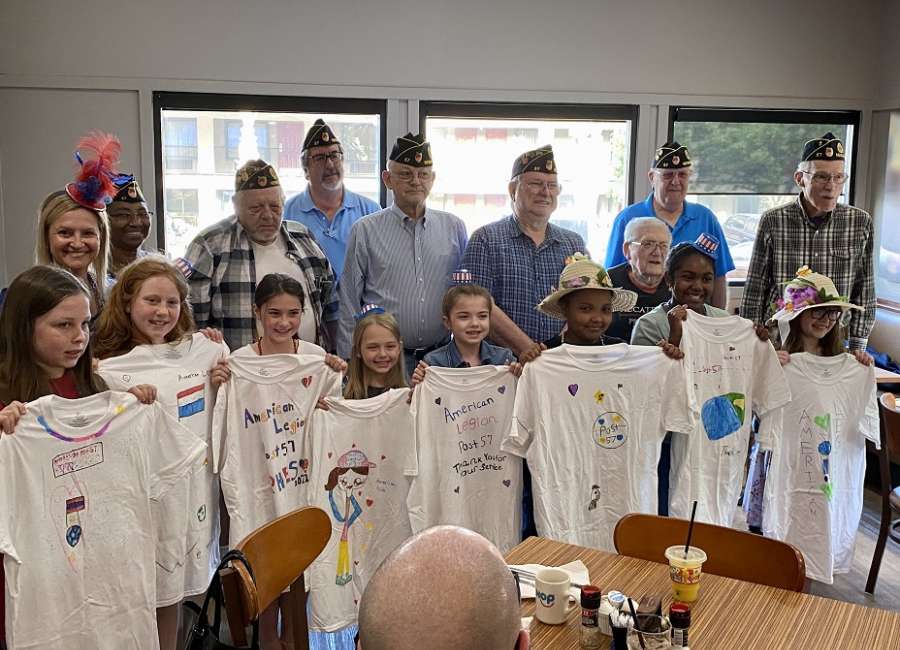 Members of a Ruth Hill Elementary School book club honored members of American Legion Post 57 by giving them decorated T-shirts at their May 7 meeting.
The book club consisted of 12 girls that met for five weeks to read "The American Girl Series - Felicity," said Mary Thompson, a RHES REACH teacher who organized the club.
Thompson said the members of the book club completed activities as a part the program. One of the activities involved designing the T-shirts for the veterans.
While gifting the shirts, members of the book club were able to converse with the veterans and learn about their experiences, said Thompson.
"The members were given free raffle tickets to determine which shirt they would be given. All members present 'won' a shirt. One member shared that he wasn't sure whether he was going to wear it or to place it in a special display frame," Thompson said.
In a previous Newnan Times-Herald article, Thompson said the book club was started with a $495 grant from the Coweta Community Foundation. A separate book club for boys ran concurrently and read "I Survived the Battle of D-Day," and another club for girls read "Ways to Make Sunshine."
Each of the book clubs focused on a single book.
Thompson said the grant money was used to purchase the books for each of the students.