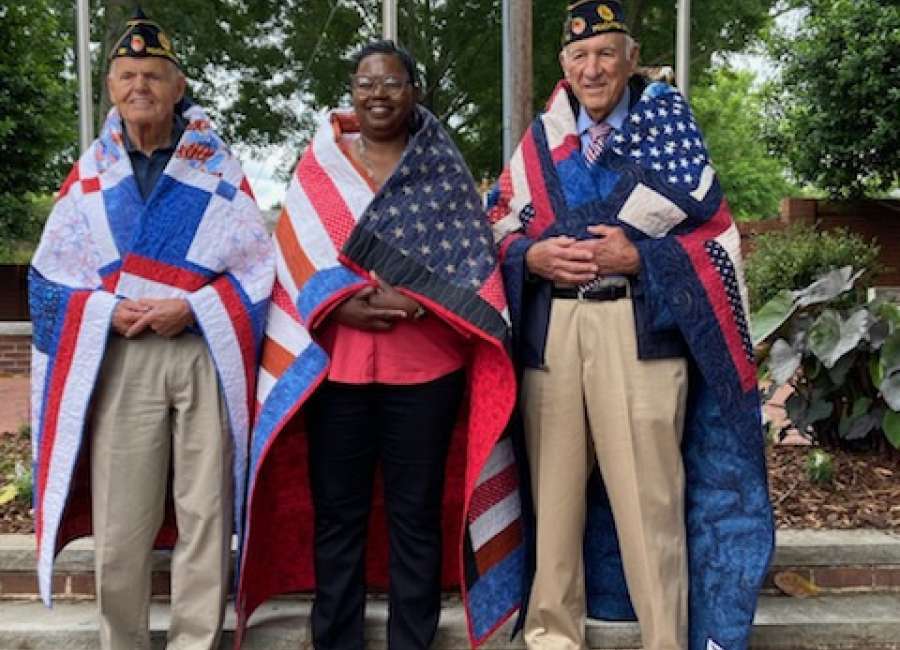 Quilts made by the Coweta County Quilts of Valor were presented to veterans at a ceremony at Veterans Park in Newnan on May 7.
The recipients of the quilts were Richard Rye, Shantay Patterson and Hoyt Davis.
Richard Rye
Rye served in the U.S. Army in 1963-65.
Other than Basic training at St. Louis, Missouri, Rye's entire Army career was spent at Fort Sill, Oklahoma where he learned Artillery Radio Maintenance, and the rest of his career was spent teaching Radio repair.
Mr. Rye received the following medals: the Good Conduct Medal and the Marksman Rifle Medal.
Rye's quilt was pieced and bound by Marina Lewis, and quilted by Jean Raines.
Shauntay Patterson
Patterson served in the U.S. Army in 1991-2013
Her duty stations included Germany; Iraq; Afghanistan; Kuwait's anti-terrorism
operations; and a humanitarian mission to Honduras. Other duty stations included Camp
Smith, Oahu, Hawaii, where she worked with a joint task force from the U.S. Navy, U.S. Marine Corps, and U.S. Air Force; Fort Campbell, Kentucky; and Fort Stewart, Georgia.
Patterson's awards include: six Army Good Conduct Medals, five Army Achievement Medals, seven Army Commendation Medals, a Joint Service Commendation Medal, the Afghanistan Campaign Medal with two campaign stars, and an Iraq Campaign Medal.
She served three tours in Southern Asia.
Patterson currently serves Veterans at the Veterans Administration at the Community Based Outpatient Clinic, Newnan.
She said she is glad she served defending America. When asked, "Would you do it again?" She said, "Yes, my father and brother served in the Army, and it was my privilege to follow in their footsteps. My nephew has followed all three of us in the Army."
Patterson's quilt was pieced and bound by Louise Sinclair and quilted by Raines.
Hoyt Davis
Davis served in the U.S. Air Force in 1951-56
His duty stations included the United States and Germany.
He served as a B-26 Pilot.
Davis' quilt was pieced and bound by Theresa Bush and quilted by Raines.
Quilts of Valor are handmade quilts that are machine or hand quilted by volunteers and awarded to service members or veterans who have been touched by war, according to the Quilts of Valor foundation. The quilts are made to a specific size requirement, labeled, awarded and recorded.
The Quilts of Valor Foundation was founded in 2003 by Catherine Roberts, whose son Nat was deployed in Iraq at the time. Roberts' vision was of volunteer teams who would donate their time, materials and expertise to comfort and thank service members and veterans for their service.
More 298,000 Quilts of Valor have been presented since 2003, with 744 presented by the Coweta County Quilts of Valor.
For more information on the Quilts of Valor Foundation, visit www.qovf.org .