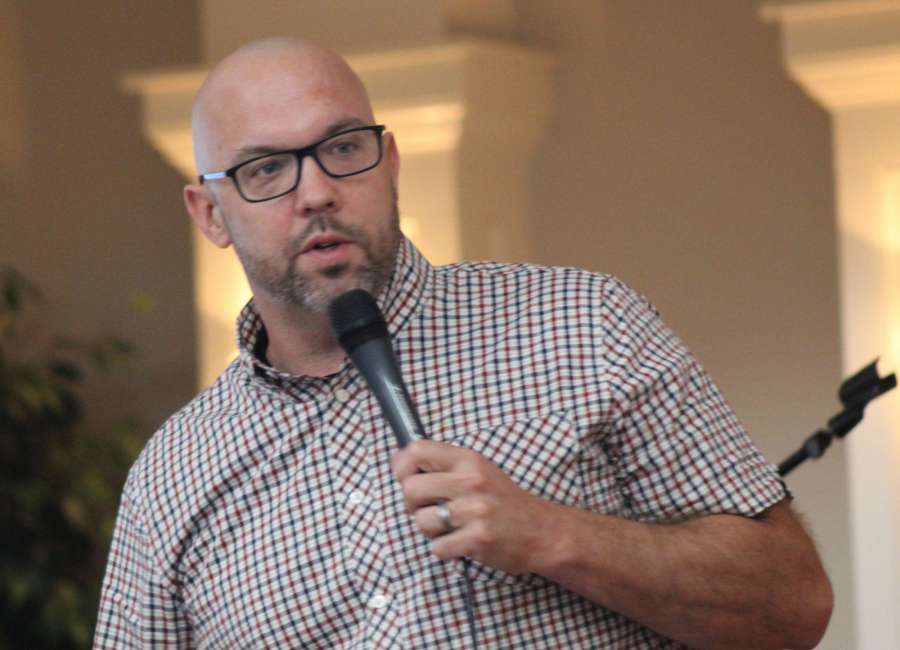 The National Day of Prayer, held on the first Thursday of May each year, is an opportunity for those to reflect, pray and hope for the future.
On Thursday, two events were held in the city of Newnan to mark the annual ceremony.
The day kicked off with a Community Prayer Breakfast at the First Baptist Church of Newnan's Fellowship Hall. There, members of the community, including local leaders and law enforcement, enjoyed a nice breakfast of eggs, sausage, bacon, grits, fruit, orange juice and coffee.
Racial reconciliation, as taught by the Bible
The event, sponsored by the Newnan Kiwanis Club, featured a speech from Dan Crain, director of groups and mobilization for OneRace. There, Crain spoke of loving beyond color, class and culture.
There, he used the Book of John to demonstrate his point about going beyond those perceived barriers.
"Something really interesting happens in John 4," Crain said. In there, it is said that "Now Jesus learned that the Pharisees had heard that he was gaining and baptizing more disciples than John, although in fact it was not Jesus who baptized, but his disciples. So he left Judea and went back once more to Galilee. Now he had to go through Samaria."
"Did y'all hear this?" Crain asked. "The normal route for the Jews was to go around (to get to Jeruselem). Why would they go around? There's Samaritans. There's an 800-year history. They intermarried with the Assyrians. The Assyrians conquered them. The Jewish people considered the Samaritans unclean half-breeds. That's what they thought.
"Why is Jesus doing this? What is he modeling? When Jesus came, Jesus came repent for the kingdom of God is at hand. Jesus came to reconcile us to God 100 percent, but Jesus came to reconcile us to each other across color, class and culture. Jesus had to go through Samaria. There is literally an 800-year history there. Now, Jesus had to go through Samaria."
Crain called himself a "white farm boy" from Bumpville, Pennsylvania, who wound up just south of Atlanta, not far from Turner Field.
"Post-Civil War, our neighborhood became one of the educational hubs for people coming out of slavery. It was an educational place. There's a lot of history there, and the reason I moved there was because of John 1:14."
John 1:14 says "The Word became flesh and made his dwelling among us."
Crain said he has given his life to God's work of racial reconciliation, inspired by the work of Dr. John Perkins, a leader in the Civil Rights Movement who founded the Christian Community Development Association in the 1970s, a group that works to help the poor and underserved populations.
"There's a history. Just like there was a history between the Jews and Samaritans, an 800-year history, there is a history in this country. I've been in my community for 11 years, I've done a lot of work with young men in the neighborhood, and they've come up with two names for me – Pastor One Hundred and The Plug. One Hundred means 100 percent, I keep it real. I don't fake. I'm an authentic person. I don't mind talking about my sins. I'd like to talk about my glory. We're going to keep it here."
Crain said that the last two years have been very difficult to handle.
"Let's keep politics out of this," Crain said. "Both sides. Democrats and Republicans have no place in the church. We're about truth. Biblical truth. Let's keep the donkeys and the elephants out of the church.
"We've seen George Floyd. We've seen Ahmaud (Arbery). We've seen all these things in 2020, but the response is we've seen a lot of debate about Critical Race Theory and Social Marxism and all that. If I never have another conversation about Critical Race Theory again, I'll be happy. I said to my brother as we pulled in the parking lot, one of the hardest things for me as a peacemaker is I live in between the Black and Brown community who are traumatized, who have experienced this, and I live between a White community who doesn't get it."
Crain said that as a White man, he has been asked what he's doing where he lives.
"I have felt the pain," said Crain. "There is a past here. In 1619, the first people were brought here as slaves. Indentured servants. This lasted until 1865 – this was 61 percent of our history. And the next history between 1865 and 1965, Black Codes, Jim Crow, and since 1965, the last 14 percent, equity is possible. This is the system we are dealing with in this country. I ain't talking about woke theology, I ain't talking about any of that. I'm talking about actual, factual history that we as the church need to recognize and we as the church need to lament."
The heat is on and so is the spirit
That afternoon, numerous pastors and preachers visited Greenville Street Park for the annual National Day of Prayer event, braving the heat to call on the spirit of the Lord to listen to their calls.
There were songs, sung by worship leaders Gabe and Wendy Rivera. The two started with the song "Lord, We Need You" and the event ended with Wendy singing "God Bless America" for those on hand.
Others prayed for everything from the city of Newnan and its government and public safety departments, Coweta County, its government, Sheriff's Office and fire department, for schools, the school board and its teachers.
Other prayers went beyond the scope of Newnan and Coweta County. There were the prayers for the Executive and Legislative branches of government. There were prayers for the courts across this country, particularly the U.S. Supreme Court.
There was a spirited prayer for the military, not only for the U.S. military but for the military of Ukraine as they fight to fend off the invasion from Russia.
There was a prayer for the media, a call to use the media – such as television, radio, movies and newspapers – as a force for good, rather than a force for evil.
There was also a prayer for Newnan's business community. During this prayer, attendees were asked to turn and face the Newnan Court Square, and pray for the businesses in the Newnan area.
Following that were prayers for the churches in Newnan and Coweta County, as well as the families that live in the area.