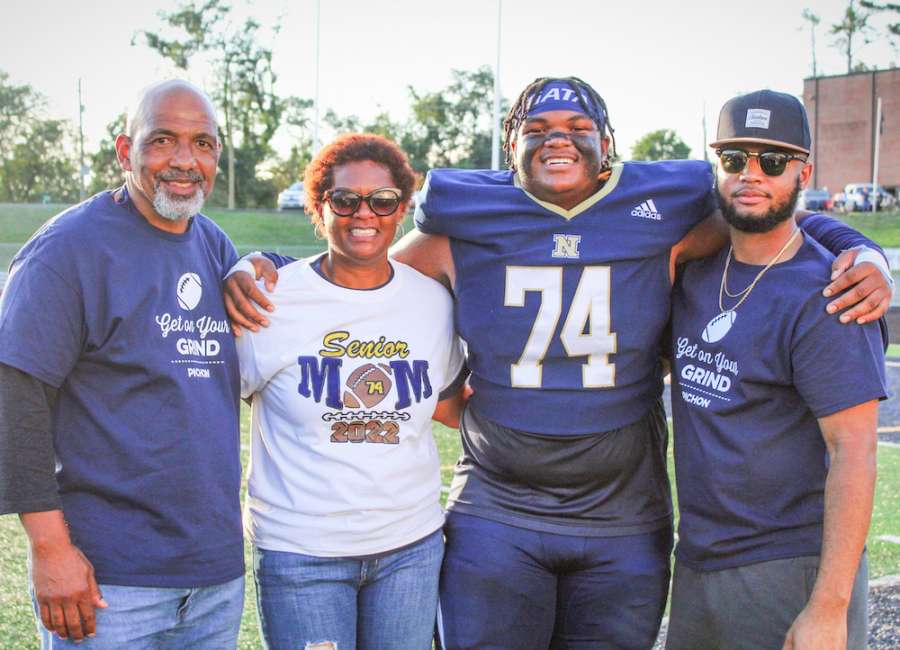 By Lacey Daniell
Just 162 days after playing his last high school game for the Newnan Cougars, Georgia Southern freshman Pichon Wimbley was back on the football field last month in the Georgia Southern University Blue vs. White Spring Game.
As an early enrollee, Wimbley went through the entire spring practice with the Eagles.
At Newnan, Wimbley was a consistent performer on the offensive line since his sophomore season. He was named the Region 2-7A first team last year and made the second team after the 2019 and 2020 seasons.
He had over 90 knockdown blocks and over 30 pancake blocks in his career. (A pancake block is a run block by an offensive lineman that sees the defensive player end up flat on his back.) Based on his performances for the Cougars, Wimbley was ranked a three-star recruit by 247Sports.
Wimbley will be playing the center position at Georgia Southern and has made an immediate impact. He competed daily in spring practice and participated in the spring game, where he logged a significant number of offensive snaps.
The center is arguably one of the most critical positions on the field, alongside the quarterback. The center plays in the middle of the offensive line and is tasked with making and calling out reads to the quarterback, usually relating to linebackers and the defensive line.
Spring practice started for the Eagles on March 22 and ended on April 23, the spring game day. Wimbley shared of the experience, "Spring practice is a lot faster than high school ball; every second you are doing something, they have it down to a tee. There is competition in every drill, whether it be offense vs. defense, or in position groups."
When asked about the spring game, he shared, "Going into it I felt a little nervous, just because it was a bigger platform than high school ball. After making my first snap, I realized the platform might change, but the game stays the same." He continued, "The more reps I took in the game, the more comfortable I felt."
Newnan's current defensive line coach, Coach Brandavious Mann, played on the offensive line for Georgia Southern from 2007 through 2011. Coach Mann and Coach TJ Barden traveled to Statesboro to attend the big game and see Wimbley's first action.
Wimbley looks forward to the upcoming season with his team. "I am looking to help the team in any necessary role, whether big or little," he said.
He will be back in Statesboro and on campus on May 30 to start summer workouts.
The Eagles open their 2022 season on Sept. 3 against Morgan State in Statesboro at Allen E. Paulson Stadium.