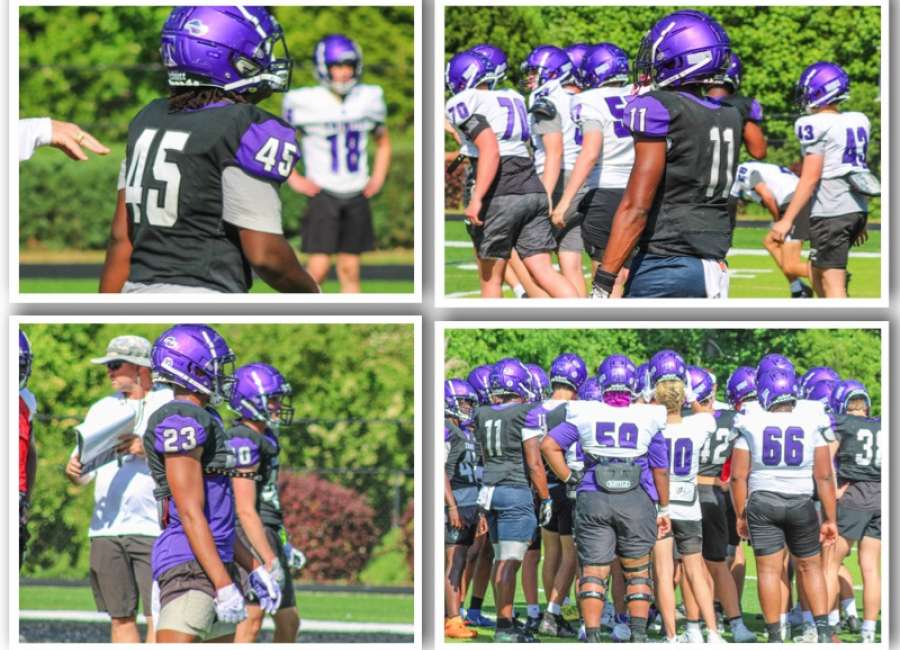 Mindfulness has become a superpower in this crazy world we live in.
While many focus on the past or worry about the future, the key is to live in the present.
That was the mood of Head Coach Kenny Dallas and the Trinity Christian Lions on Tuesday afternoon on the second day of spring practice.

The distractions were all around. In terms of the past, the team celebrated their 2021 state championship with a ring ceremony after the practice. The future holds the unknown; a new region (Region 4-4A) with bigger schools and a clear target on the Lions' back.
But for Coach Dallas, it was all about the present and using the second of their 10 allotted spring practices to get better.
Practice included many of the departed seniors who were a big part of last year's championship run. Jimbo Batchelor, David Dallas, Josh Dallas, Tyson Wall, Dominick Cosper, Christian Hanson and Noah Maupin all stood in to encourage and coach the 2022 Lions.
Coach Dallas spoke of the new frontier, "You're either a climber, a quitter or a camper. We have an entirely new mountain that we're climbing, so there is no shadow of last year or anything else like that. So yeah, we are working hard."
While the talent that graduated from last year's team was staggering, the players coming back are equally strong. Aaron Gates, Ethan McDowell, Shawn Braxton, Ryan Earl, Nathan Jones and Cameron Matthews were all a big part of the last two seasons and will be counted on heavily.
Coach Dallas continued, "These seniors that we lost last year, it's like they were the voice for two years. We are looking for those new voices. I want the team to figure out what great teams do, and great teams make one plus one equal three. They are so close. They are so tight."
There are some newcomers to add to the roster mix. Phoenix Moss, Josiah Jarrett, Bakari Hamilton, David Hayden and Jamarion Harris will become household names for the Lion faithful soon.
Leadership has already emerged from McDowell and Braxton.
Coach Dallas compared them to the leadership from his sons, David and Josh, from the championship run. "Those two guys (McDowell and Braxton) are absolutely elite individuals and elite leaders. I put my own sons, Josh and Dave in that category. I am blessed to go from two unbelievable leaders like that to having two more."
The immediate future for the Lions includes another week of spring practice and then a spring game at Salem next Friday, May 20.
And beyond that, as Coach Dallas said, "t's a whole new classification, a whole new region, a whole new schedule." That schedule kicks off on Friday, Aug. 19, at home against Woodward Academy.
As the team gathered to watch a video reminder of the 2021 championship run and accept the reward of their hard work, their thoughts and attention were already focused on getting back.
Coach Dallas concluded, "It's a new mountain, so it's easy for us to turn the corner. Our kids are excited about the challenge ahead."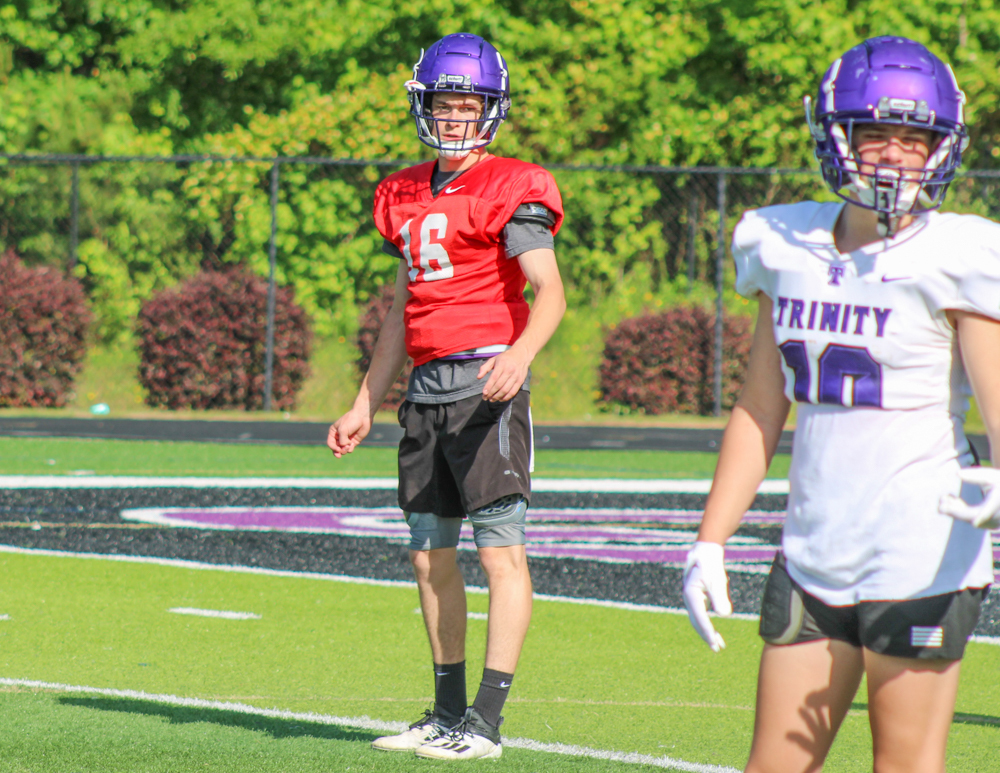 Quarterback Henry Brodnax (red No. 16) will look to replace David Dallas at the quarterback position.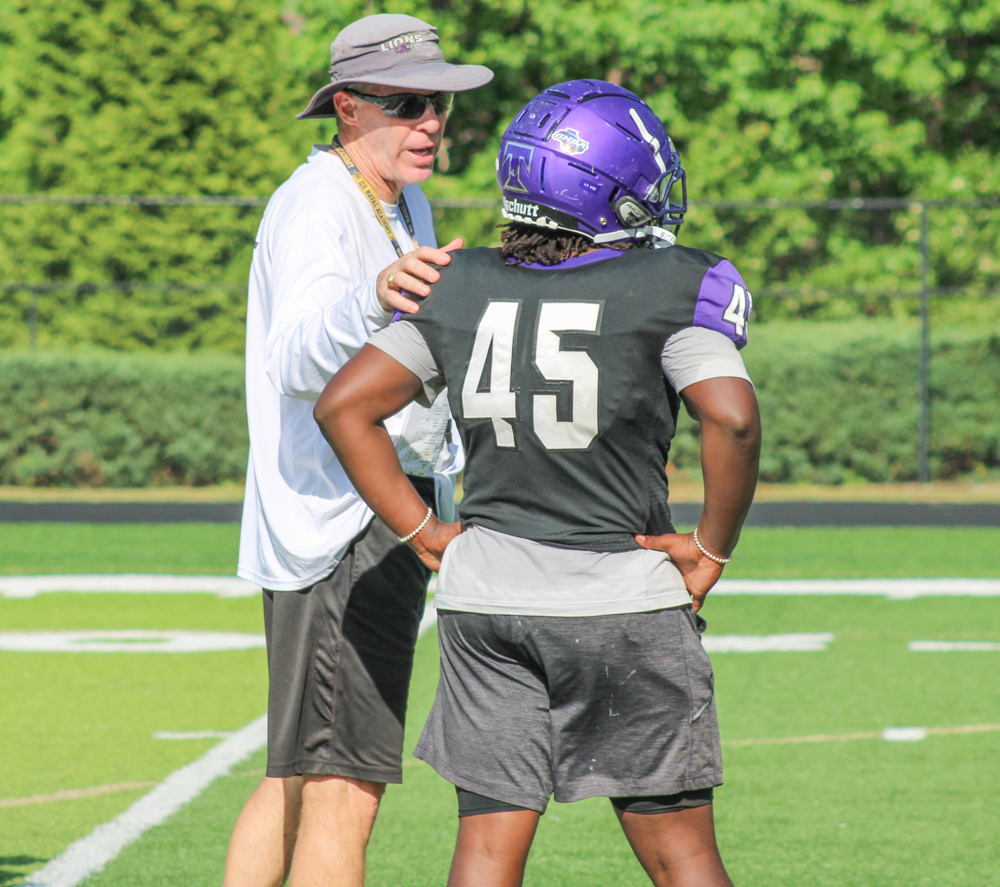 Ryan Earl brings leadership and experience to the 2022 Lions defense.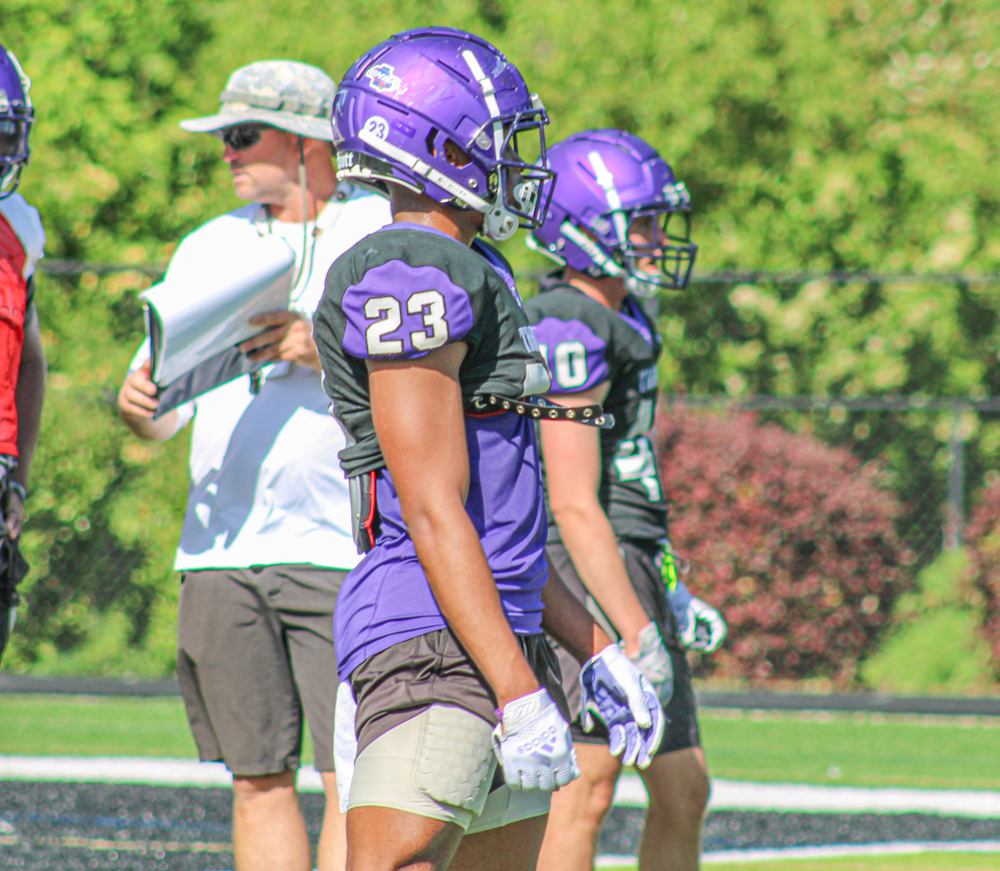 Aaron Gates (No. 6) is one of the most explosive players in the country.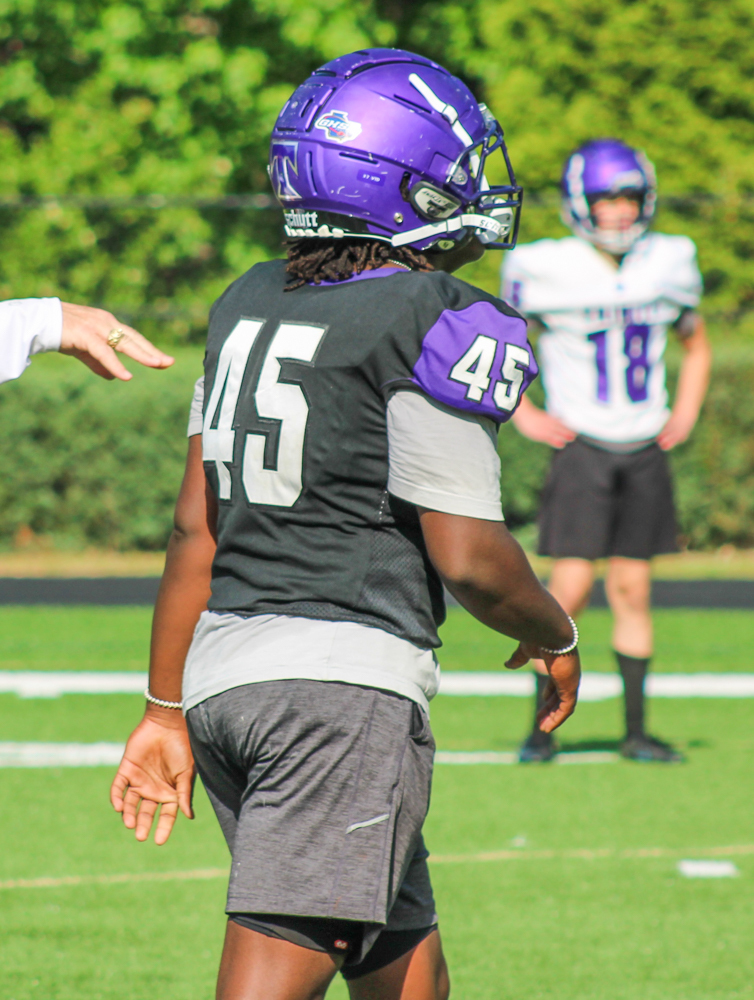 Freshman Bakari Hamilton leads a group of newcomers that seek to replace a large senior class.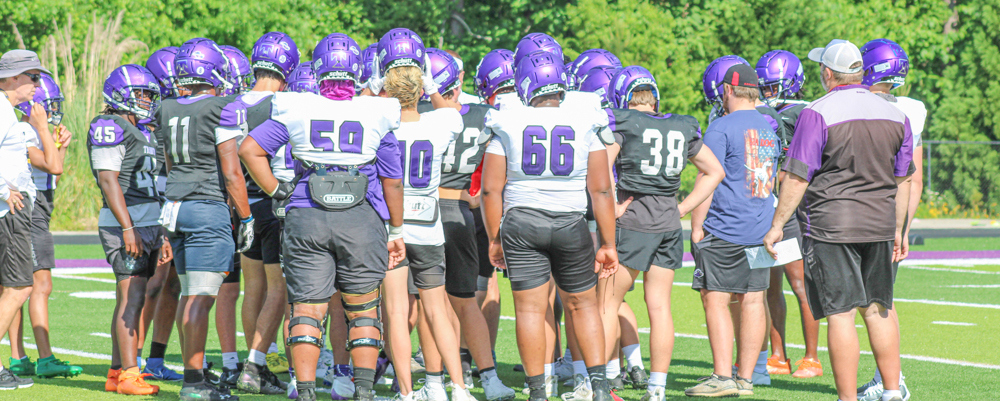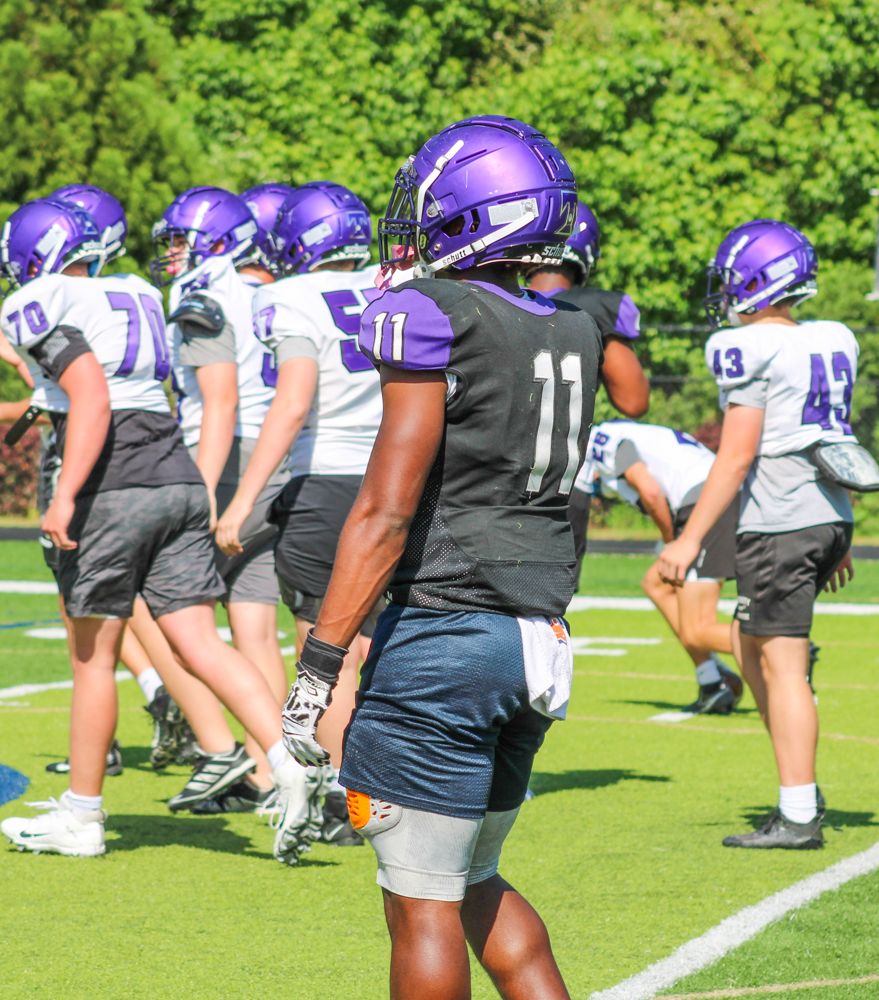 Newcomer Phoenix Moss (No. 11) has fit into the team concept.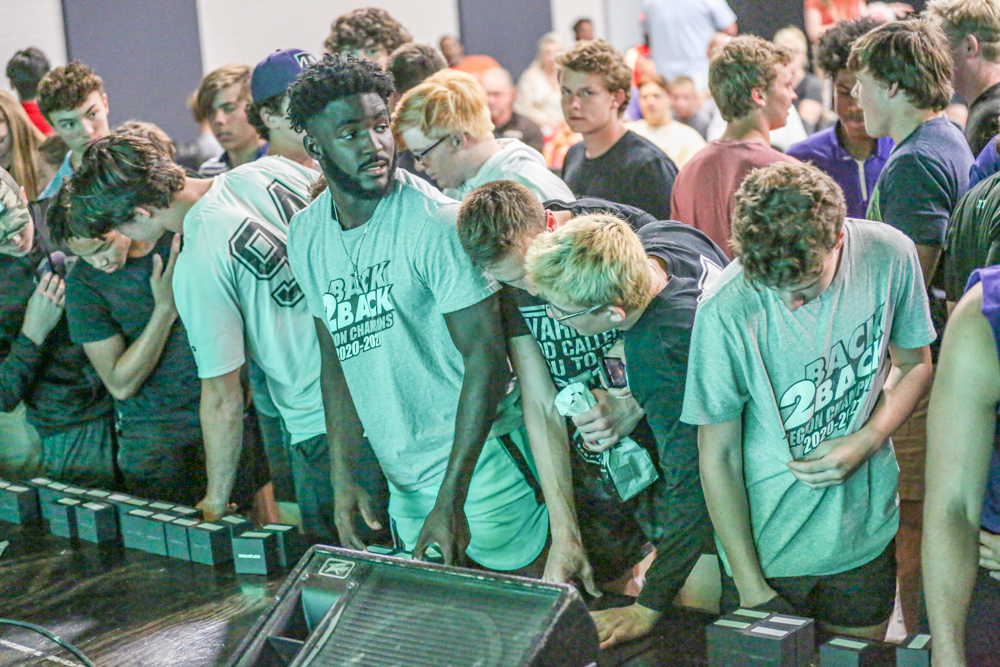 Spoils of victory – after the Tuesday practice, the Lions picked up their 2021 championship rings. (Jami Thompson)