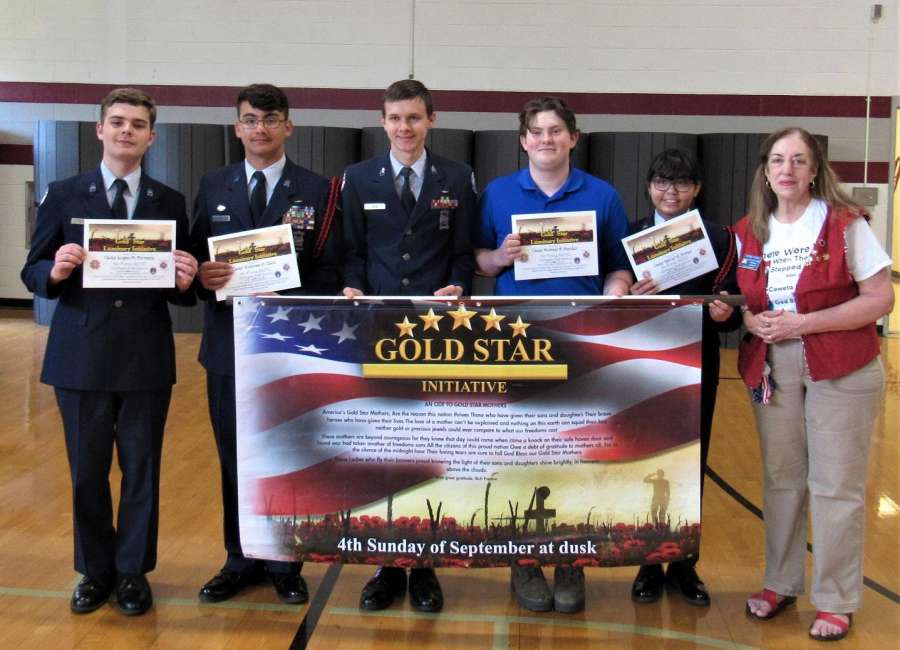 Members of the East Coweta High School JROTC Marine Corps Junior Cadets and the Northgate High School JROTC Air Force received certificates of appreciation from Verna Funk, VFW Auxiliary Post 2667's patriotic instructor, for their participation in memorial ceremonies.
The certificates were given out on May 7.
Certificates were given to members of the ECHS JROTC for their participation in the Gold Star Family Day ceremony last September, and to members of the NGHS JROTC for their assistance in the annual 9/11 remembrance ceremony.
Gold Star Family Day, a day for family member's who lost a son or daughter because of military service, is observed on the fourth Sunday of September.
The ceremony was the first held by the VFW Auxiliary, and is the sixth — in addition to Memorial Day, Veterans Day, MIA/POW Day, the 9/11 ceremony and Wreaths Across America — that will be held each year, said Funk.
Funk said the new ceremony is to honor the families who have had a loved one die while serving because people often forget that the families are suffering after someone dies.
The 9/11 remembrance ceremony is also organized each year by Funk.
Funk said the certificates were given for the students' work in supporting the community.
"It was for their excellence, and what they do as students and what they do in the community," she said.