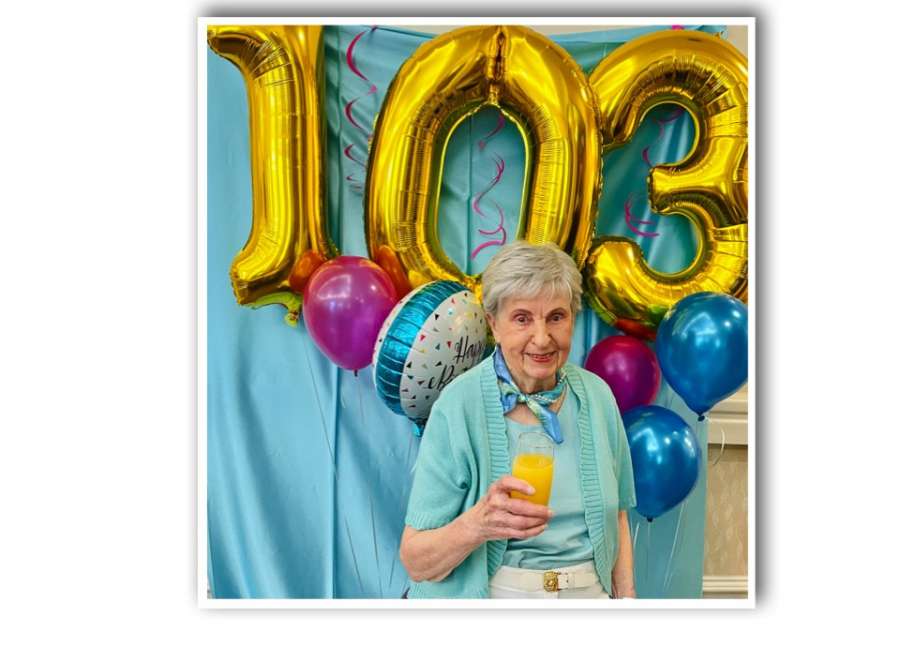 Renee Jordan of Newnan celebrated her 103rd birthday Thursday with family and friends making it her third birthday as a centenarian.
According to www.statista.com , a provider of marketing and consumer data, the number of people aged 100 and over (centenarians) in the U.S. in 2016 was 82,000, and that figure is expected to increase to 589,000 in the year 2060.
Jordan was born in Atlanta May 26, 1919. She has two children, grandchildren and great-grandchildren. Her daughter, who is also named Renee, said her mother is last of her generation and siblings.
"She's the perfect example of a Southern belle," Renee said. "She's just amazing. She's so independent. For her 90th birthday, she bought herself a new Toyota."
Renee said her mother did live with her and her family when the COVID-19 pandemic hit.
"She was 101 then," Renee said. "I really wanted her to stay with us, and I was not really comfortable with her living alone, but she insisted on going home. She said, 'I'm ready to move to Benton House.'"
Renee said although her mother is very independent, she did give up driving on her own.
Renee said her mother retired from Sears and was widowed very young. She is also a huge Atlanta Braves fan.
"She was thrilled when they won the World Series," Renee said. "She loves homemaking. She is truly a woman of her generation. I am so blessed to still have her. She's such a joy."
Renee said her 103-year-old mother is still quite healthy.
"Her mind is so sharp," Renee said. "She is sharp as a tack, an avid reader and does a crossword puzzle everyday. She's smart as a whip."
Her favorite foods are chocolate, peanut butter, Pringles and ice cream.
When asked how it feels to be 103, Jordan said, "it feels just like it did when I turned 102."
Jordan said she does have a secret to living a long life.
"The good Lord just looked after me from the day I was born," Jordan said.
Jordan said she is an avid gardener and loves plants and flowers.
"My mother worked in her yard all of her life," Jordan said. "I love gardening, but it is limited. I only plant flowers to enhance the yard. I think you can buy tomatoes a lot cheaper than you can plant them."
Jordan celebrated with her community, The Benton House in Newnan, Thursday at 11 a.m. with a brunch.
"I was humbled … very humbled," Jordan said. "The people at Benton House were lovely to me."
Thursday evening, Jordan celebrated with her family at her daughter's home in Newnan.
"I celebrated all day long," Jordan said.