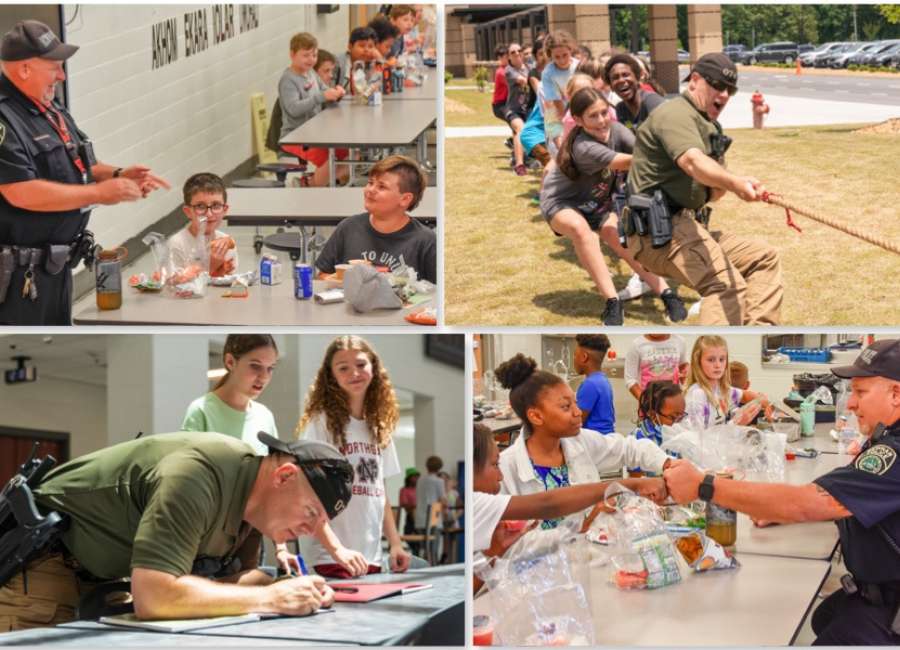 They're in their 40s now, most with children of their own, but the students who were under the watchful eye of then-School Resource Officer Lenn Wood in the 1990s haven't forgotten him.

It was the early years of the SRO program in the Coweta County School System, but Wood – now Coweta County Sheriff – said his former students still have a smile and a hug for him when they cross paths.
Building those kinds of positive relationships has remained at the heart of the SRO program these days as well.
"Not everybody can be an SRO," Wood said. "Not everybody is equipped to be an SRO. Relationships aren't something you go into a school and just have. You have to build them and constantly work on them."

Student Resource Officer Adam Elbrecht sits with students during Blake Bass Middle School's field day. (Chris Martin)

Wood served as president of the Georgia Association of School Resource Officers for several years and, along with Major Stephen Crook, has helped create the SRO training required of the officers who are assigned to each school in the Coweta County School System.
But before they can become an SRO, they have to become a law enforcement officer. Each SRO is mandated and sworn, and each has actually worked in the field.
"They come off patrol or out of investigations," Wood said. "They all come from law enforcement duties before they become an SRO. And they have to apply for the job. They have to want the job, they have to be interviewed by the SRO unit commanders, and they have to have the right demeanor to work at a particular school. Dealing with elementary is totally different from high school, and middle school is different from both."
They come from the CCSO and from the Newnan and Grantville police departments, and the cost of their salaries and equipment are shared between their agencies and the school system. They are present in each school every day, fully trained and in full uniform, and they report directly to their respective commanders.
"They are there because they want to be there," Wood said. "They love working with the kids.
"But they also have the ability and training to handle situations when they come up," he added.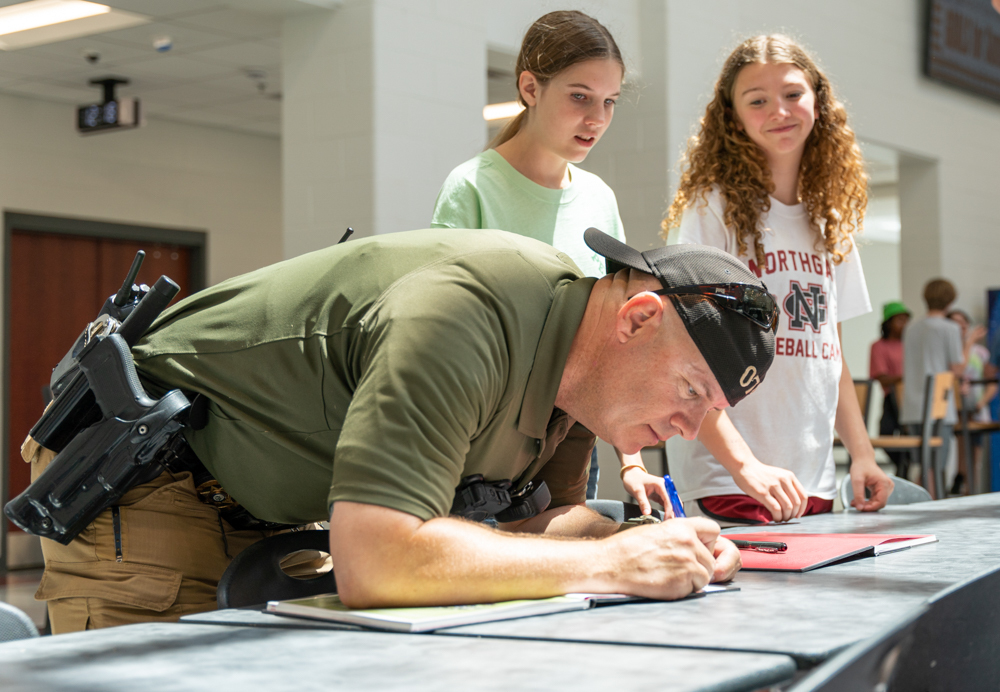 On the last day of school at Blake Bass Middle School, Student Resource Officer Adam Elbrecht signs a few yearbooks for several students. (Photo by Chris Martin)
'What can we do to prevent it here?'
After Tuesday's mass shooting at Robb Elementary School in Uvalde, Texas, where a teenager killed 19 students and two teachers, Wood said he sat through hours of television news coverage of the event.
"It traumatizes everybody," he said. "At times we just want to cry. But the reason we watch it is that we don't want it to happen here. So we try to see what happened to cause it, and we ask ourselves what we can do before it gets to that point, so we can prevent it."
Active shooter scenarios are held each summer after school is out, with SROs, law enforcement agencies, school administrators and even teachers training through different scenarios in empty school buildings.
"Everything we do, we do in cooperation with the schools," Wood said. "When we do active shooter training, we have teachers there so they understand what we're doing."
SROs from different agencies plan community-based events together to build camaraderie among the members of their unique brotherhood, but safety is always on their minds.
While the SWAT Team may have knowledge of a school layout in case of emergency, the SRO is going to be the one who makes first contact if there's ever an active shooter situation.
"Our SROs are trained to confront (a threat) as soon as possible, stopping him if they can or containing him in a certain area of a school or building if no one else is in danger," Wood said. "But if there are people being threatened, people in danger of being hurt, we are going to take care of the situation. We are not going to allow anyone to get hurt."
Local law enforcement and Coweta County School System officials hold safety meetings at regular intervals, reviewing and modifying safety plans for each school.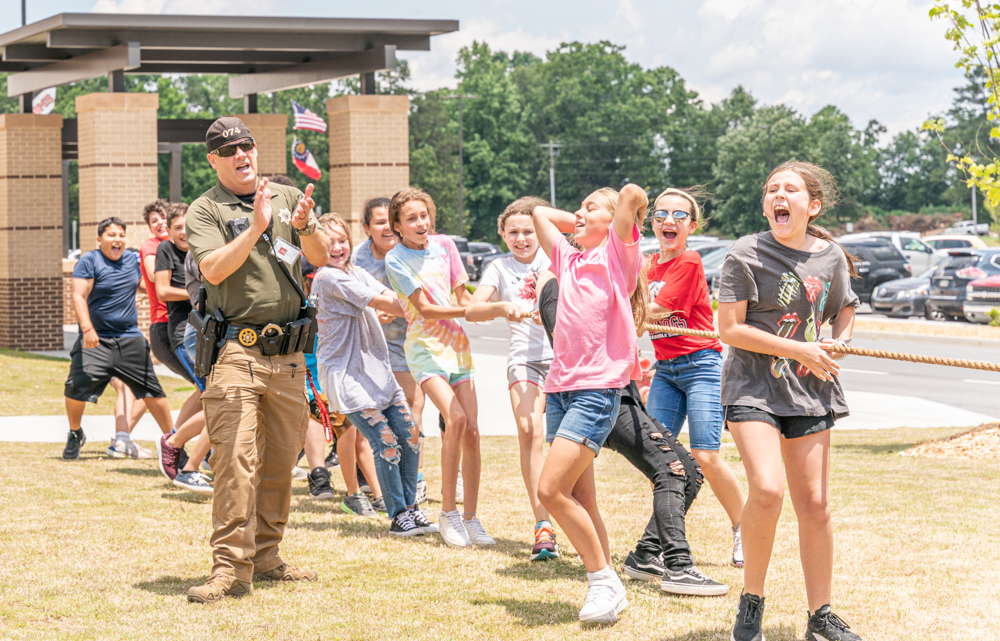 Student Resource Officer Adam Elbrecht helps motivate students engaged in a tug-of-war battle during field day at Blake Bass Middle School. (Chris Martin)

Parkland incident accelerates security upgrades
The SRO program, first established in Coweta Schools in the 1990s, had grown gradually – until Valentine's Day 2018, when a man gunned down 17 people at Marjory Stoneman Douglas High School in Parkland, Florida.
The next week, a series of incidents in Coweta schools resulted in the arrests of several students on charges ranging from terroristic threats and acts to carrying a gun in school. As a result, safety and security updates in local schools were expedited.
"The school system, which had many security elements in place already, and plans to expand them, immediately began a review of existing school security features," said Dean Jackson, public information officer for Coweta Schools.
Full security systems with secure vestibules, or "visitor traps," additional security cameras and Centegix alert systems were approved for all schools by the Coweta County Board of Education.
Additionally, then-Superintendent Steve Barker requested that the board support working with local law enforcement agencies to quickly expand the SRO program to ensure an officer was assigned to each school. At that time, elementary schools shared SROs.
"That expansion was fully realized by the start of the 2018-19 school year," Jackson said, noting that current Superintendent Evan Horton served as administrator over student and school safety measures at the time.
The Coweta County School System now has at least one SRO assigned to each of its schools, including an additional officer who was approved for the Central Educational Center after Newnan High School freshmen were relocated to Cougar Village at CEC because of tornado damage to the main campus.
At school safety meetings held before the start of each school year, officers discuss changes over the past year, and they are "constantly reevaluating the plans we have," Wood said.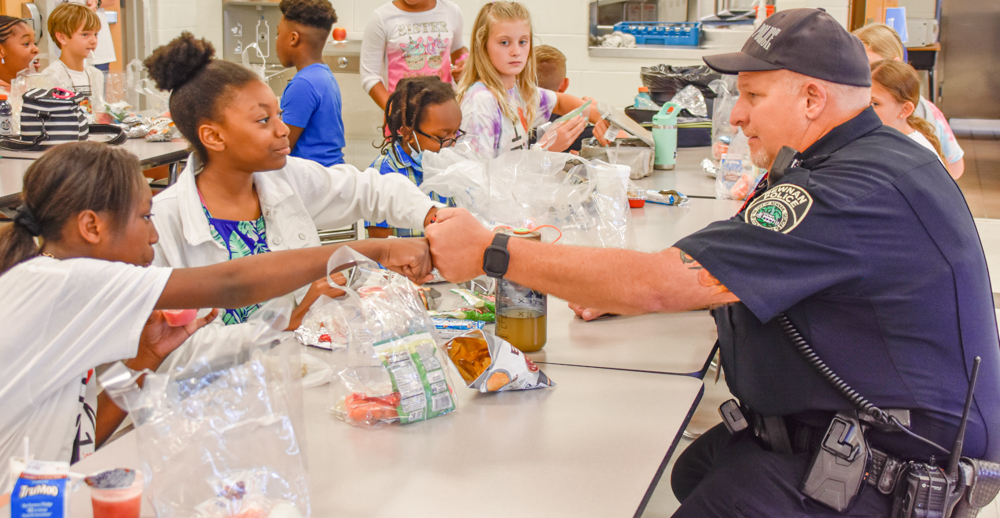 At Elm Street Elementary, Student Resource Officer Jimmy Price shares a fist bump with several students on their last day of school. (Beth Neely)

Connecting in a different way
And while SROs can be taught to deescalate situations, conduct school-based investigations and even assess whether a person may be carrying a weapon by watching their gait and mannerisms, other important aspects of their job can't be taught.
"SROs become so involved with students that during their time off, they're doing things like attending ballgames," Wood said. "It becomes a way of life, and that's not a bad thing. A lot of these kids may not have good stable homes, or may have absent parents, and SROs can connect to those kids in a different way. (The officers) are there because they want to be there."
That means school officers are not just onlookers, but part of the schools they serve – participants in activities like field days, holiday and end-of-school parties, awards ceremonies and read-aloud sessions.
"Our SROs are not trained to do that, but they become so involved with the students and faculty that it becomes a big family," he said. "So then if something bad ever happens, they're more than happy to defend and protect their family."
Wood said Coweta's SROs program is a source of pride, not just because of the training system he and Crook have helped develop, but because of the officers who help keep schools safe.
"We know the caliber of people we are looking for, and they fit the bill," he said. "They make sure we're doing everything we can to keep schools safe so (students) can do one thing, and that's to keep learning. That's what it's all about."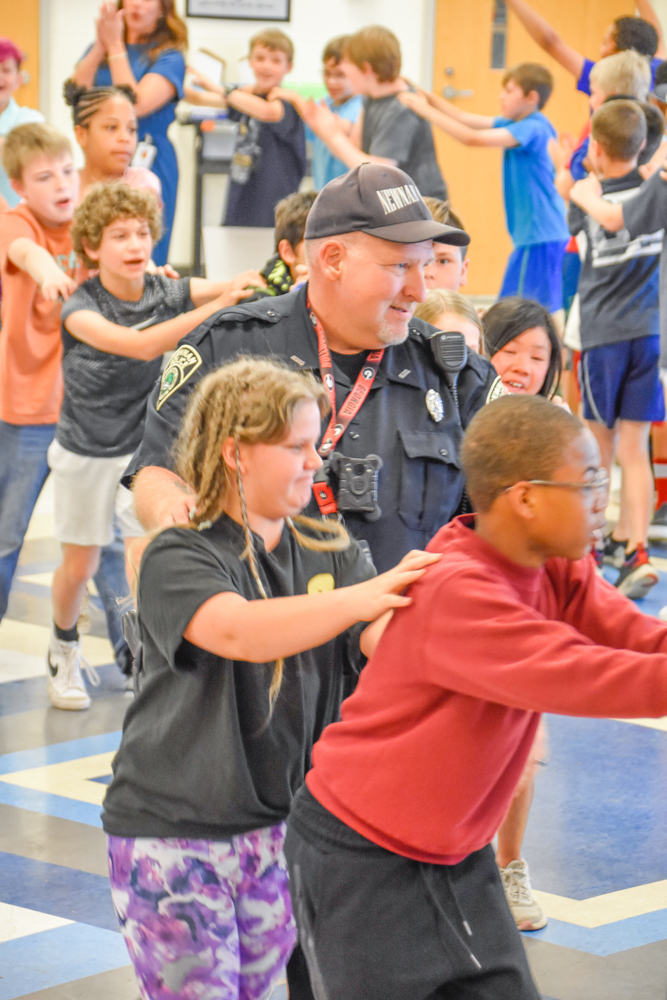 Student Resource Officer Jimmy Price joins students in a conga line after getting "Rick Rolled" during lunch on Friday. (Beth Neely)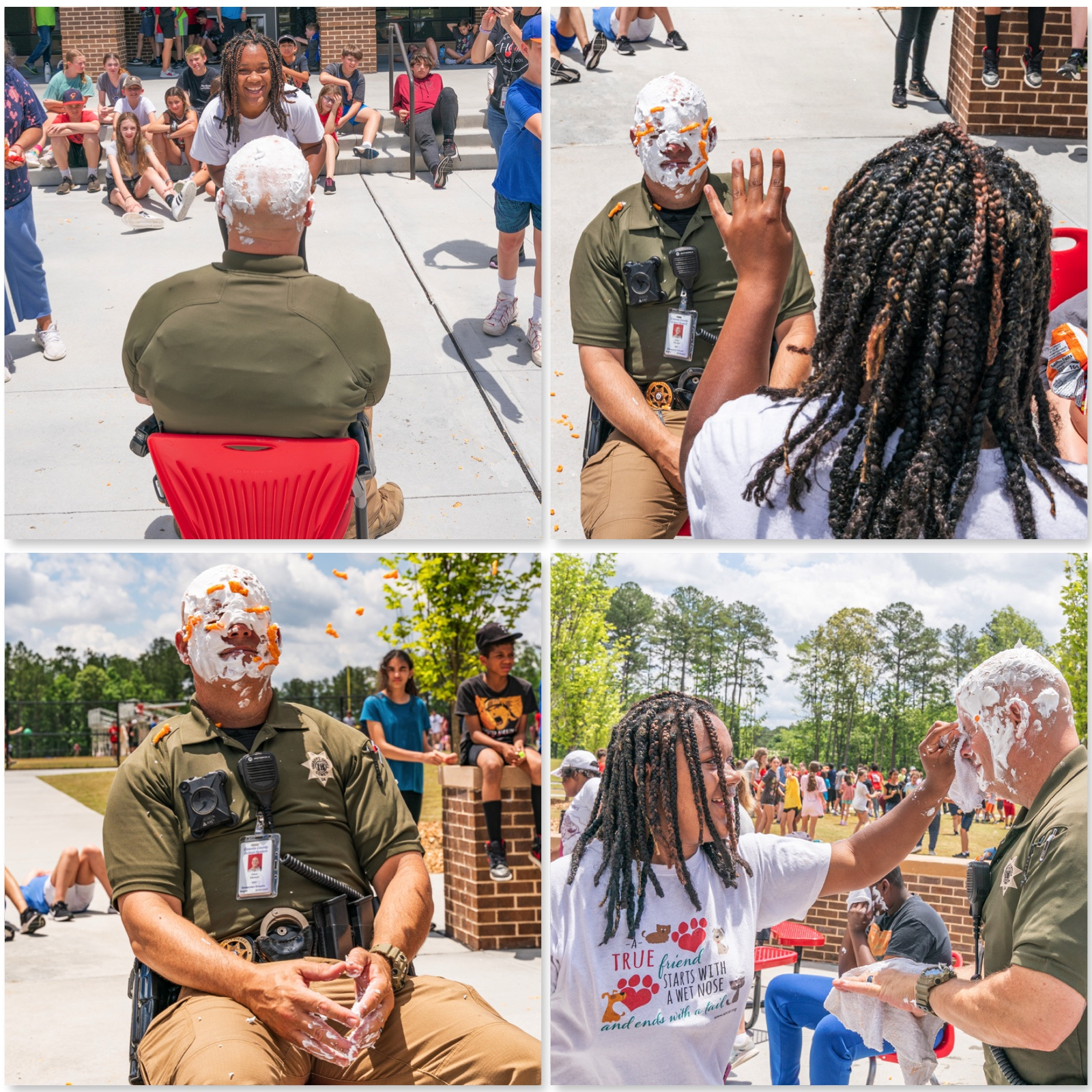 Student Resource Officer Adam Elbrecht participates in a Blake Bass Middle School field day activity involving Cheetos and whipped cream. (Chris Martin)