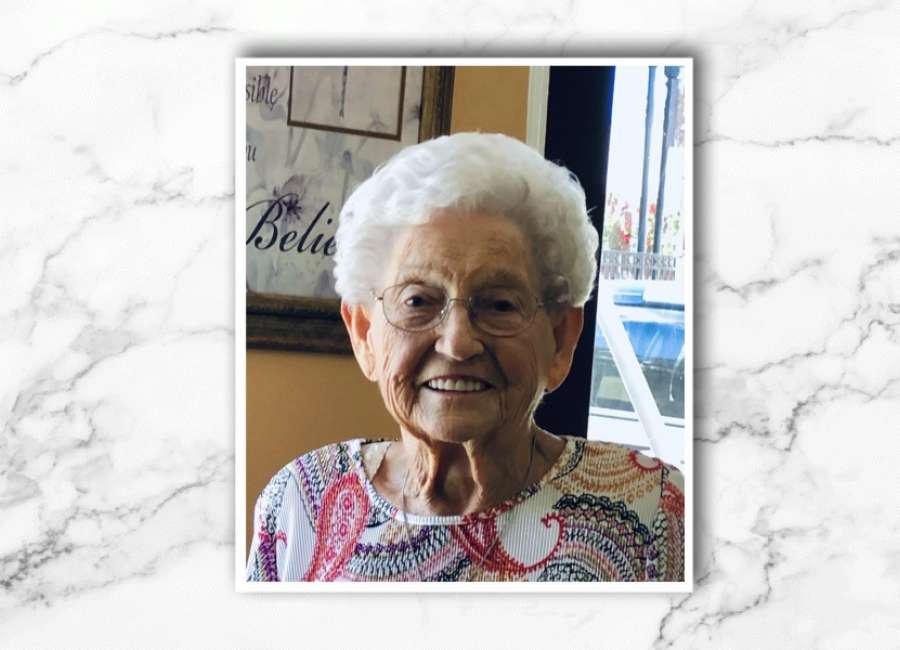 Imogene Murphy died, Friday, May 20, 2022. She was 92 years old.
She was born to Emerson and Sarah Burdette Smith, on September 10, 1929. She was a lifelong resident of Luthersville in Meriwether County, Georgia.
Imogene graduated from Luthersville High School.
Imogene was married to Calvin Murphy for 73 years he preceded her in death by less than six months. Their love for each other was one of God's greatest gifts.
From the moment she met Calvin Murphy there was never anything more important than taking care of him and their family. Calvin worked for the phone company and Imogene took care of the children and the family farm. There wasn't much she didn't know how to do and if, she didn't know how she was quick to learn. According to her, "we just had to get it done".
Her form of relaxation and therapy was fishing. She loved to fish but, she didn't love to clean them. She and Calvin spent many years working with the Telephone Pioneers. If, your child was given a bear from emergency personnel during a time of trauma chances are she made it. She loved people and never failed to help if, she could. She was a Girl Scout leader and as president of the PTA for Luthersville Elementary, she helped the school to transition in the first years of integration.
Imogene kept children for their parents to work whether they were grandchildren, beloved nieces, and nephews, cousins, or neighbors.
According to Imogene, her greatest accomplishment was raising her children. Calvin always gave her credit when it came to the children. He would say, "you'll have to talk to their mother she raised them". She was an awesome mother-in-law. She was a very involved grandmamma. She taught them all to fish, some to shop, how to garden, and how to can vegetables. In other words, she taught them how to survive. Her pride and joy were her grandchildren, great-grandchildren, and great-great-grandchildren. As long as she was able wherever they were she was there to support them.
The saying, "it's not what you take, it's what you leave behind" very much fits Imogene and Calvin because their greatest legacy is their family.
This family is her legacy. She is survived by her sons Johnny (Karey) Murphy and Jack (Jill) Murphy. She is survived by her daughters Judy (Roger) Strickland, Jean (Darrell) McCoy and Jane Cooke. Grandchildren are Clint (Angie) Murphy, Jennie (Jason) Lawson, David (Danielle) Murphy, Joanne (Paul) Suda, Josh (Diana) Murphy, Rebecca (Michael) Howell, Robin (Greg) Carden, Ben (Kalee) Strickland, Daniel (Kristin) McCoy, Crystal McCoy, and Wes (Ashley) Cooke. Great Grandchildren are Garrett Murphy, Anna Marie Murphy, Dillon (Gabbie) Murphy, Jackson (Hailey) Phillips, Lane Phillips, Lilli Lawson, Gabe Murphy, Evan Murphy, Gavin Wise, Camille Wise, Pavel Suda, Niklas Suda, Patrick Murphy, Olivia Howell, Connor Howell, Tyler Carden, Colton McCoy, Daisy McCoy, Maci McCoy, Jadyn Jones, Katie Jean Jones. Great, Great, Grandchildren are Cooper Grace Murphy, Greyson Murphy, and Graham Murphy.
Imogene was preceded in death by her three brothers, E.B., Cecil, and Donald Smith, and great-granddaughter Emma Grace Murphy.
The funeral service celebrating the life Imogene lived is Tuesday, May 24, 2022, at 3:00 PM at Bethel Baptist Church, 160 Bethel Church Road, in Luthersville. The family will receive friends on Tuesday from 2:00 PM until service time at the church. Burial will follow the service at Bethel Baptist Church Cemetery.
Flowers are welcome and appreciated. Those wishing to make memorial contributions in Imogene's name may do so to the church or building fund at Bethel Baptist Church, P.O. Box 775 Luthersville, Ga 30251.
Condolences may be expressed online at www.mckoon.com
McKoon Funeral Home & Crematory (770) 253-4580