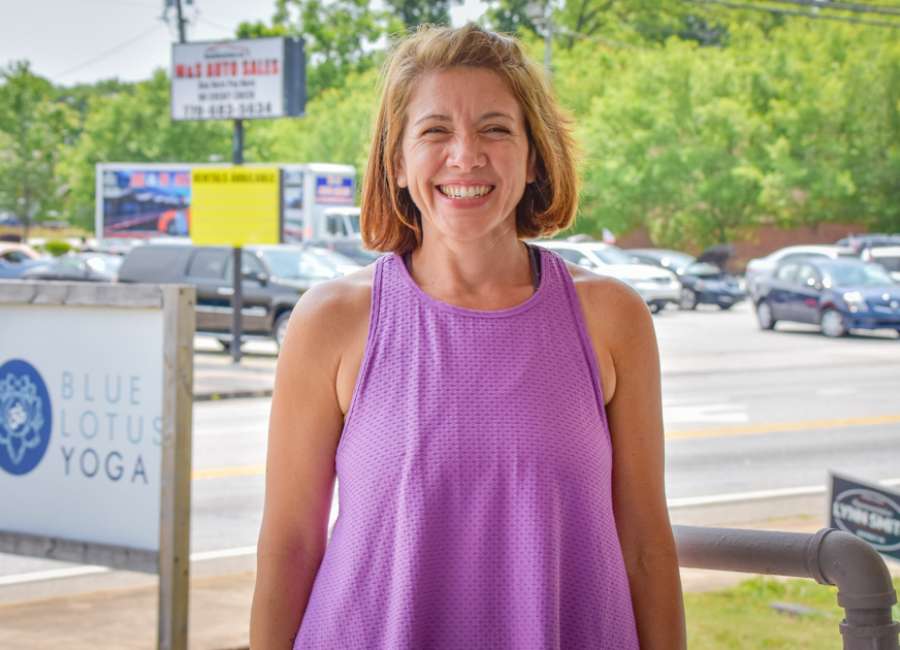 When it comes to taking care of yourself, one might think of the immediate role of diet and exercise in ensuring future health and longevity.

But untreated stress is often the cause of many illnesses, along with depression and anxiety.
And while stress is a natural part of the human experience, ensuring that it's kept in check is an essential part of taking care of oneself.
For many, the word "yoga" will inevitably conjure up varying images for each individual, depending on their experience with the practice. And while there are many ways to practice, local instructor Misty Caples is dedicated to making sure each person gets the right benefits from the right program.
Caples keeps busy teaching a variety of practices for a variety of demographics, ranging from kids to seniors. She can be found at Piedmont Fitness, Blue Lotus, Summit YMCA and the Carnegie, where she recently hosted a mindfulness and meditation class.
The class focused on meditation and breathwork, "which are really beneficial for our mental health," Caples said.
However, yoga practice isn't just a side hustle for the instructor. She's personally witnessed the healing power of yoga and wants to share her success with all who are interested in transforming their lives.
Caples began her journey into yoga eight years ago while still living in Charlotte, North Carolina. Stuck in a stressful job, she began noticing the impact it was having on her physical and mental health.
"I have a family history of mental illness and depression, and I saw myself falling into the same patterns as family members," she said. "Someone invited me to a yoga class, and something really resonated and I just kept going. It made a huge difference in my life. I decided I wanted to do the same for others."
Her husband soon took a new job in Georgia, and the family relocated to Peachtree City. Undaunted, Caples began traveling back to Charlotte every third weekend to train as a yoga instructor until graduating in October 2018.
She began teaching in a Sharpsburg studio until the pandemic caused everything to shut down.
The pandemic was a major catalyst for witnessing the importance of self-care in a very uncertain time, according to Caples.
"I can't even imagine what 2020 would have been like without my training," she said. "I saw it take a toll on a good bit of people."
During that period, she taught classes on Facebook live, which not only helped her students but Caples, too.
"During the pandemic, I had those that I had been teaching reach out about private sessions. From there it just grew," she said.
Once the studios opened back up, she was hired at Blue Lotus, where she currently teaches two 6:30 a.m. classes.
However, new avenues to help others kept opening up for Caples.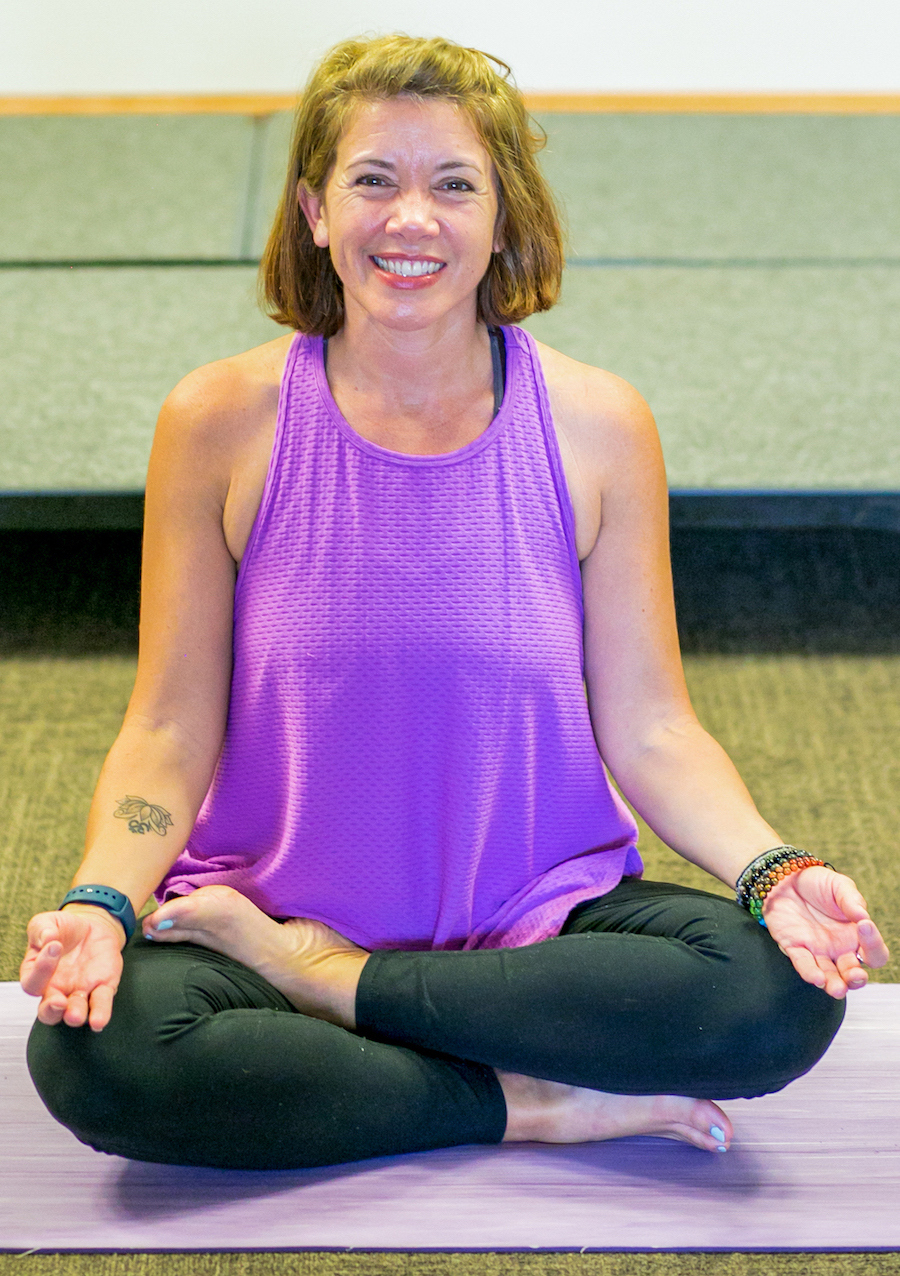 (Photo by Susan Crutchfield)
A practice for every body
Caples currently teaches chair and gentle yoga at Piedmont Fitness and at the Carnegie Library.
Typically, the majority of students in chair yoga are older adults. Seniors, who often struggle with pain, joint stress, imbalance, osteoarthritis and other physical limitations, can benefit from incorporating a yoga practice into their daily routine.
Seniors are also at risk for higher rates of depression, anxiety and other mental health disorders. Memory can decline, balance can be impaired, and with that, sense of self can suffer.
"My hope is that people will know that, not only their physical health is important, but their mental health as well," Caples said. "Especially in the times we are living in, we have to make sure we are taking care of our whole self."
Yoga, especially restorative yoga, can also offer a wide array of health benefits — working physical and psychological wonders.
Linda Arnall is a regular in Caples' chair yoga class and began attending after a knee replacement surgery.
"I also have arthritis and need exercise, but nothing too strenuous, and this is exactly that," she said. "We stretch and really focus on breathing, which is good. It's a very calming class and we always leave feeling stress-free in a nice frame of mind."
While the utilization of the chair is a primary instrument in the course, Arnall said Caples is "very innovative" in her approach to teaching. A recent class incorporated dancing and parachute games.
"We do a variety of other exercises, but no matter what, it's always a fun class," she said. "We all do what we can do, and she encourages that. Everyone in there has become a little family, and a great teacher always cares about her students, which she does."
A recent study revealed yoga can help manage osteoarthritis in elderly women. Not only can these low-impact moves loosen your muscles, but they can also tone your supporting muscles and help prevent injury.
But often, taking the first step into something as potentially daunting as yoga is understandably difficult for some. However, Caples encourages those who are curious to take that leap of faith.
"I have found yoga classes and instructors tend to be very welcoming and want to help those who are starting out," she said. "In my experience, if they can get over the fear and come to a class they will be made to feel welcomed. They can reach out to an instructor to ask any questions beforehand."
Caples has also added Intermediate yoga classes in the evening at Piedmont Fitness and also teaches at the YMCA. With a variety of styles, there is a practice for every person and Caples urges those who are interested to reach out.
"It's extremely important not to compare," she said. "Each person's practice is going to be different because our bodies are different and we have all gone through different things. But that's what I like about yoga — it's such a personal thing. There is no comparison and no judgment."
In a successful practice, there is no final destination or finish. The practice is a gradual progression that allows the student to enjoy the benefits while continuing to improve.
"Maybe you start out with a couple of minutes of meditation, and that's all you can do right now. Eventually, you become more used to it, and you start to see the benefits so you do it for longer," she said. "It's the same with physical practice and breathwork.
Caples said she's extremely grateful to do something that she loves but makes a positive difference in people's lives.
"I've met some wonderful, extraordinary human beings, and I'm grateful for the wonderful yoga community that has allowed me the opportunity to do something I love and am passionate about," she said. "It might be cliche to say, but it really is about the journey. There is always something more to learn and continuous growth to be had."