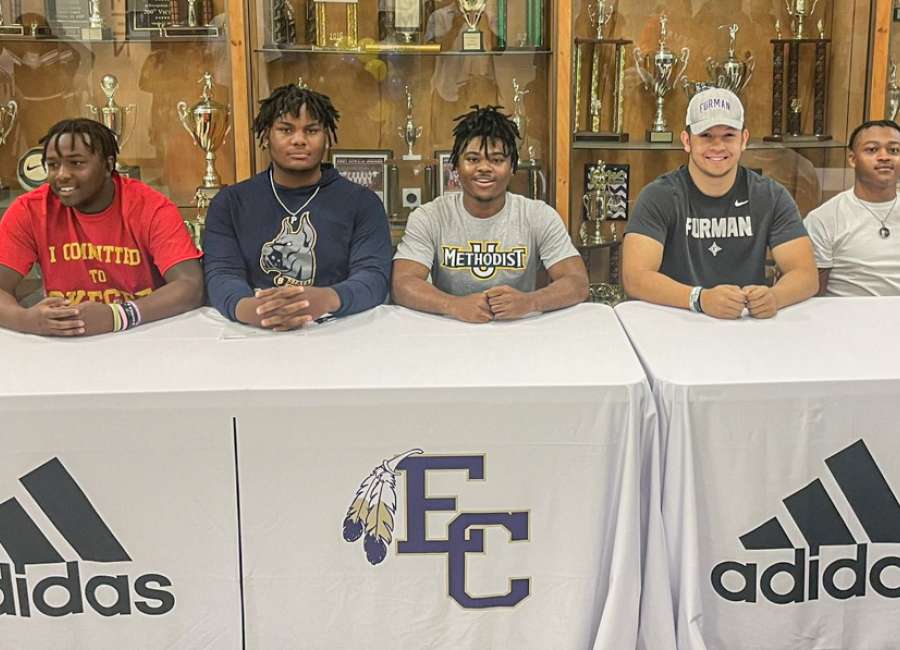 The fertile ground of East Coweta football produced the signing of five more Indians to play college football next season.

Carlos Montgomery, Prince Seymour, Joshua Strong, Christian Richardson and Malakai Dudek all signed on Tuesday at the John Thrower Gymnasium.
Montgomery played safety for East Coweta Head Coach John Small's defense. He signed to play for Wisconsin Lutheran College in Milwaukee, Wisconsin. The Warriors are under the leadership of Head Coach Eric Treske and compete in the National Collegiate Athletic Association.
Bluefield, West Virginia, is the destination for Seymour. He will be an offensive lineman at Bluefield State College, a historically black college. The Big Blues are coached by Tony Coaxum and play as an independent in NCAA Division II.
Joshua Strong also signed with an HBCU, the Tuskegee University Golden Tigers. Strong is an offensive lineman and will play for Head Coach Reginald Ruffin. The Golden Tigers are in Tuskegee, Alabama, and play in the Southern Intercollegiate Athletic Conference.
Richardson was a leader of the Indians defense last season. Next year, he will play for the Methodist University Lions in Fayetteville, North Carolina. The Lions play in the USA South Athletic Conference and are coached by Keven Williams.
Dudek will play his college football in Greenville, South Carolina, to play for the Furman University Paladins. Coached by Clay Hendrix, Furman competes in the Southern Conference.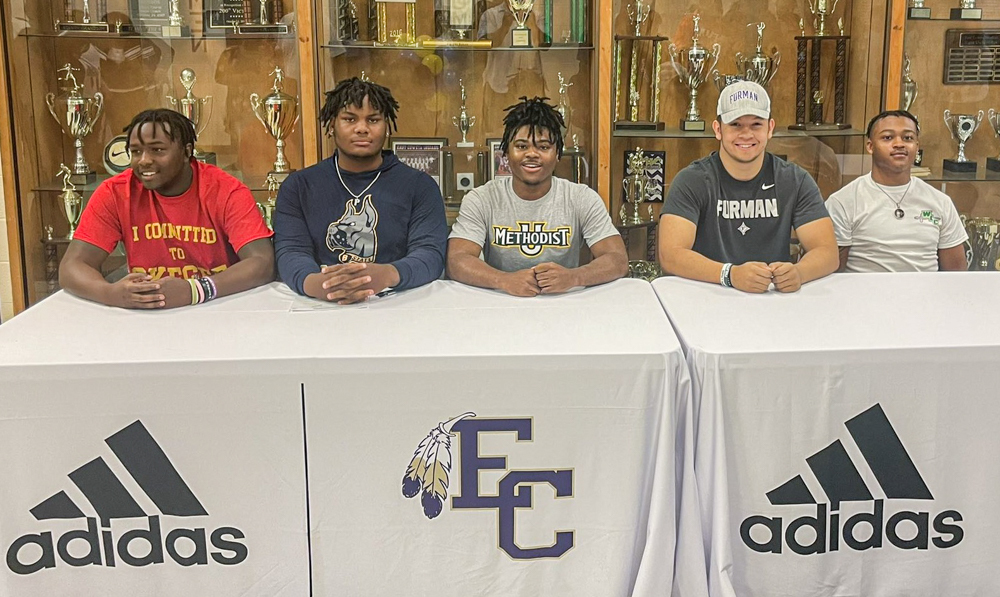 Five East Coweta Indians signed their college letter of intent on Tuesday. From left to right, Joshua Strong, Prince Seymour, Christian Richardson, Malakai Dudek and Carlos Montgomery.