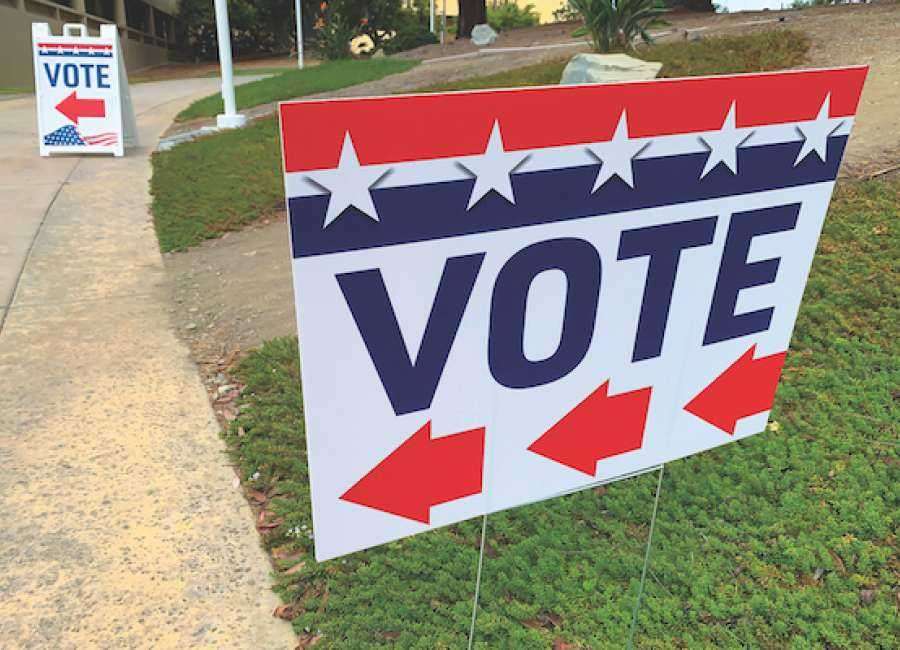 Voters casting their ballots on Tuesday have been asked to check their polling place before going to the polls, as it may have changed due to redistricting.
Those going to the polls have been asked to visit the Georgia Secretary of State's My Voter Page, located at mvp.sos.ga.gov , where voters can check their voter registration status, their mail-in application and ballot status, as well as where they can vote on Election Day in case their district has changed due to redistricting.
In 2021, the Cedar Creek precinct on Tommy Lee Cook Road moved to the Madras Gym 2355 N Hwy 29.
Precinct cards have arrived from the state of Georgia on Wednesday afternoon and are going out in the mail.
The polls will be open from 7 a.m. to 7 p.m. on Tuesday.
The locations for early voting in Coweta County will not be open on Election Day.
Over 10,000 people have cast their ballots early for the May 24 Primary election, which includes primaries for a number of state and federal races, as well as primaries for the Coweta County Board of Commissioners, and the nonpartisan Board of Education and Judge races.
The four-way race for the Coweta County Commission District 2 seat and four Coweta County Board of Education seats will be determined this Tuesday.
District 2 Commissioner Tim Lassetter, currently in his fourth term, is not seeking reelection. Vying for the vacant seat will be Steven Hoffman, director of the Fayette County Road Department; Realtor Craig Jackson; retired Coweta County Prison Warden Bill McKenzie; and Kenny Johnson, an estimator and shop manager.
Because all four candidates are Republicans, the winner will be determined in the May 24 Republican primary.
School board races are nonpartisan and also will be determined in the May 24 election.
Board of Education District 1 incumbent Amy Dees, a children's author, is being challenged by Maxwell Britton, a business owner and fabricator.
Board of Education District 1 at-large incumbent Larry Robertson, an environmental health and safety manager, is being challenged by Cory Gambardella, a nonprofit director.
Board of Education District 4 incumbent Linda Menk, a retiree, is being challenged by Davin Bostic, an IT manager, and Rob Dubose, an insurance claims manager.
Board of Education District 3 incumbent Beth Barnett, a business owner, is being challenged by Megan Smith, a homemaker.
In partisan primaries, Democrat and playwright Frankie Hardin is challenging Coweta District 3 Commissioner Bob Blackburn, a Republican and real estate agent.
And Jan Horne, a videographer/editor, is running as a Republican to challenge Democratic State Rep. Mandisha Thomas of South Fulton for the House District 65 seat. State redistricting in 2021 moved portions of northern Coweta into Districts 65 and 67, both of which are based in Fulton County.
Cowetan Janice Laws will once again be running for the office of Georgia Insurance and Safety Fire Commissioner. Laws is one of three Democrats running for the Democratic nomination. There are also three Republican candidates for the post.
Other primary ballot choices will include:
• House District 67: Republican Marziyeh Amirizadeh, of Fairburn, an author and public speaker, and Democrat Lydia Glaize, a former educator and former elected official in Fairburn.
• House District 70: Incumbent Republican Rep. Lynn Smith, challengers Republican Angel Nuñez, a technician, and Democrat Calvin Louis Anderson Jr., a stay-at-home dad.
• House District 73: Incumbent Rep. Josh Bonner, R-Peachtree City.
• House District 136: Incumbent Republican David Jenkins, a farmer and air ambulance pilot, and challenger Republican Kenneth Murphy, a dairy farmer and trucking company owner.
• U.S. Congress District 3: Incumbent Republican Rep. Drew Ferguson, a dentist, and challengers Republican Jared Craig, a lawyer, and Democrat Val Almonord, a retired physician.
• Georgia Senate District 28: Incumbent Matt Brass, R-Newnan.
In a special election to fill the unexpired term of former Coweta Superior Court Clerk Cindy Brown will be Acting Clerk Niki Sewell and Tasha Johnson, a deputy clerk who took a leave of office to run for the seat.
For more information, visit www.coweta.ga.us/government/departments-a-e/elections-and-registration .