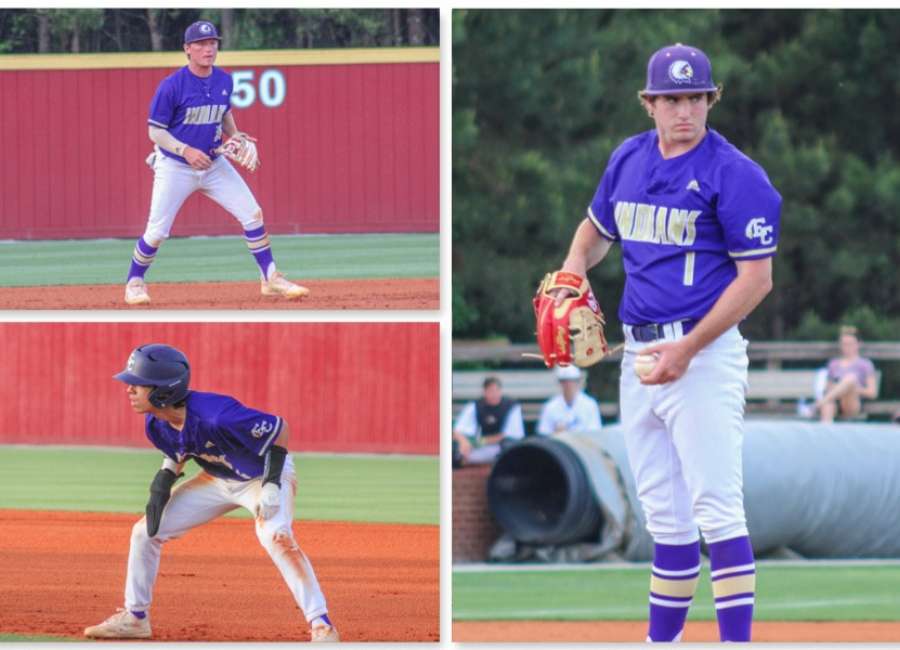 (Hoschton, Ga) – Back in mid-February, 45 high school baseball teams in Class 7A embarked on their 2022 season. Eventually, 44 of those teams will fall short, and one will claim the state championship.

When the playoffs started, the 45 had been paired down to 32, and after the first round, there were only 16 left.
On Tuesday night, East Coweta came up short against the Mill Creek Hawks and saw their season fall short of their original goal. But that does not take away from a memorable season and a special group of seniors.
It was a matchup of two powerhouse programs with successful head coaches. East Coweta's Franklin DeLoach (534) and Mill Creek's Doug Jones (514) came into the game with 1,048 combined high school victories.
Game One was a story of missed opportunities for the Indians. They twice loaded the bases in the first and third inning but could not push a run across. Those would come back to haunt them.
After falling behind 1-0, East Coweta capitalized in the top of the fifth for their first lead of the game. Bryce Alewine started a two-out rally with a single to right, and Hayden Blair reached on an infield hit.
Evan Goss had an epic, eight-pitch at-bat with runners on second and third that eventually ended in a walk. Jansen Kenty placed a perfect hit between the Hawk's two middle-infielders that scored two for a 2-1 lead with the bases loaded.
Unfortunately, the Hawks came back for two of their own and held on for the 3-2 Game One victory. Cole Mullins drove in both runs for the Hawks with a hit to centerfield.
The winning pitcher for Mill Creek was North Greenville College commit Sahil Patel, who pitched into the sixth inning. Kenty took the hard-luck loss for East Coweta even though he struck out 12 of the 22 batters he faced.
The Game One loss took a little out of the Indians, and Mill Creek seized the moment by scoring seven runs in the first four innings of Game Two.
The big blow was a three-run triple from Young Harris signee Hutch Ezell that gave the Hawks a 7-0 lead.
The Indians let their resolve and pride show at the end. They scored two runs when Georgia Tech signee Nico Senese drove in Ben Hollenbeck and Michael Son. In the end, the Hawks prevailed 9-2 to take the best-of-three series and advance to the third round of the playoffs.
Mill Creek will play at Lowndes County next week.
As for the Indians, it was another successful run to the playoffs. The team was led by six seniors: Avery Brown (North Alabama), Josh Sibley (Jacksonville State), Senese (Georgia Tech), John Monnin (Abraham Baldwin), Michael Son (South Georgia) and Jacob Rossi (East Georgia).
While the losses are significant, there are a lot of pieces to build around. Staff ace Kenty, Blair, Alewine and Doss, will be the nucleus that seeks to take the Indians back to the state playoffs in 2023.
Photos by Rob Grubbs
Junior Jansen Kenty (No. 1) was a warrior in Game One, pitched six innings, and struck out 12. Also drove in the two Indian runs.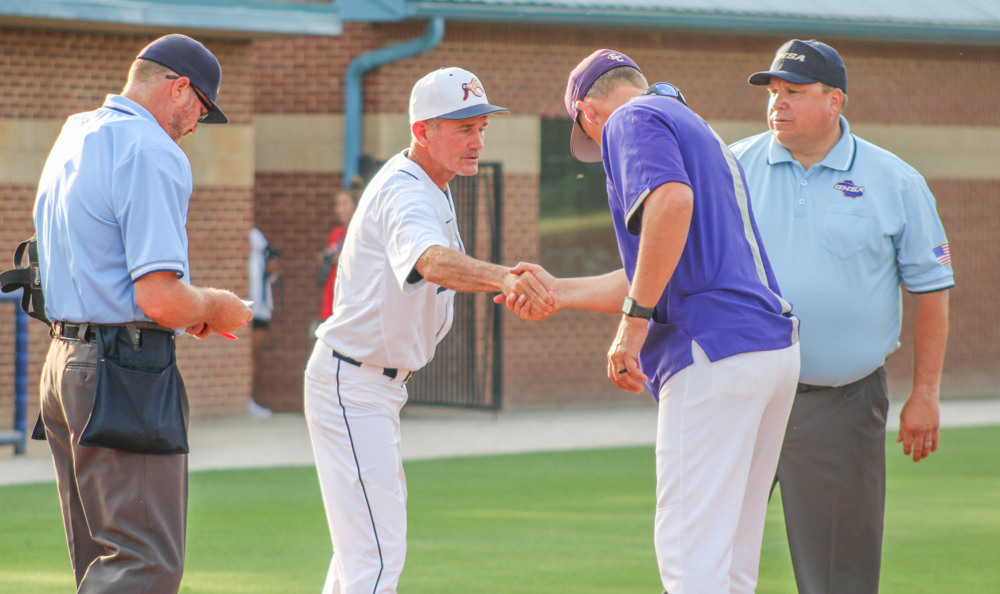 East Coweta Head Coach Franklin DeLoach (right) and Mill Creek Coach Doug Jones (left) shake hands before the series.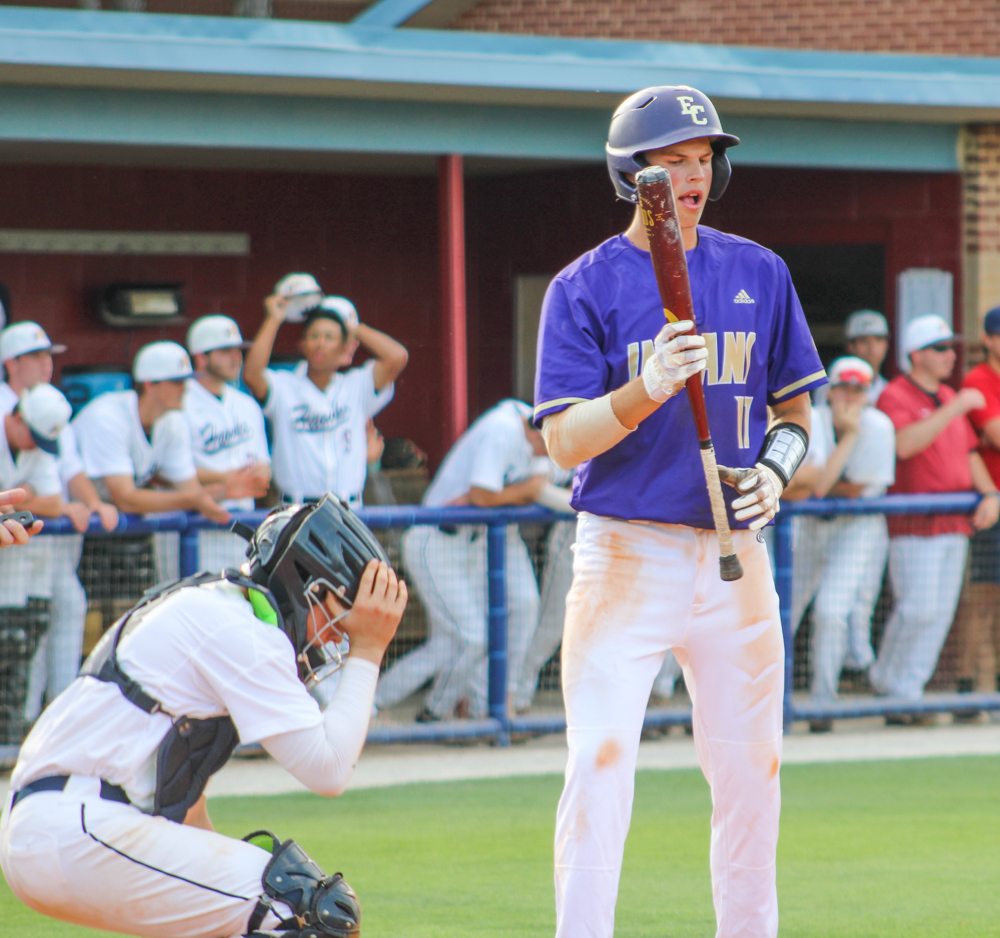 Indians third baseman Bryce Alewine (No. 17) had a hit and scored a run in the first game.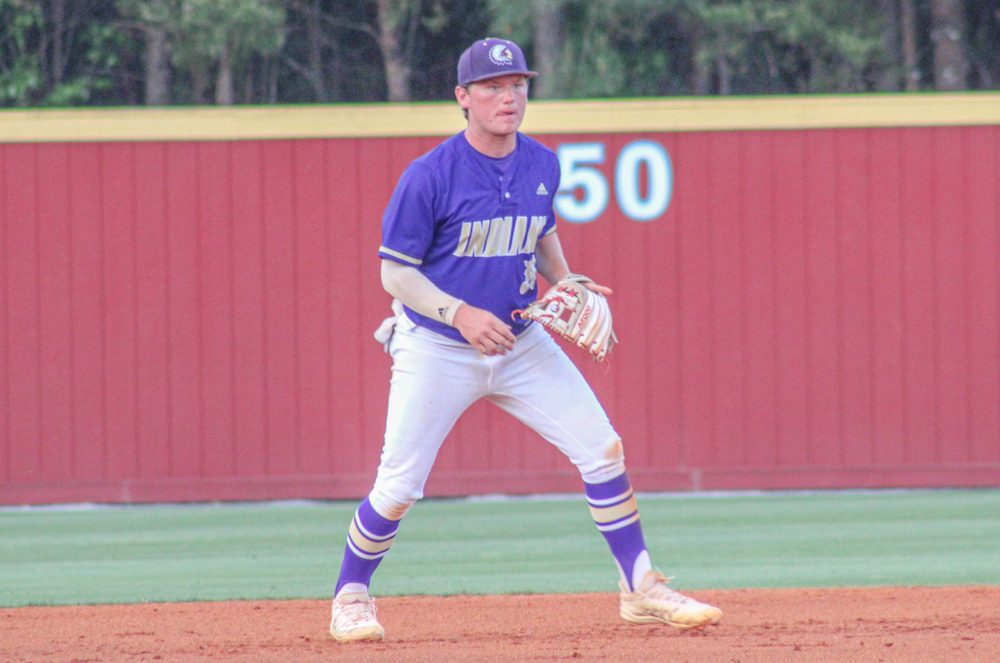 Second baseman/pitcher Evan Doss (No. 30) will be counted on heavily next season.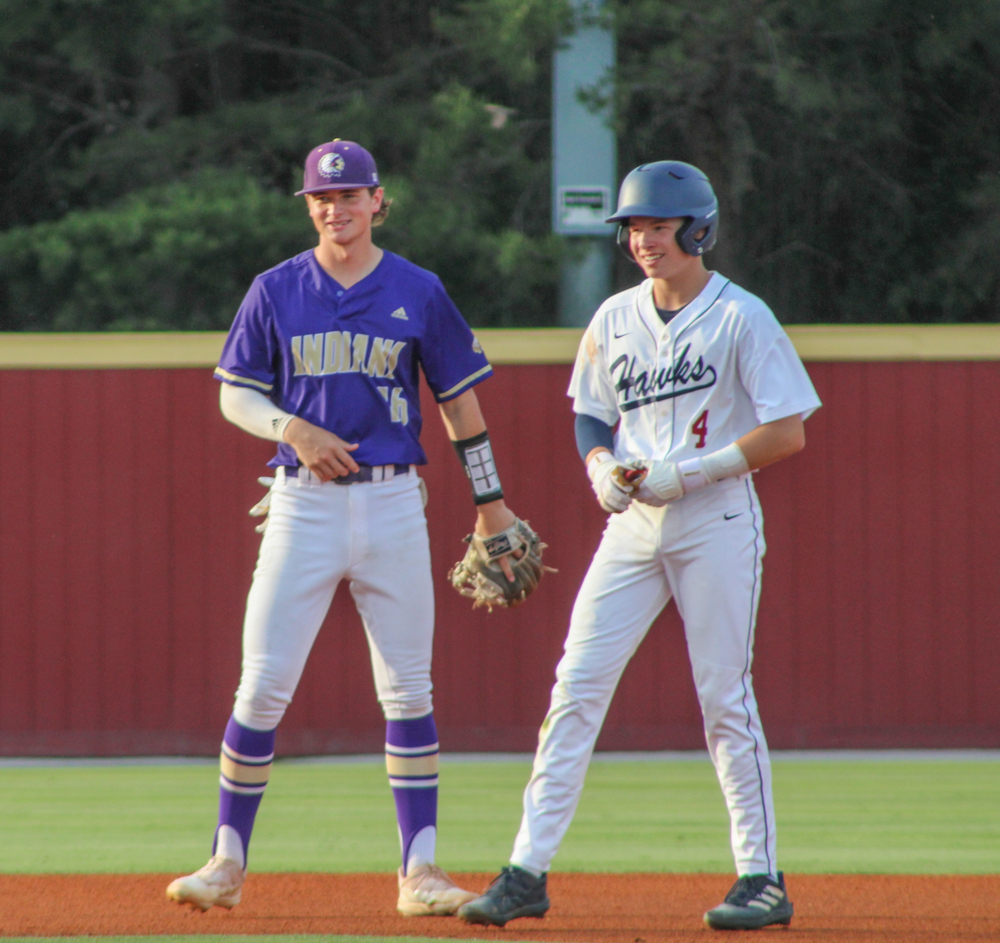 Indians shortstop Nico Senese (purple No. 16) and Mill Creek's Daniel Pierce (white No. 4) during a critical moment in Game One.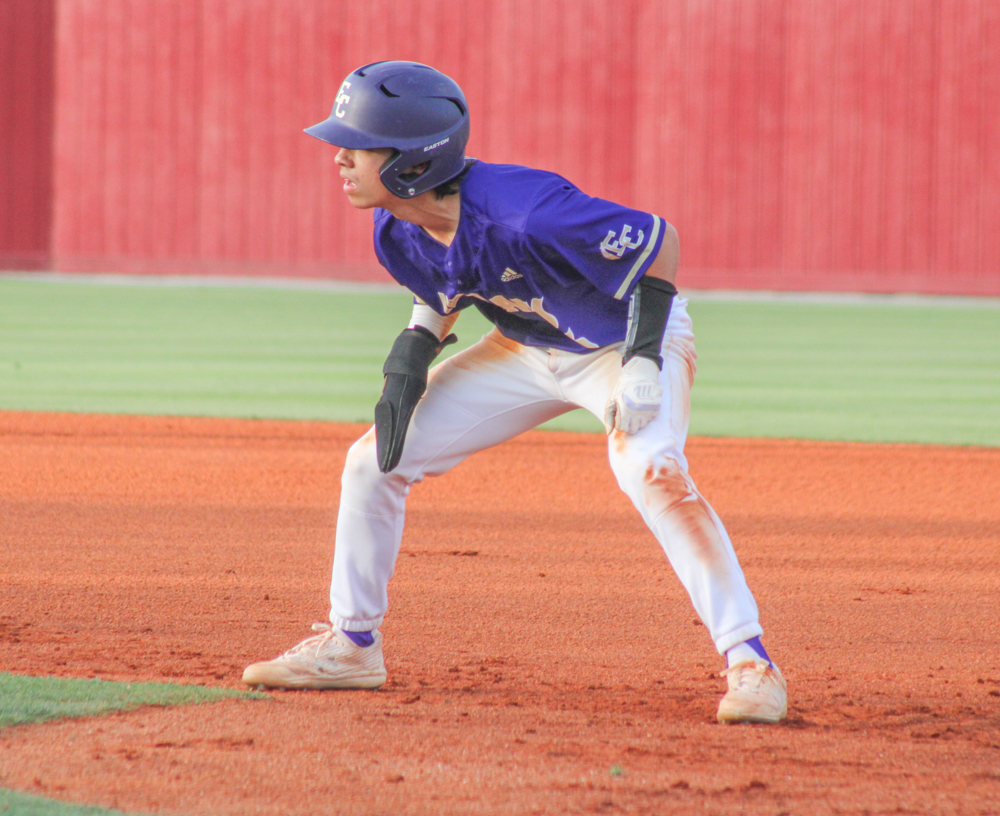 Indians leadoff hitter Ben Hollenbeck (No. 3) reached base in five of his eight plate appearances.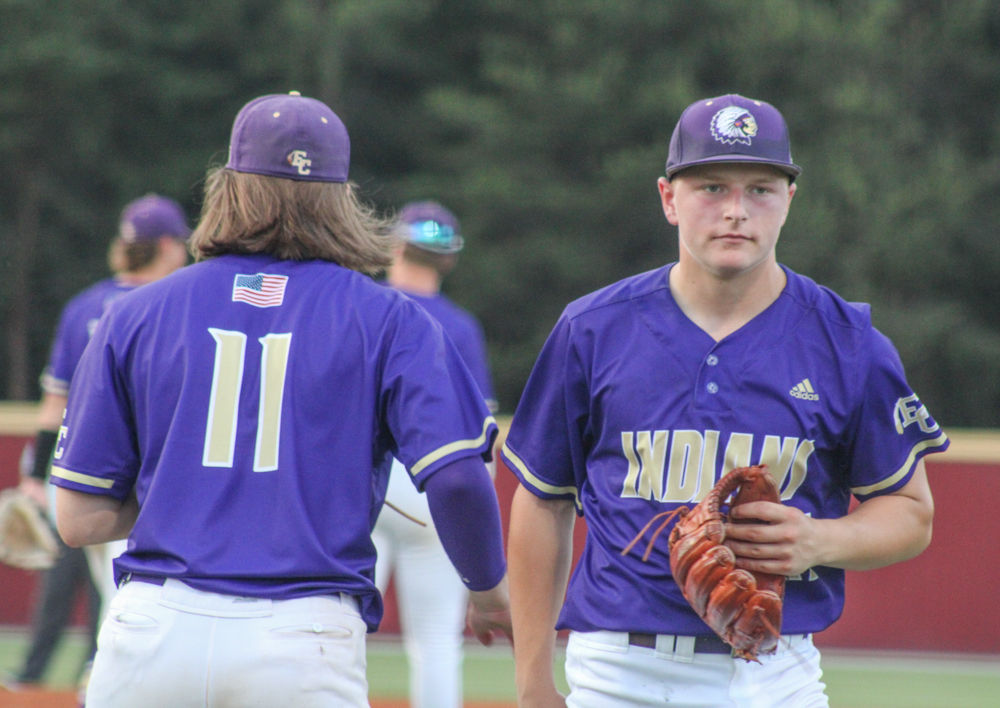 Pitching change in Game Two; Senior Avery Brown (No. 11) replaces Josh Sibley (No. 21).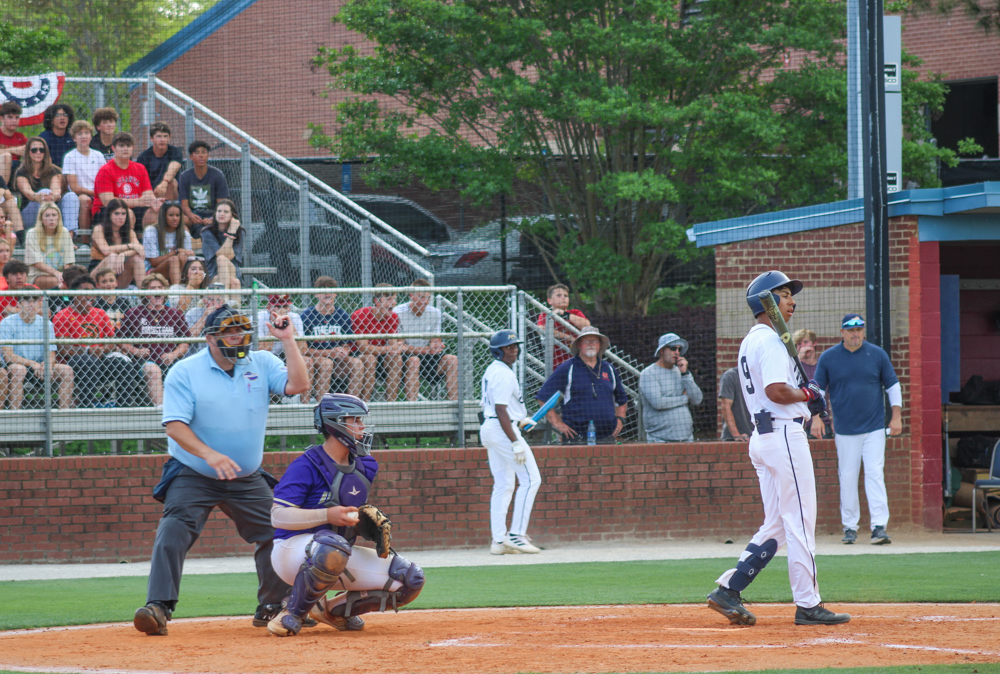 The umpire rings up Mill Creek's Jacob Clavijo (white No. 9) for one of Jansen Kenty's 12 strikeouts.