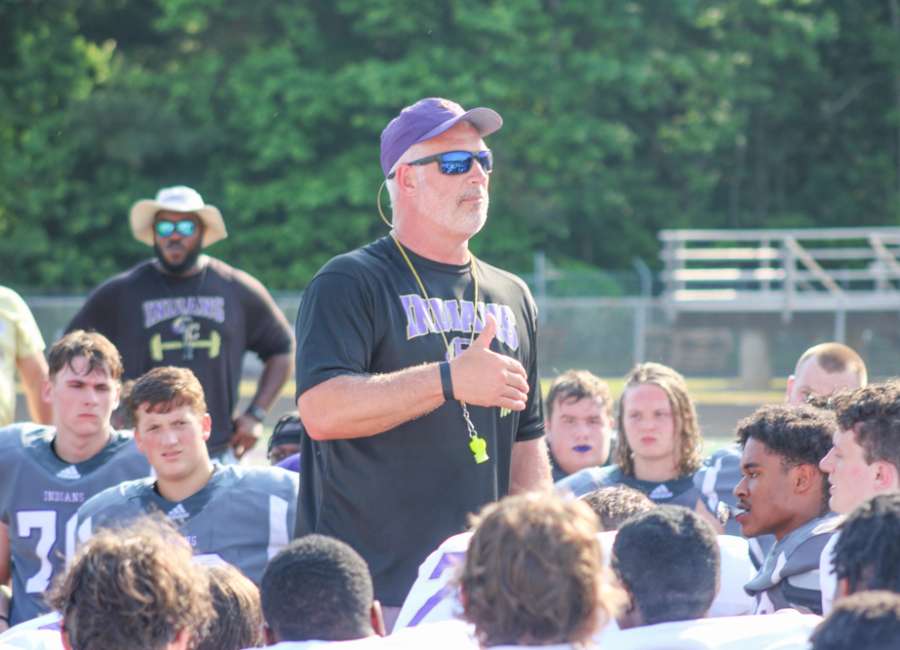 The 2021 football season did not end the way the East Coweta Indians had hoped. After a 5-0 start, they finished the season 2-4 with a first-round playoff loss to Grayson.

Last Thursday, the Indians returned to the field for their first day of spring practice and the opportunity to improve and put last year behind them with a fresh start.
Indians Head Coach John Small shared that it was time to shuffle the deck a little.
"We worked so hard to get the program back on track that it got kind of complacent," he said. "We were not happy with the way the season ended.
"We went back to the drawing board; we challenged our kids, and our kids challenged us (coaches). So, we made some changes to our day-to-day operation. What we did was already good, but change can be good, too, and you cannot be afraid of it."
A noticeable difference will be on the offensive side of the ball, where the Indians welcome a new offensive coordinator, Kelby Holt. Coach Holt was at Harris County the past two seasons and was named one of the top offensive coordinators in Class 5A.
He replaced Coach Jackson Dean, who accepted a coaching position at Cook High School.
"Coach Dean did a good job for us, but he had an opportunity, and we are happy for him," Small said. "But you know, anytime that happens, it's an opportunity for some change."
The first order of business will be replacing quarterback Danny Shoch, who was the starter for the past two seasons. There will be ongoing competition throughout the spring to see who will emerge at that position.
On defense, the Indians return eight starters; they will be a strength for the team.
"We are fast. Our team speed coach, Andy Washington, has done a phenomenal job with our kids," Small said. "Our team speed is something like I have never seen before."
Defensive leaders include brothers Bailey and Keelan Kornegay and linebacker Michael Burse. The three indicated that if the defense comes out here to dominate every day, the offense will work hard too.
The Indians will have eight spring practices, a scrimmage on Saturday, May 14, and a spring game at Griffin High School on Thursday, May 19.
After completing their first spring practice, Coach Small concluded, "They have been a joy to coach and be around every day. They come out with a great attitude every day in the weight room and push each other. They are just a fun bunch to be around."
The Indians open their 2022 regular season on Saturday, Aug. 20, against Starr's Mill in the Coweta-Fayette Classic.