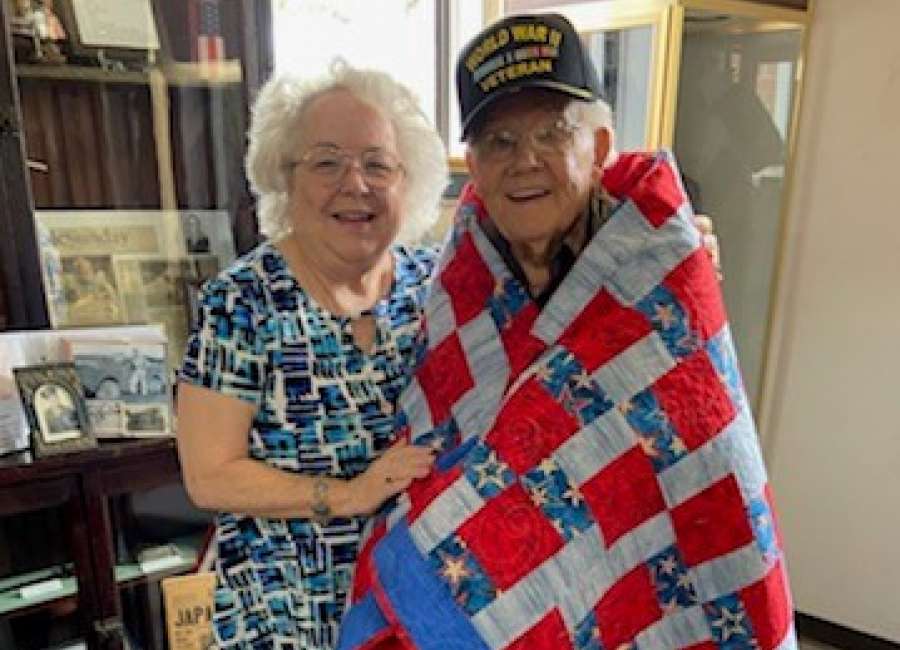 The Coweta County Quilts of Valor presented quilts to veterans in Tyrone and Carrollton.
The recipients were Bud Eller, Joseph Morgan and Wendell Furr.
Bud Eller
Eller served in the U.S. Army in 1944-48.
He took training at Camp Fannin in Tyler, Texas, and from there he went to Fort Mead, Maryland.
When his whole unit was assigned to go to Europe while at Fort Mead, orders were changed when things became more desperate in the Pacific. He was sent to south Alabama for advanced beach and jungle training. From there, he went to Fort San Luis Obispo in California for beach landing training. He was transferred to General McArthur's headquarters in Leyte, Philippines, where he was stationed for the next 14 months.
The size of the military on the island was eventually reduced, and at that time, Mr. Eller became involved with returning ammunition, tanks, etc. back to the U.S. As an alternative to the return, items were moved to the middle of the Bay and sunk or covered up on the island. Leyte is still considered a military site today.
He was the Administrative assistant to the Base ordnance commander.
Eller received the Sharpshooter Medal and the Headquarters Commendation for Outstanding Service.
Eller played guitar whenever he could in the military, even onboard from California to Leyte. He was hauled out to play in front of 1,500 to 2,000 troops, and he said he remembers the mic sliding back and forth while on the rolling seas. He dubbed it a nightmare.
His quilt was pieced and bound by Karen Daniles and quilted by Jean Raines.
Joseph Morgan
Morgan served in the U.S. Army in 1970-71.
He honorably served in Vietnam as a helicopter door gunner.
This highly dangerous assignment won him the following awards: the National Defense Service Medal, the Vietnam Commendation Medal with oak leaf cluster and Republic of Vietnam Campaign Medal.
He continues to serve his fellow veterans and the Carroll County Community as a member of the American Legion Post 143, located in Carrollton.
Morgan was discharged as an E5.
His quilt was pieced and bound by Beverly Watkins and quilted by Raines.
Wendell Furr
Furr served in the U.S. Army in 1966-68.
He served 11 months and 24 days in Vietnam with the 199th light Infantry. He was involved in hand-to-hand combat for which he was awarded the Vietnam Service Medal with three bronze service stars.
In one battle, only Furr and one other soldier from their platoon made it out alive.
He was also awarded the following: the National Defense Medal, the Combat Infantryman Badge, the Expert Rifle Badge and the Republic of Vietnam Campaign Medal.
Furr was discharged as an E5.
His quilt was pieced and bound by Colleen Foley and quilted by Kirstie Bassett.
Quilts of Valor are handmade quilts that are machine or hand quilted by volunteers and awarded to service members or veterans who have been touched by war, according to the Quilts of Valor foundation. The quilts are made to a specific size requirement, labeled, awarded and recorded.
The Quilts of Valor Foundation was founded in 2003 by Catherine Roberts, whose son Nat was deployed in Iraq at the time. Roberts' vision was of volunteer teams who would donate their time, materials and expertise to comfort and thank service members and veterans for their service.
More 300,000 Quilts of Valor have been presented since 2003, with more than 740 presented by the Coweta County Quilts of Valor. For more information on the Quilts of Valor Foundation, visit www.qovf.org .